When living in Malaysia in the 80s one of my favourite dishes was Char Kuay Teow (stir-fried rice noodles) sold by street vendors, known as hawkers. In the old days this tasty dish was cooked in pork fat which made it rather unhealthy. Nowadays most cooks use vegetable oil, which is better for your cholesterol levels.
I have tried various recipes in search of one which would transport me to Kuala Lumpur, or KL as we always called it, where I bought the heavy black wok shown in the photo.
My Malaysian friend Carmen, who goes to the doggy park most afternoons, recently gave me her version. It doesn't use any belachan (stinky shrimp paste!) or shelled cockles – often found in char kuay teow in Malaysia and Singapore – but nonetheless I reckon it really hits the spot.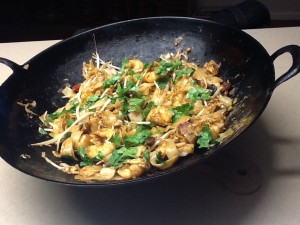 1 sheet of kuay teow (rice noodles) cut 1cm thick (or use pre-cut ones)
1 Tbs oil
½ cup Chinese sausage, thinly sliced (see note)
3 cloves garlic, diced
About 12 shelled green prawns
1 cup Chinese garlic chives cut into 3cm lengths (or sliced spring onions)
2 eggs, beaten
1 Tbs light soy sauce
2-3 tsp dark soy sauce
Handful beansprouts
Freshly ground pepper
To serve:
Chopped fresh coriander
Chilli jam or sambal
If noodles are difficult to separate place in a bowl with warm water and separate with your fingers, then drain well. Heat oil in wok until hot, then fry sausage until crispy. Add garlic, garlic chives or spring onions and prawns and stir-fry for a minute or two. Add soy sauce and noodles, turning them gently so they don't break. They should become slightly browned and crispy but don't overcook or they will fall apart.
Move noodles to one side and add eggs, then cover with the noodles. Leave for a minute till almost set, then mix with noodles and add beansprouts and pepper. Taste and add more soy sauce if necessary. Garnish with coriander and serve chilli jam as a side dish.
Serves 2
Note: rice noodles, Chinese sausage and dark soy sauce are all available in Asian shops. Chinese sausage is slightly sweet and helps add authenticity to this dish.