This easy recipe for pork belly comes from Taste.com
Making it in an air fryer is the easiest way to ensure crunchy crackling with no oven cleaning. Roasting pork in the oven inevitably creates a lot of spattering. An air fryer is a dream to clean. Well mine is.
Aldi sell pork belly in one kilo packs which are perfect for this recipe.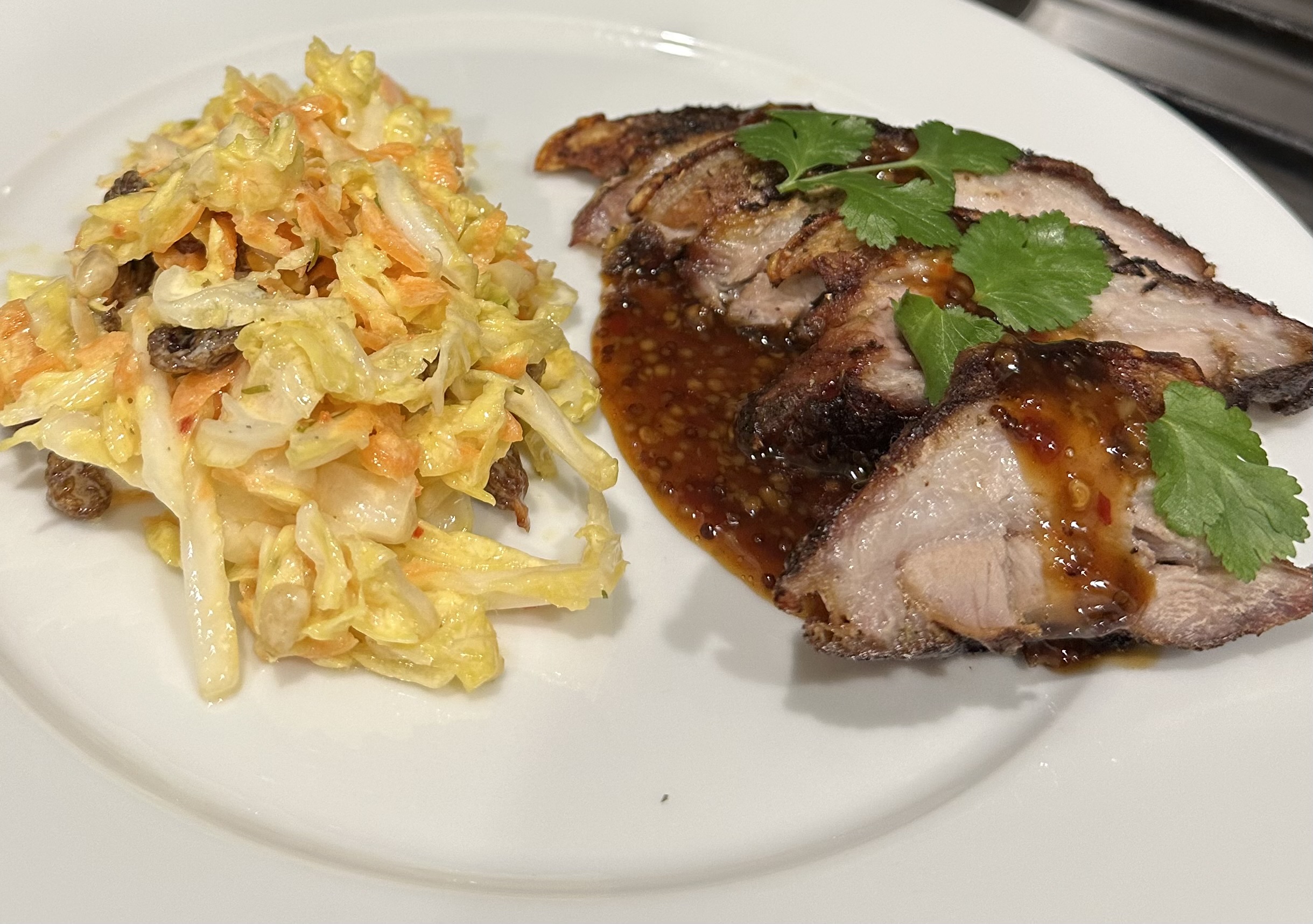 1 kg (approx) pork belly with skin
2 tsp garlic salt (or ordinary salt)
1 tsp cumin
2 tsp smoked paprika
1 tsp dried oregano
½ tsp freshly ground black pepper
Sticky Sherry Sauce:
¼ cup sweet chilli sauce
¼ cup sherry
1 Tbs lemon juice
1 Tbs wholegrain mustard
2 Tbs Worcestershire sauce
With a sharp knife, make cuts parallel to the edge on the meaty side of the pork, 1 cm apart. Don't cut all the way through – less than halfway. Make similar cuts in a diagonal direction on the skin side of the pork, also about 1cm apart and just cutting through the skin, not right through. Mix the salt and spices and use the mixture to coat both sides of the pork, rubbing it into all the cuts.
Place pork on the tray of an air fryer, skin side up, and cook at 200°C for 25 minutes then at 160°C for a further 30 minutes. By this time the pork should be cooked through and the crackling crunchy.
Meanwhile place all ingredients for sauce in a small saucepan. Bring to the boil then simmer for 3-4 minutes until reduced and sticky.
Slice pork and serve with the sauce underneath or spooned over. Garnish with some fresh herbs such as coriander leaves.
Serve with rice and a steamed green vegetable or a simple coleslaw.
Serves 4-6
Note: if you don't have an air fryer, cook in the oven in a roasting pan for half an hour at 220°C then turn the oven down to 160°C for a further 10 minutes or until pork is tender and crackling is crunchy.