For a luxurious, romantic holiday in Thailand, the Sarojin in Khao Lak is hard to beat.  Located an hour and a half's drive north of Phuket airport, it only has 56 rooms and a no children under 10 policy, making it a popular destination for honeymooners and couples who want to feel thoroughly relaxed and spoilt for a few days.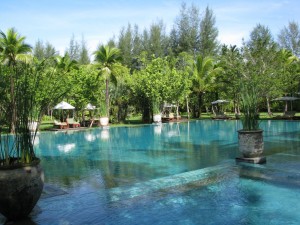 Highly recommended by numerous posts on Trip Advisor and similar sites, the Sarojin, with its 2:1 staff-guest ratio, more than lived up to our expectations during the six nights we spent there. We were there in the low season, when it rains a bit most days and when, consequently, prices are more moderate.  The rain really didn't bother us as most of it fell at night.  We stayed in one of the garden room bungalows which each has a private pool.  The spacious accommodation includes a bedroom, office/bar area and bathroom which has a huge overhead shower and an equally large oval bathtub which was full of floating frangipane when we arrived.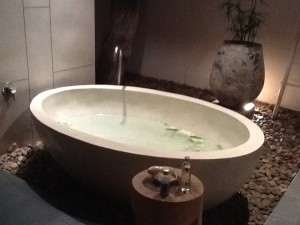 The main swimming pool is surrounded by wooden sun beds with umbrellas so you can be in the shade if you prefer.  As guests arrive one of the smiling Sarojin staff brings a towel and a glass of water and shortly afterwards a complimentary fruit punch arrives.  The pool is just the right temperature and after a swim it's a perfect spot for reading, dozing, contemplating the peaceful tropical garden and listening to the birds.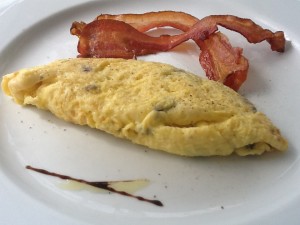 A la carte breakfast with sparkling wine is included in the room rate and can be enjoyed as late as you like – even as a very late brunch, which was our preference.  Rooms are furnished with very comfortable king size beds, a choice of top quality pillows, cable TV and the quietest air conditioning I have ever experienced.  Fresh fruit and bottled water are provided daily and there's a well-stocked mini bar, free wifi, a gym and everything else you would expect to find in a good hotel or resort. Indeed, you know a place is seriously good when the only criticism we could think of was that the map of Khao Lak they gave us at the front desk was somewhat out of date!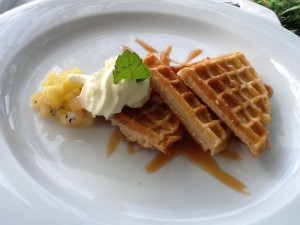 The town of Khao Lak is a 15 minute drive away and the resort supplies a fairly regular shuttle bus, for a small fee. It's small and relatively quiet – the way Phuket used to be 20 or 30 years ago.  There's no need to leave the resort at all if you don't want to. Meals served in the Sarojin's two restaurants are five star and they have an award winning spa.  Theme nights such as the seafood BBQ on the beach most Saturdays are very special.  However, Khao Lak offers numerous dining and massage options for those on a tighter budget or wanting a change of scenery.  We particularly liked Smile restaurant, run by a very friendly Frenchman called Frank, which we also found on Trip Advisor.
Day trips to nearby islands, elephant and monkey parks can be arranged by the Sarojin or by Frank, a Jack of all Trades. When we told him we had just spent 6 weeks in Europe and were now travelling with two suitcases full of dirty washing he offered to arrange for it to be laundered by one of his many local contacts!  We politely declined, especially as a swimsuit, a pair of shorts and some thongs are all you need in the tropics.
South African born Dawid is the General Manager and if you should have any problems he's never far away.  We didn't, but he checked in with us regularly during our stay, to make sure everything was hunky dory.
This resort ticks all the boxes and we will definitely be back.  In fact we did contemplate emailing our son to say "Please look after the dog for another six months.  Back in time for Christmas."