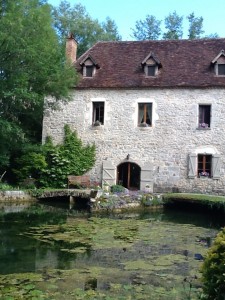 When we holiday in France we use Alistair Sawday's French Bed and Breakfasts as our bible.  We have a hard copy, but you can find it online.   Over the years we have stayed in more than 50 of the listings and while almost all have been more than adequate, some stand out as exceptional.  Places to return to.
Two of the best we have tried are the Moulin du Goth and Les Vieux Guays.  As the name suggests, the Moulin du Goth is a converted 13th century mill. It's run by a charming Australian/British couple and within five minutes we felt as if we were old friends.  The mill pond and English-style garden are beautifully maintained by Coral, who is a very good cook and serves a delicious dinner if you book ahead.  There's plenty to do in the area, including the underground caves at Padirac (the best I have ever seen, quite amazing), a walnut oil mill at Martel and several stunning Medieval villages, located on the nearby Dordogne river.  We spent two nights there and fell asleep to the sound of water running gently over the weir.
We only had one night at Les Vieux Guays but will definitely go back.  They also do dinner but only on Fridays and Saturdays and again it's wise to book ahead.   It's run by a French/Chilean couple and sits in 200 acres of woods with plenty of land for chiildren and dogs (who are welcome) to run around.  In winter it's run as a hunting lodge.