I've always made my own jams and chutneys from fruit we've grown or with donations from friends who have a glut. They are so much nicer than bought ones. Sometimes I freeze the fruit and make the preserve later – for example peeled tomatoes for tomato chutney or sliced cumquats for marmalade. Matthew says he married me for my tomato chutney and that running out is considered grounds for divorce. That recipe, which came from my paternal grandmother, clearly formed a crucial part of my dowry!
A recipe for a lovely bright red preserve called Tomato Baharat Jam appeared in a recent edition of Delicious magazine, as an accompaniment to chicken liver pâté. We found that it also goes superbly with cheese – especially brie and cheddar – and ham. I've doubled the recipe and cut down a bit on the sugar and I don't think it's necessary to discard the pulp and seeds, but you can if you prefer.
This is the first time I've made it so I'm not sure how long it will keep without refrigeration. The ratio of sugar to fruit is not high, so I think it will keep for a month or two in a dark cupboard and should be refrigerated after opening.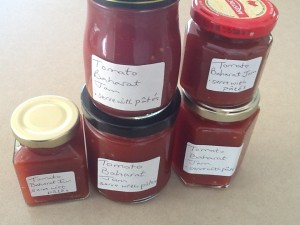 1.2kg tomatoes, peeled
300g sugar
6 star anise
5 cloves
4 cinnamon quills, broken in half
2 Tbs tomato paste
Juice of 1 lemon
Salt and freshly ground black pepper
Chop tomatoes and place in a sieve to drain off any liquid. Discard liquid and place tomatoes in a large, heavy-bottomed pan with the sugar and spices. Simmer over medium heat, stirring from time to time, for 25 minutes. Add tomato paste and lemon juice, reduce heat and continue to cook, stirring often, for 20 minutes or until reduced and thickened to the consistency of jam or chutney. Season to taste with salt and pepper and remove the spices. The cloves might be difficult to find, so just leave them in.
Place about 8 small clean jars in the microwave without their lids. Mustard jars and small jam jars are ideal. Heat on high for 2 minutes to sterilize. Fill jars with the hot tomato jam, seal with lids.
Makes about a litre
Note: if you don't have whole spices use ¼ tsp ground cloves, 1 tsp ground star anise and 2 tsp ground cinnamon.