This recipe is adapted from one by Matteo Zamboni, who owns a restaurant in Sydney called Zambo. The recipe uses yabbies, a freshwater crustacean found in some parts of Australia. They're not easy to buy in Canberra, so I used prawns instead. Zamboni uses Casarecce pasta, a shape I had never bought before, so I decided to try it and it was delicious. Use any shaped pasta that takes your fancy.
What makes this recipe special is the stock, made from the heads and tails of the prawns. It uses the same idea as this recipe for Prawn Bisque which I have been making for years. The heads and tails of prawns are packed with flavour, so why throw them away? It's a little more time-consuming than most pasta dishes, but worth it.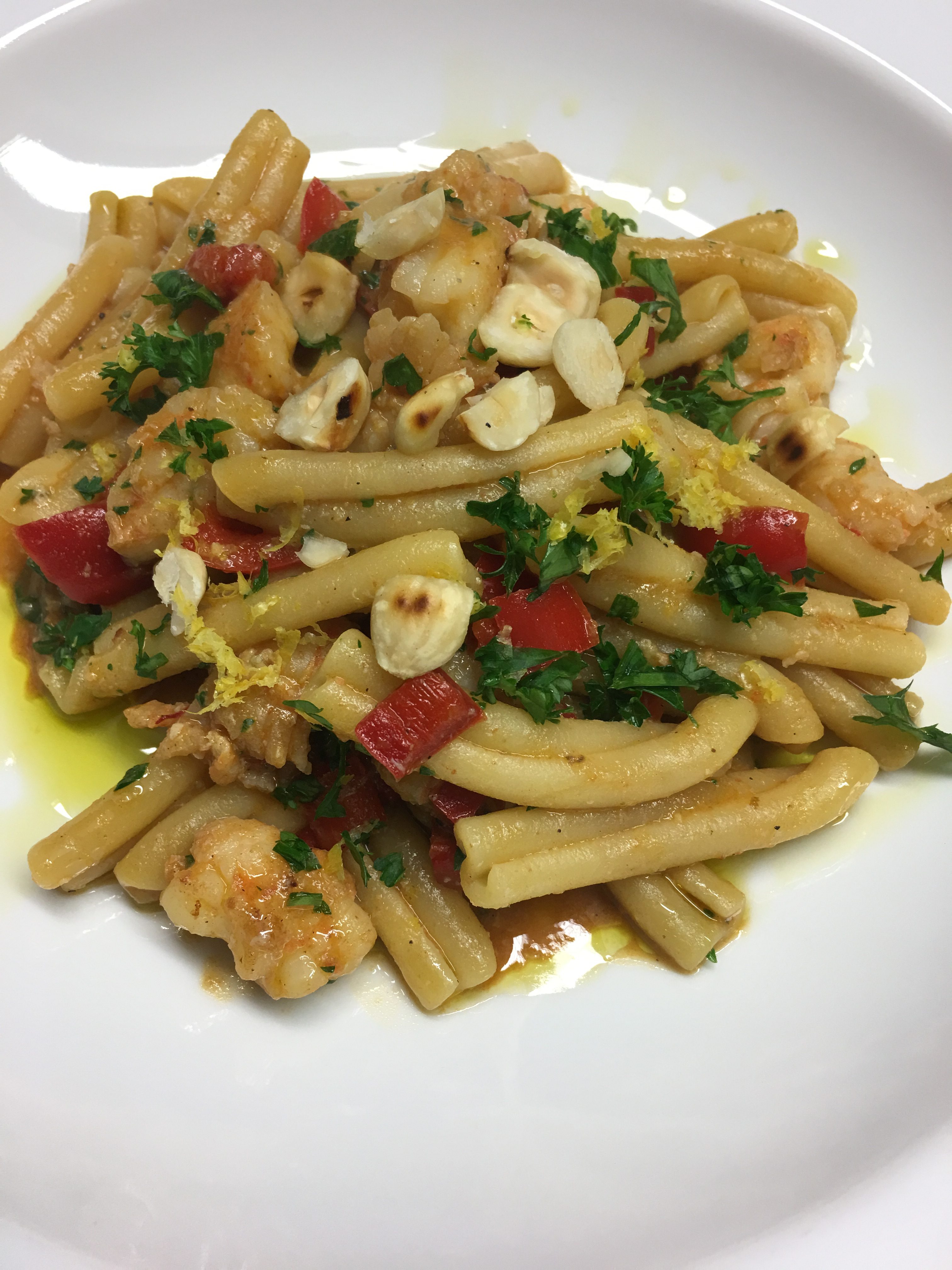 400g Casarecce pasta (or another shape)
500g large green (raw) prawns
1 large red capsicum, cut into small dice
2 cloves garlic, halved
2 or 3 tomatoes, chopped
Handful of parsley
2 Tbs toasted skinned hazelnuts, roughly chopped (or toasted pine nuts)
Grated zest of 1 lemon
4 Tbs olive oil
4 Tbs brandy
Salt and freshly ground black pepper to taste
Peel prawns and cut them into two or three pieces. Keep prawn heads and shells. Heat 2 Tbs of the olive oil in a large heavy-based saucepan. Add garlic and cook for a minute or two then add the tomatoes, prawn shells (not the actual prawns) and the stalks from the parsley. Cook, stirring for 3-5 minutes, then add the brandy and set alight. Finely chop the parsley leaves and keep aside.
Add a little salt and just enough water to cover the prawn shells, then simmer gently for half an hour. While the stock is cooking, press down on the solids from time to time with a potato masher in order to extract as much flavour as possible from the prawn heads. Leave to cool a bit.
Pour stock through a sieve, pushing down on the solids to get all the juices. Cook pasta according to packet directions in boiling salted water. In a frying pan heat the remaining 2 Tbs olive oil and cook the red capsicum, stirring, until softened. Add the prawn meat and cook, stirring for 2-3 minutes.
When pasta is cooked, drain it then put it back in the pan with the capsicum and prawns and the prawn stock. Heat, stirring, until the stock has mostly evaporated. Add the chopped parsley and lemon zest and season to taste.
Serve pasta topped with the toasted hazelnuts and a drizzle of Extra Virgin Olive Oil.
Serves 4