This recipe from the BBC's Good Food site makes an elegant dish for entertaining (just double the recipe) or dinner for two on a special occasion such as a birthday, anniversary or Valentines Day. It's very easy and most of the preparation can be done ahead of serving time.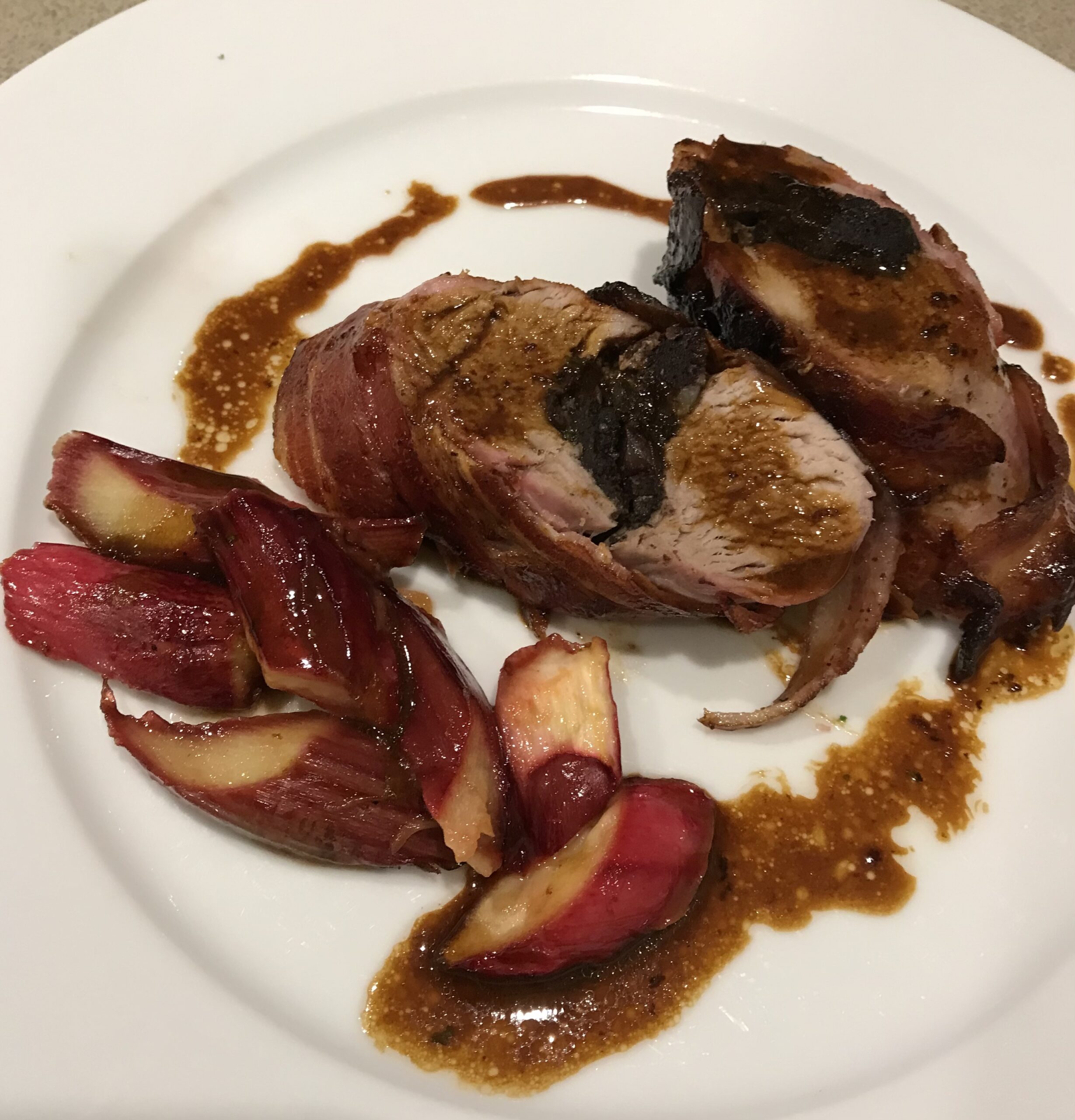 1 fillet of pork, weighing about 350g
125g black pudding
6-8 rashers streaky bacon
2-3 tsp oil
Black pepper
2 tsp honey
6 stalks rhubarb
½ cup stock (chicken or veg)
2 Tbs cream, sour cream or crème fraîche
Cut the pork along the middle without cutting right through. Skin and finely chop the black pudding and stuff into the hole in the pork. Squeeze the fillet closed. Stretch out the bacon rashers with the back of a knife and use to wrap around the pork, with the ends underneath, or use toothpicks to hold it in place. Can be prepared ahead to this stage.
Preheat oven to 190°C. Place pork in a roasting pan, drizzle with the oil and season with pepper. Roast for 30 minutes.
Meanwhile wash and trim the rhubarb, cut into 3cm lengths and mix with the honey. Add to the roasting pan after 30mins, then cook for a further 10-12 minutes or until rhubarb is tender and bacon is browned. Remove pork and rhubarb from the roasting pan and keep warm. Place roasting pan on the hotplate, add the stock and cream and cook, stirring, until thickened to the consistency of a coating sauce. Check for seasoning.
Slice pork thickly and serve with the rhubarb and the sauce.
Serves 3