Our friend Meg served this delicious prawn and cauliflower starter from Aussie chef Matt Moran recently. The recipe makes six starters, or  make half as a light and healthy mid-week dinner for two.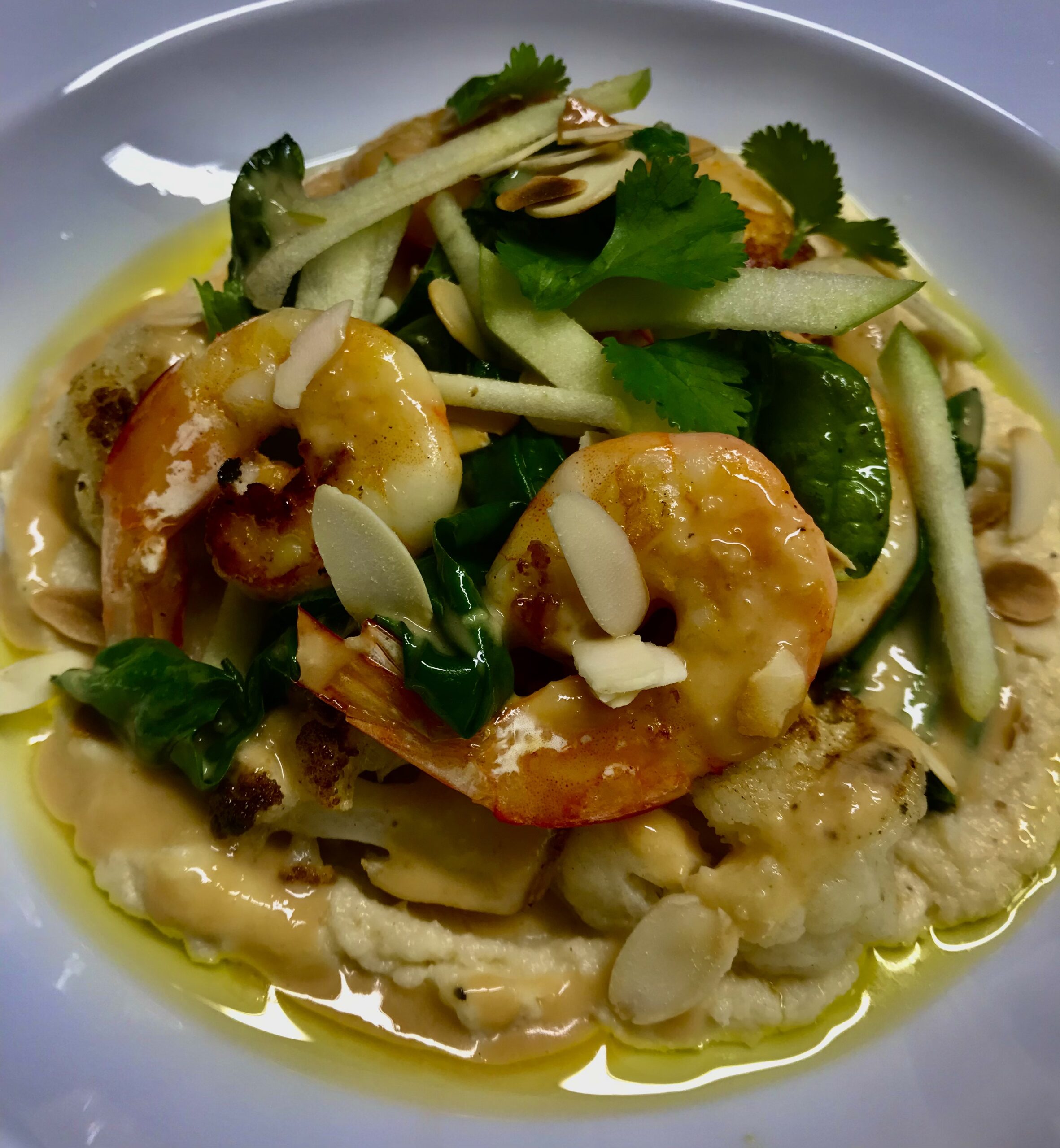 ½ cauliflower cut into florets (about 300g)
2 Tbs vegetable oil
18 green jumbo prawns peeled and deveined, tail on
100g butter
100g baby spinach
S and P
¼ green apple finely sliced vertically, then julienned, so you have peel each end
50g sliced almonds, toasted
Baby or regular coriander
Cauliflower purée: 
40g butter
The rest of the cauliflower (about 300g) chopped small
½ cup cream
Salt and freshly ground black pepper
White Miso Dressing:
100g white miso
½ small golden shallot, very finely chopped
1cm piece ginger, very finely chopped
½ small hot red chilli, very finely chopped
1½ Tbs lemon juice
1 Tbs mirin
1 tsp rice wine
2 tsp tahini
1 Tbs honey
1 Tbs caster sugar
5 tsp veg oil
75 ml water
Puree: heat butter in frying pan, add cauliflower, cover and cook, stirring occasionally for 10-15 mins or till very soft but not coloured. Add a few teaspoons of water if it starts to stick. Process with cream, salt and pepper till smooth. Reheat to serve if necessary.
Dressing: blitz all together in food processor till smooth, then push through a sieve.
Cook cauliflower florets in boiling salted water for 4  minutes or until al dente. Drain and set aside. Preheat chargrill plate till hot. Mix prawns with the oil in a bowl and cook on the grill for 3 minutes, turning once, until just cooked.
Meanwhile heat half the butter in a frying pan and toss the cauliflower florets for 4-5 mins till golden, set aside. Add remaining butter to pan and toss the baby spinach till just wilted, season.
To serve, divide cauliflower purée between 6 plates and spread into a circle. Top each serving with 3 prawns, some spinach, cauliflower florets, almonds, apple julienne. Drizzle with some dressing and top with coriander. I also drizzled a little extra virgin olive oil around the edge.
If serving as a main, increase the prawns so each person gets 5 or 6.
Serves 6 as a starter, four as a main