It's Jerusalem artichoke time and I'm always on the look out for new recipes.
I wouldn't recommend growing them in a suburban garden because they tend to take over and become impossible to eradicate. We grow them at our farm where we have plenty of room.
These root vegetables look a bit like ginger and can be used in any way you would cook potatoes – boiled, baked, pureed into soup or whatever. The flavour is slightly sweet, like a parsnip. Some people avoid them because they cause wind. Others are unaffected or perhaps they don't care.
To minimise the wind issue, my suggestion is to use them in a recipe which has other ingredients, such as this pasta dish, rather than in a soup made with 100% Jerusalem artichokes. Or mix them 50-50 with potatoes in a mashed or roasted recipe. Some recipes say to peel them, but we just give them a trim and a good scrub, as you would with new potatoes.
This recipe serves 4 so I made half. As you can see I used some penne pasta and some spiral because they both needed using up!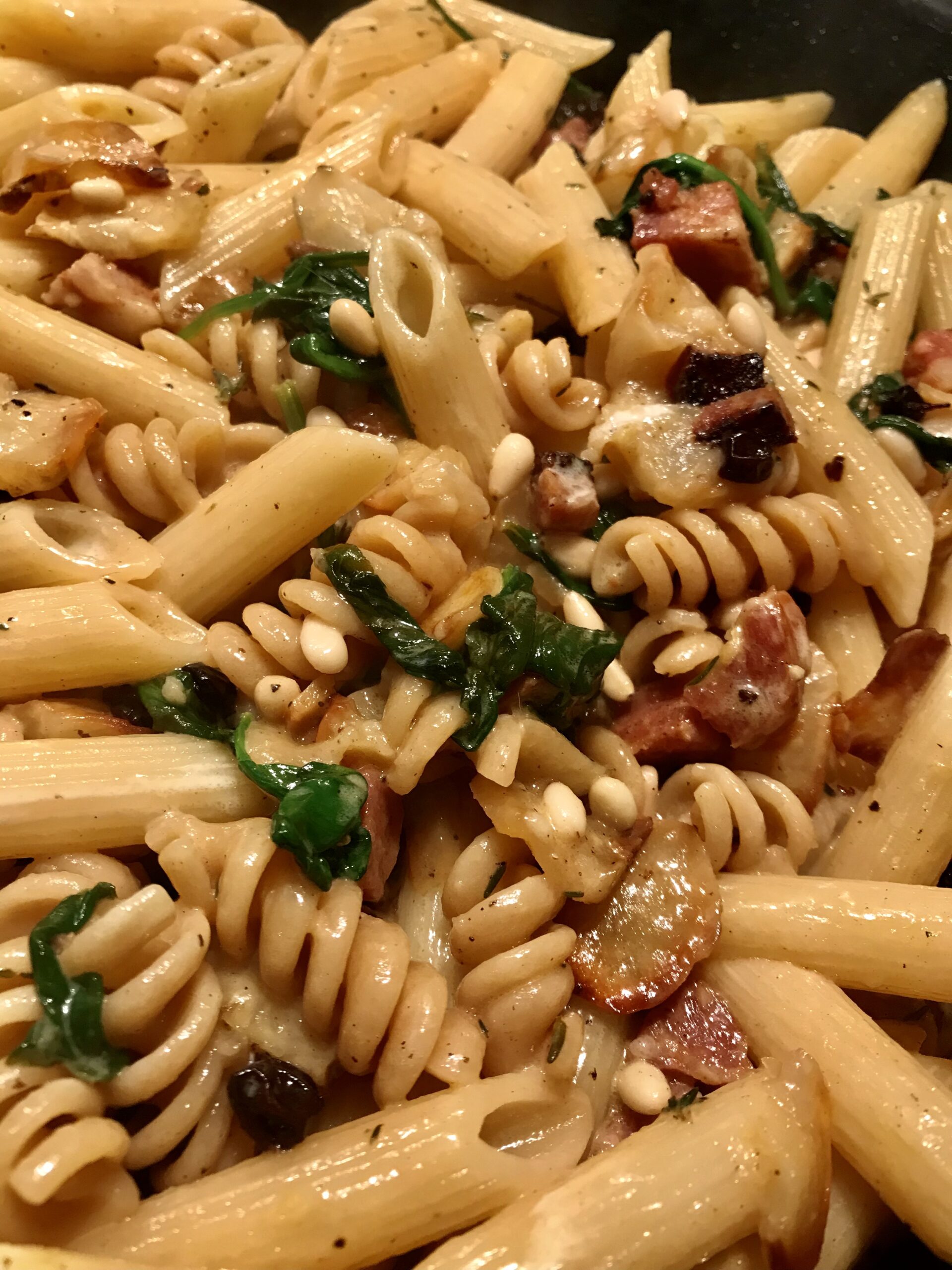 500g penne or another pasta of choice
1 cup diced dry-cured chorizo (about 250g)
500g Jerusalem artichokes, peeled or scrubbed and cut into 5mm slices
1/3 cup water
3 cloves garlic, crushed
2 tsp chopped fresh thyme or 1 tsp dried
2 tsp olive oil
4 cups lightly packed baby spinach
1/3 cup cream
2 tsp lemon zest
1 Tbs lemon juice
Salt and freshly ground black pepper
To serve:
2 Tbs toasted pine nuts
2 Tbs currants in port (see note below) (optional)
Grated Parmesan cheese
Cook pasta in boiling salted water, according to package instructions, until al dente. Drain and keep about ½ cup of the cooking liquid.
Meanwhile in a large nonstick frying pan, cook chorizo until lightly browned and crisp. Remove from the pan and set aside leaving any fat in the pan. Add oil and artichokes and cook, stirring, for about 5 minutes or until starting to brown. Add the water and simmer for 5-7 minutes, or until the artichokes are tender and most of the liquid has evaporated. Add garlic and thyme and stir for a minute or two.
Add spinach, pasta, cream and reserved liquid. Season with the lemon zest and juice, salt and pepper. Mix in the chorizo and serve garnished with the pine nuts, currants and grated Parmesan.
Serves 4
Note: Currants in port: place some dry currants in a small jar and cover with port. They  keep in the pantry for months. A very useful addition to many dishes. Delicious to garnish chicken liver paté or foie gras spread on toast or crackers.