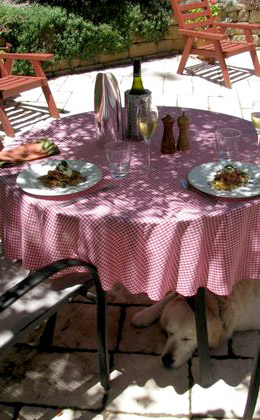 In the warmer months we like to have Saturday lunch in the garden, under the shade of our olive tree.  With a red and white check tablecloth and a bottle of chilled Sauvignon Blanc, you can almost imagine you're in a little bistro in the south of France.
When you have time it's nice to have something a bit more exotic for lunch than the usual weekday sandwich, so today I made some potato cakes and served them with smoked salmon and a mustard sauce.
Smoked Salmon with Potato Cakes, Mustard Sauce and Chives
4 medium to large potatoes
1 tsp salt
2 Tbs plain flour
1 egg
Freshly ground black pepper to taste
4 or 8 slices smoked salmon (depending on appetite!)
1-2 Tbs snipped chives or dill
50g butter
2 Tbs olive oil
Mustard Sauce:
1/2 cup sour cream
1 tsp hot English mustard
3 tsp grainy mustard
1 tsp honey (optional)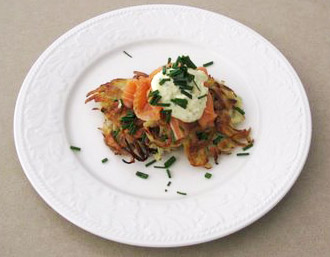 Coarsely grate potatoes, place them in a sieve and sprinkle with salt.  Leave for 20 minutes or so, mixing with your hand from time to time.  Place potatoes in a clean tea towel then use it to squeeze out as much liquid as you can.  In a bowl mix potatoes with flour, egg and pepper. In another small dish, mix all the ingredients for the sauce together.
Heat half the oil with half the butter in a large frying pan.  Use about half the potato mixture to make four pancakes.  Cook over a medium heat for 3-4 minutes each side or until golden brown and cooked through.  Drain on paper towels.  Heat remaining butter and oil and repeat with the rest of the mixture to make another 4 pancakes.  Place two pancakes on each of four plates, slightly overlapping.  Top with smoked salmon, folded decoratively into the rough shape of a rose and concealing any darker parts underneath.  Top with a dollop of sauce and sprinkle with chives or dill.
Serves 4