Some years ago we spent a few days in Varenna, on Lake Como in northern Italy.  We stayed in a small family-run hotel called the Olivedo we had read about in a travel forum.
Having read some of the comments on this forum we came to the conclusion that this was an Italian hotel run along the lines of Fawlty Towers.  In true Aussie spirit we decided to give it a go, hoping that the stunning views and home cooking would compensate for the eccentricities of the staff. Anyone who hasn't heard of Fawlty Towers, just look on Wikipedia.
Unless it's changed hands, the Olivedo is run by a middle-aged single lady called Laura and her mother, who does the cooking. On our first day Laura told us that dinner would be served at 7.30 pm, on the dot, and she meant it.  Late-comers have to go without as we witnessed one evening when a Belgian couple arrived at 7.50 pm and were sent away.  It's a fixed menu with no choice, but fortunately it was all very good.  Halfway through our first evening meal we commented on how fit and slim Laura was, despite all the excellent food cooked by her mother. Before you could say Jack Robinson, or Bob's your Uncle she fell to the floor and did 20 push ups, just to prove the point.
We were sitting in the bar enjoying a cup of tea one afternoon when an American hotel guest walked in.  She asked Laura if she could buy an ice cream from the freezer which was located there.  Laura tapped her watch and replied very sternly  "No, you can't have an ice cream, it's too late, it will spoil your dinner." And that was that.
One day we were enjoying a pre-lunch aperitif on the front terrace when a very large group of German tourists arrived. They said they wanted lunch, so Laura said they could sit anywhere on the terrace. It was a cool and rather damp day and the average age of the group was over 80, so the tour leader not unreasonably asked if they could sit inside.  "No" Laura replied emphatically "Today we are eating lunch outside.  If you want to eat inside you will have to go somewhere else."  So they did.
We stayed on Lake Como for six days. When I say that it's one of the most beautiful places in the world I should add that during our stay it rained almost constantly. Anywhere that's beautiful in the pouring rain is really beautiful!  The Olivedo was right up our alley. Give me a small unconventional family-run hotel any day rather than a boring five star chain hotel.
One night we were served grilled wild asparagus with parmesan cheese. Asparagus probably grows wild here, if only I knew where to go and pick it, but I had never seen it for sale until the other day when I found some in the Organic shop in north Lyneham called Choku Bai Jo. Well maybe it was cultivated wild asparagus, but it certainly looked like the wild version, which is pencil thin. Here is my version of the Olivedo dish.
Grilled Asparagus with Parmesan Cheese
1-2 bunches asparagus (wild if possible)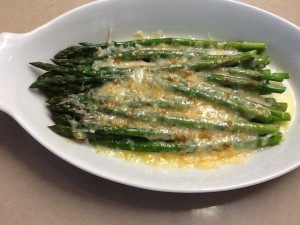 50-75g grated Parmesan
good quality olive oil
Freshly ground black pepper
Trim asparagus and steam till al dente.  Dry well with paper towels then place in a greased shallow dish, sprinkle with the cheese, drizzle generously with olive oil, then place until a very hot grill until browned and bubbly.  Grind some black pepper over then serve with crusty bread.
Serves 2-4