This chutney is adapted from a recipe in this month's Delicious magazine. It's very quick to make and great to have around at Christmas or to give to friends as a gift. The original recipe didn't have any chilli, so just leave it out if you're not into spicy food.
1 x 825g can pineapple in natural juice or light syrup (or 2 smaller cans)
4 Tbs Hoisin sauce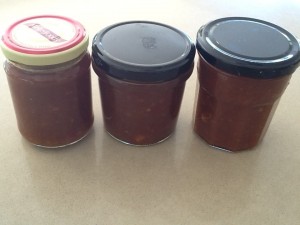 3 Tbs honey
3 Tbs soy sauce
2 star anise
2 Tbs chopped fresh ginger
1 tsp Chinese five spice powder
1 Tbs crushed chilli (buy it in a jar or process some fresh ones)
In some countries you can buy crushed pineapple, but if yours is in slices or rings, place in food processor and chop finely.  Place in a large heavy-bottomed pan with remaining ingredients. Simmer for 15-20 minutes, stirring regularly, or until thickened and looking a bit sticky around the edges. Discard star anise. Place a few small jam jars without their lids in microwave and "cook" for a minute or two. This will heat and sterilize them. Fill with chutney and seal while hot. Serve with cold ham, pork, turkey, duck or chicken.  Will keep for several months. Refrigerate after opening.
Makes about 4 cups
Note: if you prefer the chutney to be yellow in colour use white soy sauce, sugar instead of  honey and omit the hoisin sauce.