This salad is a real winner. One you will make again and again. Healthy but filling, it just hits the spot.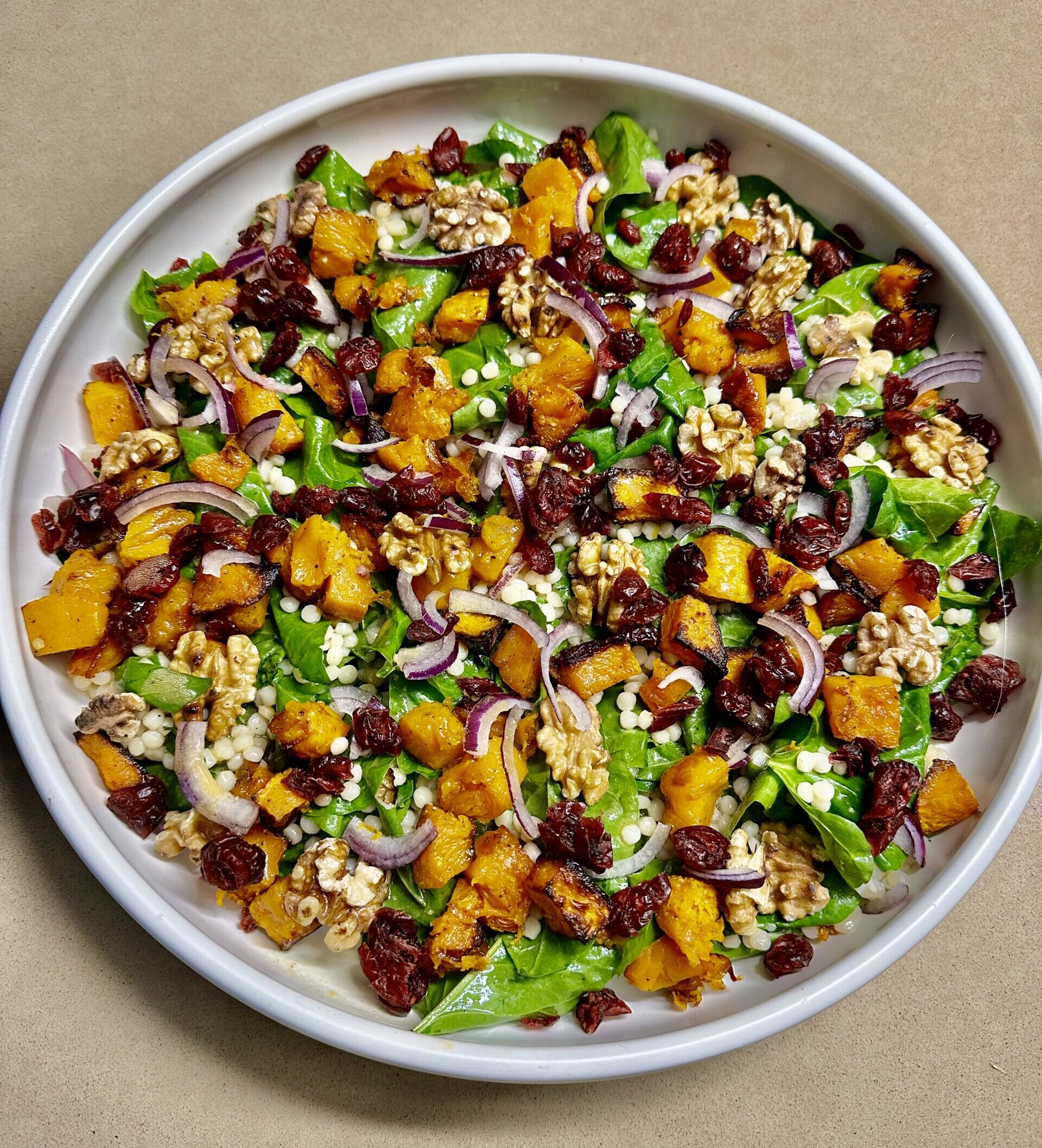 Maple Dressing:
¼ cup olive oil
3 Tbs maple syrup
4 Tbs orange juice
2 Tbs cider vinegar
1 Tbs Dijon mustard
Salt and freshly ground black pepper, to taste
Salad:
1 cup pearl couscous (also known as Israeli couscous)
1 small butternut pumpkin (also known as butternut squash)
1 Tbs olive oil, salt and pepper
4 cups baby spinach, firmly packed, stalks removed, or larger leaves, torn up
½ cup dried cranberries
¼ of a red onion, thinly sliced
1 cup pecan or walnut halves
Place dressing ingredients in a jar with a lid and shake to combine. Preheat oven to 200°C. Peel pumpkin and cut into 2cm cubes. Mix with the oil, salt and pepper, then spread out on a shallow baking tray lined with baking paper. Bake for 25 minutes or until cooked and starting to brown. Cool.
Meanwhile cook the couscous for 5-10 minutes in a pan of boiling, salted water, until al dente. Drain in a sieve, then run it under the cold tap and drain again. Toast the nuts by stirring them in a dry frying pan over moderate heat for a few minutes.
Mix the spinach and couscous with some of the dressing and arrange in a shallow salad bowl. Arrange the pumpkin, pecans or walnuts, cranberries and onion over the top. Drizzle with a bit more dressing.
Serves 4