I was going to make a fish soup then changed my mind and came up with this fish casserole.
Serve it on one or two slices of toasted bread per person, depending on their appetite. One is enough for me. I used Turkish bread.
If preferred, serve the casserole without the toast and rouille. Or leave out the toast and serve a blob of rouille on each serving of fish.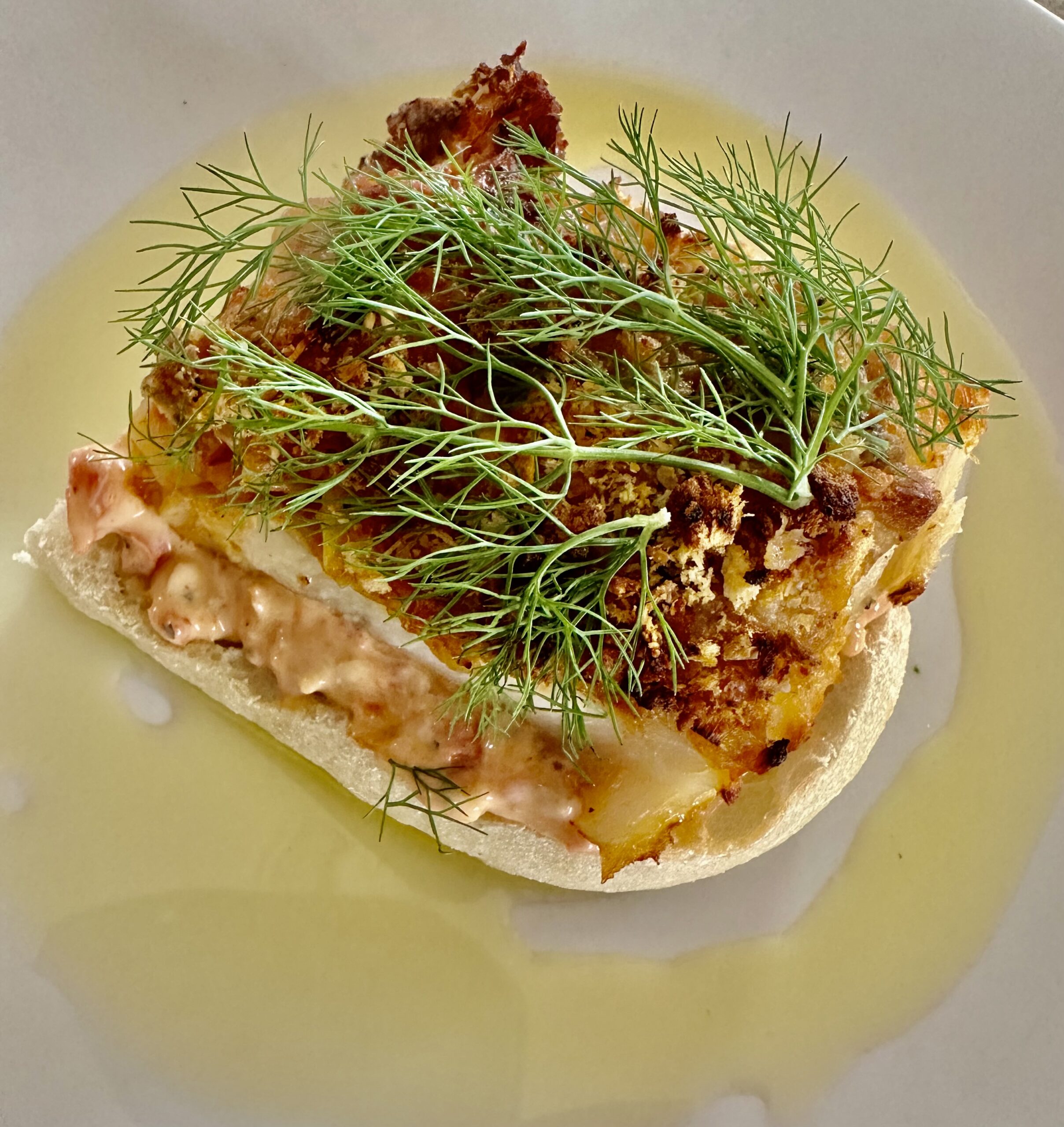 750g white fish fillets
2 onions, chopped
1 leek (white part and a little of the green), chopped
4 cloves garlic, crushed
4 Tbs olive oil
1 bulb fennel, diced (keep some green fronds for garnish)
1 can chopped tomatoes
2 cans water
1 vegetable stock cube
¼ cup Pernod (optional)
2 tsp sugar
Salt and freshly ground black pepper, to taste
Topping:
2 slices bread, made into breadcrumbs in food processor
½ cup grated Parmesan cheese
To serve:
6 slices sourdough or Turkish bread, toasted
1 cup mayonnaise, preferably home-made
¼ cup roasted red pepper strips from a jar, drained
1 clove garlic, crushed
Arrange fish fillets in a single layer in a rectangular lasagne-type dish.
Heat oil in a heavy-based saucepan and cook the onions, leek, garlic and fennel for 10-15 minutes, stirring often. Add tomatoes, water (use the tomato can to measure), stock cube, Pernod and seasoning. Simmer for 30 minutes or until the fennel is soft. Add more water if necessary during cooking. When ready sauce should be fairly thick and chunky. Check seasoning.
Preheat oven to 180°C, Spread sauce evenly over the fish. Mix breadcrumbs and Parmesan and sprinkle over the top. Bake for 30-40 minutes or until golden brown on top.
Meanwhile process the red peppers in food processor until smooth and mix into the mayonnaise with the crushed garlic. This sauce is a quick version of a sauce called Rouille, which is traditionally served in France with the fish soup called Bouillabaisse.
Place a slice of toast on six serving plates, spread each slice generously with the rouille, then top with a rectangle of the fish casserole – you should get six to eight servings. Garnish with some of the reserved fennel leaves and, if liked, drizzle a little extra virgin olive oil around the plate.
Serves 6
Variations: if you can't find fennel, substitute diced carrots, celery or zucchini.