Home-made mayonnaise is delicious and you can whip up a batch in less time than it takes to go to the corner shop and buy some. Some recipes use egg yolks, but I prefer this lighter version using whole eggs – unless I happen to have some egg yolks left over from another recipe which need using up. Instead of two whole eggs you can use four egg yolks, or one egg and two yolks. Using more yolks makes the mayonnaise more yellow. From the basic recipe it's easy to make tartare sauce to serve with fish or a pink dressing known as Salsa Golf in Spanish, to serve with seafood.
It's important to "warm" the ingredients by mixing for a minute or so before adding the oil, to stop the mixture from curdling. Despite taking this precaution, occasionally you may find yourself with a batch of curdled mayonnaise.  Maybe it's caused by the freshness of the eggs or the weather, who knows. To solve this dilemma start over again and make a fresh batch – maybe half the recipe if you don't want to end up with too much! Once that's made, gradually add the curdled batch to the good batch through the chute of the food processor, with the machine running. This usually does the trick.
I find a food processor much easier than an old-fashioned blender where the ingredients tend to get stuck down the bottom and there's far more risk of curdling. Adding extra vinegar at the end allows you to adjust the mayonnaise and give it a bit more tang.  Using 100% olive oil results in a mayonnaise which is too rich for my taste and is much more likely to split. However, replacing a small amount of the canola oil with olive oil works well and gives a richer flavour.
An Australian tablespoon is 20mls compared with an American tablespoon which is only 15mls.  Refer to this page for more details on weights and measurements.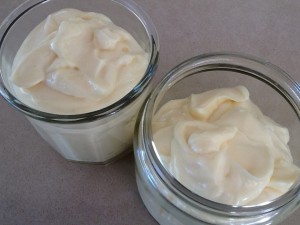 2 large eggs
2 Tbs cider or white wine vinegar or lemon juice
1 tsp salt
1 tsp sugar
1 heaped tsp hot English mustard
2 cups (500ml) vegetable oil such as Canola or Sunflower
About 1 Tbs vinegar or lemon juice, extra
Place eggs, vinegar, salt, sugar and mustard in a food processor and process for a good minute to thoroughly mix and warm the ingredients. Gradually add the oil through the chute with the motor running. Towards the end the mayonnaise will thicken up nicely. Add extra vinegar or lemon juice. Store in wide-mouthed jars with lids in the fridge. Keeps for up to 3 weeks.
Makes about 3 cups
Seafood Dressing
1 cup mayonnaise
½ cup cream or sour cream
1-2 Tbs tomato sauce (ketchup)
A few drops of Tabasco sauce to taste
lemon or lime juice to taste
2 tsp Cognac or brandy (optional)
Mix together and refrigerate before serving. Adding Cognac gives the sauce a different taste for a change.
Makes about 1½ cups
Tartare Sauce
1 cup mayonnaise
2 Tbs spring onions, finely chopped
2 Tbs drained capers, finely chopped
2 Tbs gherkins, finely chopped
Mix all together and serve with fish.
Makes about 1½ cups