Serve these delicious, crunchy cauliflower bites as an aperitif or light meal. The ones in the photo are larger florets which we had as a light meal. I served smaller ones with Christmas drinks and they were a great success. All the preparation can be done several hours ahead.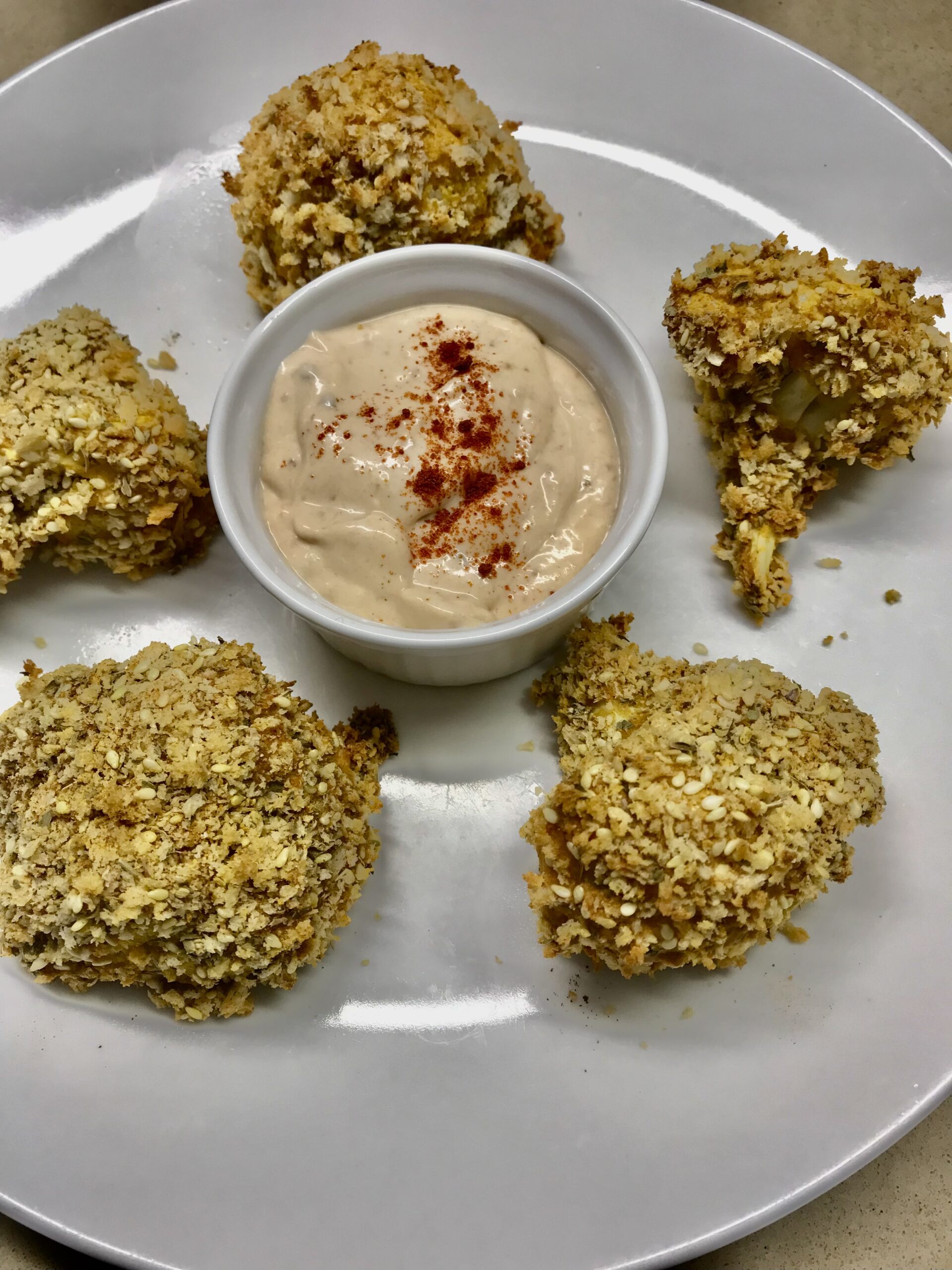 1 small to medium cauliflower or half a large one
Batter:
2 Tbs Besan (chickpea) flour
1 Tbs cornflour (corn starch)
1 tsp each of turmeric, salt, oregano and paprika
2 eggs and a little water
Coating:
3 cups panko breadcrumbs
1 Tbs sesame seeds
Dipping Sauce:
½ cup mayonnaise (preferably home-made)
¼ cup sour cream or plain yoghurt
1 Tbs tomato sauce
A little chilli sauce such as Tabasco or Sriracha, to taste (optional)
Paprika
Cut cauliflower into florets – one or two bites in size. Mix the batter all together in a bowl with a fork, adding enough cold water to make a coating consistency. Add the cauliflower florets and toss well until thoroughly coated. Preheat oven to 180°C. Line a shallow baking tray with baking paper.
Mix the coating ingredients in a shallow bowl. Remove cauliflower, one or two pieces at a time and toss in the crumbs, patting them on. Arrange in a single layer on the baking tray. Can be prepared in advance to this stage.
Bake for 20-30 minutes until tender (test with a skewer or sharp knife), golden and crispy. Smaller florets will take less time. Mix sauce ingredients together, sprinkle with paprika and serve with the cauliflower.
Makes 36-40
Note: feel free to use different herbs and spices such as dried basil, cumin etc