The Las Vegas Strip in Clark County, Nevada USA is famous for its hotels and casinos, many of which have amazing architecture and lights.
But there's more to Vegas than the Strip. Normal people live normal lives in the rest of the town. They go to work or school and rarely go to the touristy area. We recently visited two cousins who live in Las Vegas proper, where they both work as lawyers. It was great to catch up and to cross the nearby Grand Canyon off our bucket list. We splurged and went by helicopter and it was indeed an amazing experience.
Tom and Bob both live in houses located in the grounds of the Las Vegas Country Club and we stayed with Bob. Invited to the Club house for lunch on the day we arrived,  I chose this delicious, healthy salad which was so good I decided to try and replicate it on my return.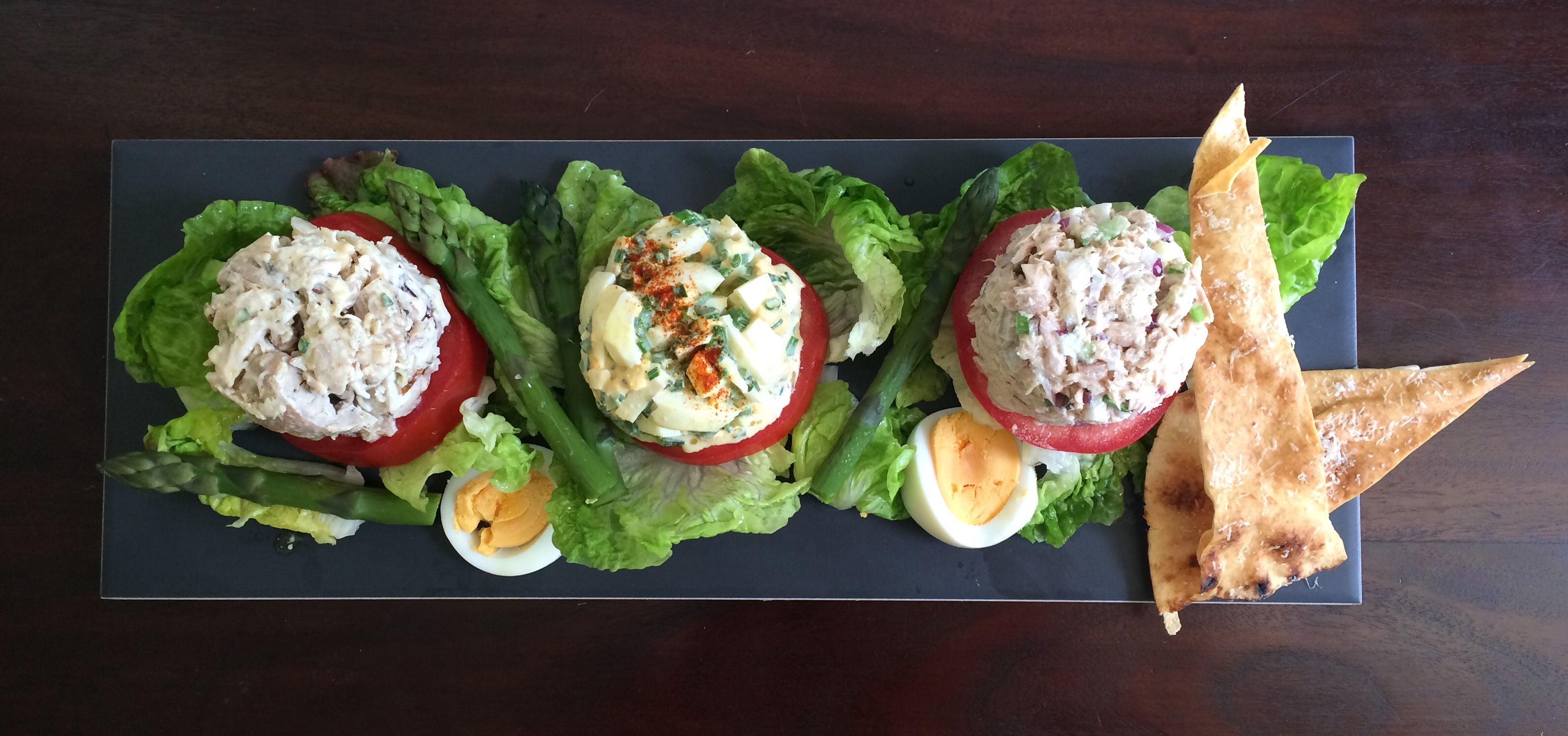 Mesclun or small lettuce leaves
12 large slices of tomato
12 spears asparagus
2 hard boiled eggs, sliced
1-2 pita breads
Olive oil and grated Parmesan
Paprika
Chicken and Walnut Salad
2 cups cooked roast chicken, diced
½ cup finely chopped walnuts or pecans
2-3 Tbs mayonnaise, preferably home-made
Salt and pepper to taste
Tuna and Celery Salad
2 cups canned tuna, drained
½ cup very finely diced celery
2-3 Tbs mayonnaise, preferably home-made
1 Tbs finely chopped red onion
Salt and pepper to taste
Egg and Chive Salad
2 cups diced hard boiled eggs (about 5 or 6), diced
¼ cup snipped chives
2-3 Tbs mayonnaise, preferably home-made
Salt and pepper to taste
Make mayonnaise then make the three different salads by mixing all ingredients together. Use enough mayonnaise to bind the ingredients together. Refrigerate till serving time.
Split pita breads in half horizontally, brush with olive oil and sprinkle with some finely grated Parmesan. Cut into long pointy pieces then bake at 180°C for 10-15 mins or until crisp and golden. Cool.
Wash and trim asparagus and cook in boiling salted water for about 4 mins. Drain and cool. All of this can be done ahead. To serve, arrange salad leaves on four serving dishes – rectangular ones look good. Then place three tomato slices on each plate.
Find a small rounded bowl, ramekin or measuring cup which holds about half a cup. The diameter needs to be about the size of the tomato slices.
Spray with oil, fill with about a quarter of the mixture and pack down well. Tip out onto a tomato slice. Rinse, dry and re-oil then repeat with the other salads, so each serving has a mound of each. If preferred just dollop it on with a tablespoon.
Garnish plates with asparagus, hard boiled egg slices, a shake of paprika and a couple of pita toasts.
Serves 4