It's asparagus season again and our dedicated patch is producing a couple of kilos or more a week. It's like nothing you ever see in the shops. So chunky and flavoursome. We eat most of it steamed, with melted butter, sometimes with fresh herbs mixed through. Or cold with home made mayonnaise.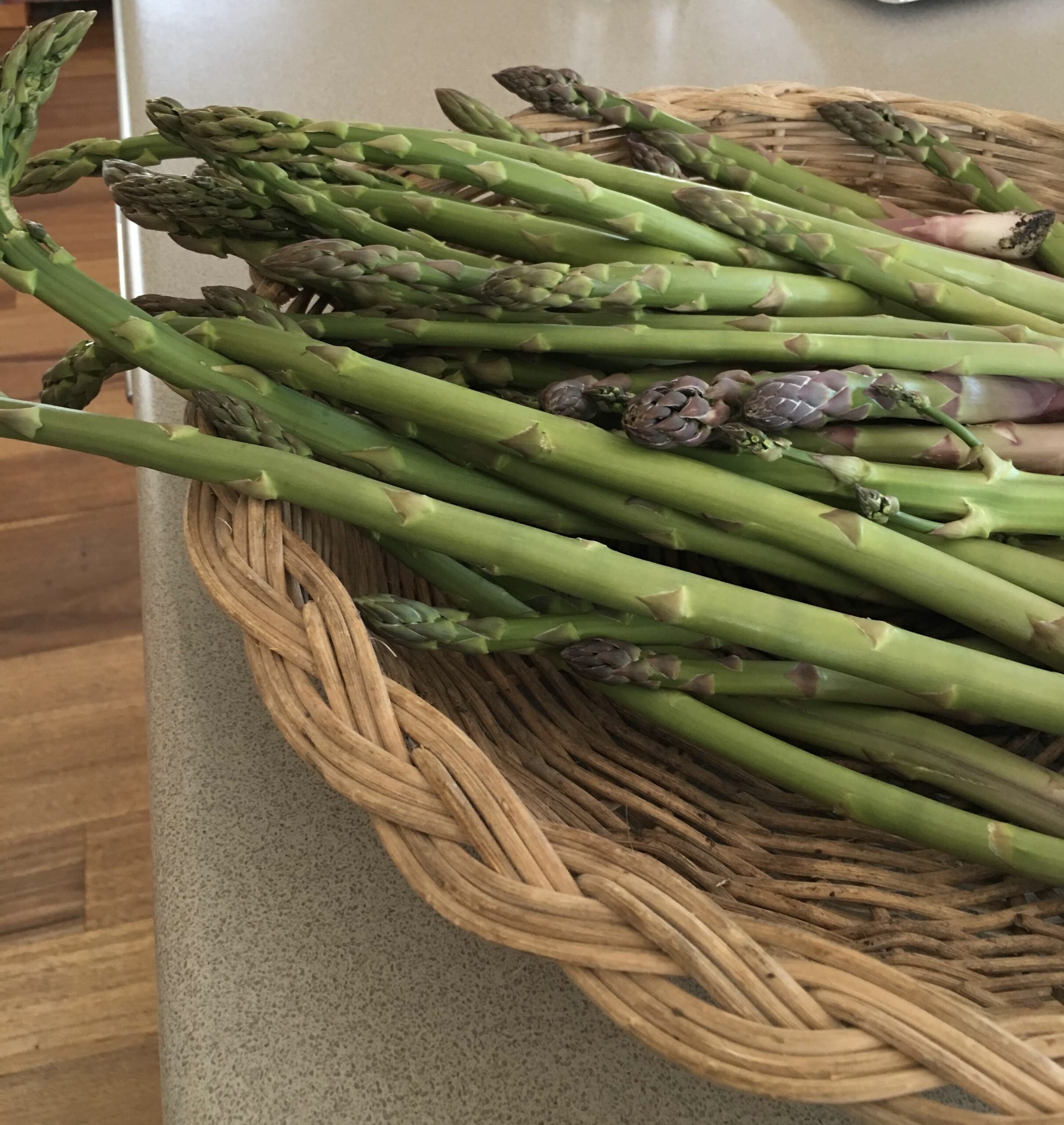 I'm always on the look out for new ways to serve this wonderful vegetable, such as this delicious risotto.
50g butter
1 Tbs olive oil
1 large onion, finely chopped
250ml white wine
2 litres chicken or vegetable stock
A large bunch of asparagus (20-24 stems)
1 cup Arborio rice
Salt and freshly ground black pepper to taste
1 cup grated Parmesan cheese
To garnish:
6 thin slices prosciutto
Extra virgin olive oil (optional)
Place half the butter and oil in a heavy-based pan over low heat. Add the onion and cook very gently for 15 minutes, stirring from time to time, until cooked but not coloured. Meanwhile trim off the tough ends from the asparagus. Choose 12 nice stems and trim them a bit shorter. Blanch them for 3 minutes in boiling salted water then refresh in cold water and dry on paper towels.
Cut the rest of the asparagus into bite sized pieces. When the onion is cooked add the wine, rice and chopped asparagus and cook, stirring, for a couple of minutes. Gradually add the stock, a cup or so at a time, adding more as it's absorbed into the rice. When the rice is al dente (you may not need all the stock) add half the grated parmesan and the remaining butter and turn off the heat. The risotto should be slightly wet. Season to taste then cover and stand for 5 minutes.
Serve on six individual serving plates and top with remaining parmesan. Garnish each plate with two of the blanched asparagus spears, a slice of prosciutto and, if liked, a drizzle of oil.
Serves 6 as a starter or 3 as a main