Pan-fried fish makes a quick mid-week dinner for two. The creamy sauce is optional, but goes well with the combination of beans and fish.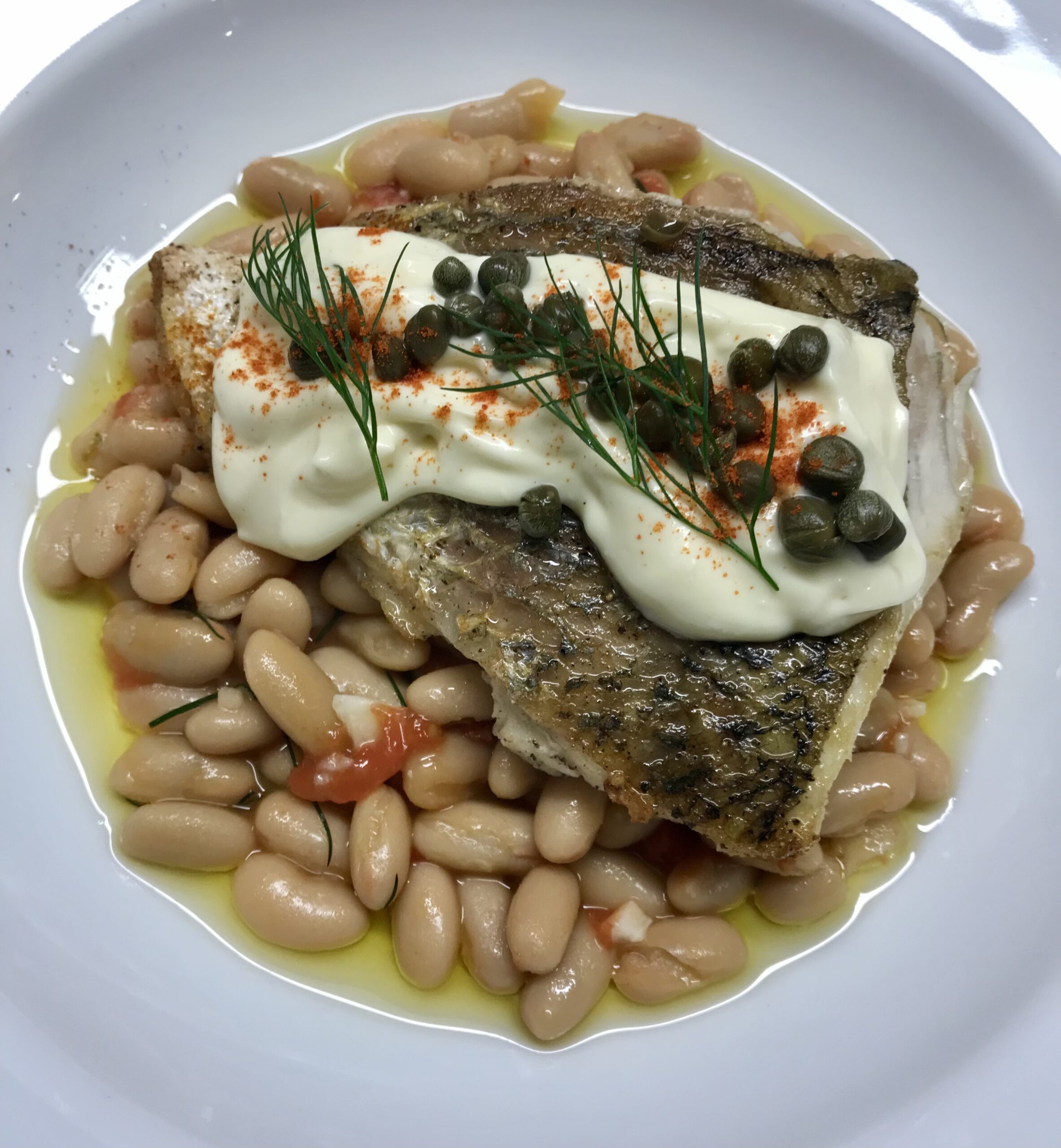 2 fillets of Barramundi, skin-on (or another firm-fleshed fish such as cod or hake)
1 x 450g can cannellini or other white beans, drained and rinsed
2 tomatoes, peeled, de-seeded and chopped (or 8 cherry tomatoes)
1 clove garlic, crushed
2 tsp vinegar (sherry, white balsamic, white wine or tarragon)
2 tsp olive oil
Salt and freshly ground black pepper
1 Tbs chopped dill or tarragon
For the sauce:
3 Tbs mayonnaise (preferably home-made)
1 Tbs cream
Few drops of Tabasco sauce
To garnish:
2 tsp small capers
Cayenne pepper (optional)
A few sprigs of dill or tarragon
Extra virgin olive oil (optional)
Dry fish fillets thoroughly with paper towels and season on both sides. Place tomatoes, garlic, vinegar and olive oil in a pan and heat through for a few minutes. Season to taste and add the fresh herbs.
Meanwhile place fish fillets, skin side down, in a cold, lightly oiled, non-stick frying pan. Turn on the heat to moderate and cook for 3-4 minutes, or until the skin is nice and crispy. Turn over and cook for a further 2-3 minutes or until fish is tender – check with a fork.
Mix mayonnaise with cream and Tabasco.
Serve fish, skin side up, on a bed of the bean mix, topped with some the sauce and garnished with capers, a shake of cayenne and a few fresh herb sprigs. If liked, drizzle a little olive oil around each serving. Serve with a steamed green vegetable, such as broccolini.
Serves 2