When I was growing up in the UK my mother used to cook smoked haddock in milk. I have never seen smoked haddock in Australia, but I often buy a couple of fillets of smoked cod and stick them in the freezer to whip out on a busy day.
I invented this dish many years ago and it has become a favourite mid-week dinner. All you need are tomatoes – which we have in the garden at the moment – and some cream. The recipe is easy to halve if you're cooking for one.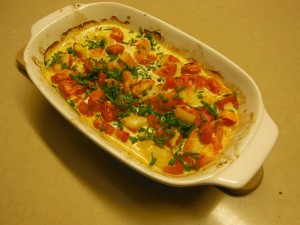 2 fillets smoked cod or haddock (about 350g)
3-4 tomatoes
About 1/3 cup cream
Black pepper
Chopped fresh herbs to garnish
Preheat oven to 200ºC. Remove skin from fish, cut into bite size chunks and arrange in a small, shallow, oven-proof dish, lightly greased. If you have time, remove skin from tomatoes by pouring boiling water over them for a minute or so. This is optional – I don't mind them with the skin left on. Cut tomatoes into chunks and sprinkle over the fish. Drizzle with cream and season with pepper. You probably won't need salt as the fish is salty. Bake for 20-25 mins or until golden and bubbly. Garnish with some herbs and serve with steamed rice or mashed potatoes and a steamed green vegetable such as peas, snow peas, green beans or asparagus.
Serves 2-3