Instant or quick-cook couscous is ready in a jiffy and so is salmon, so I often team them up for a week-day dinner. With cherry tomatoes and lemons in the garden I came up with this tasty combination which you can have on the table in 15 minutes.
Any leftover couscous mixture makes the basis of a tasty salad for lunch the following day. Just add any of the following – cubed leftover chicken or other cooked meat, tomatoes, cucumber, feta cheese, canned corn, herbs, onion and a dollop of mayonnaise, French dressing or pesto. To stretch if even further, serve on a bed of salad greens and voila, lunch is served. As I write this blog I am eating my leftover couscous salad. I added leftover roast chicken, a diced perfectly ripe nectarine, some cucumber, a teaspoon of curry paste and a dollop of mayonnaise. Delicious.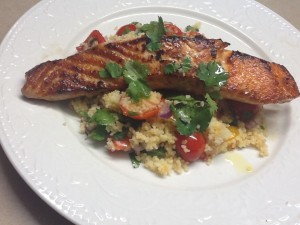 1 cup couscous
1 cup water
2-4 tsp grated ginger
Salt and freshly ground pepper to taste
2 salmon fillets weighing 180-200g (with or without skin, as you prefer)
1 clove garlic, crushed
1 Tbs olive oil
Juice and zest of half a lemon
200g cherry tomatoes, halved
2 spring onions, finely sliced or ½ red onion, finely diced
½ cup chopped coriander
½  to 1 birds eye chilli, to taste, seeded and finely diced
Heat water in a saucepan and when it boils add couscous, stir then cover and turn off heat. Leave to stand while you cook the salmon. Place salmon in a dish with half the oil, garlic, half the lemon zest and juice. Season to taste and turn to coat. Pan fry salmon in a non-stick frying pan over moderate to high heat for 3-4 minutes each side, or until done to liking. There is no need to add additional oil as there is some in the marinade. Fluff up the couscous with a fork and add the ginger, tomatoes, onion, coriander, chilli, remaining zest, juice and oil. Season to taste and add any juices from cooking the salmon. Serve salmon on a bed of couscous garnished with more coriander. The couscous will be warm not hot.
Serves 2