This light main course was served by my son and daughter-in-law when I spent three nights with them in Sydney last month. Light, delicious and healthy.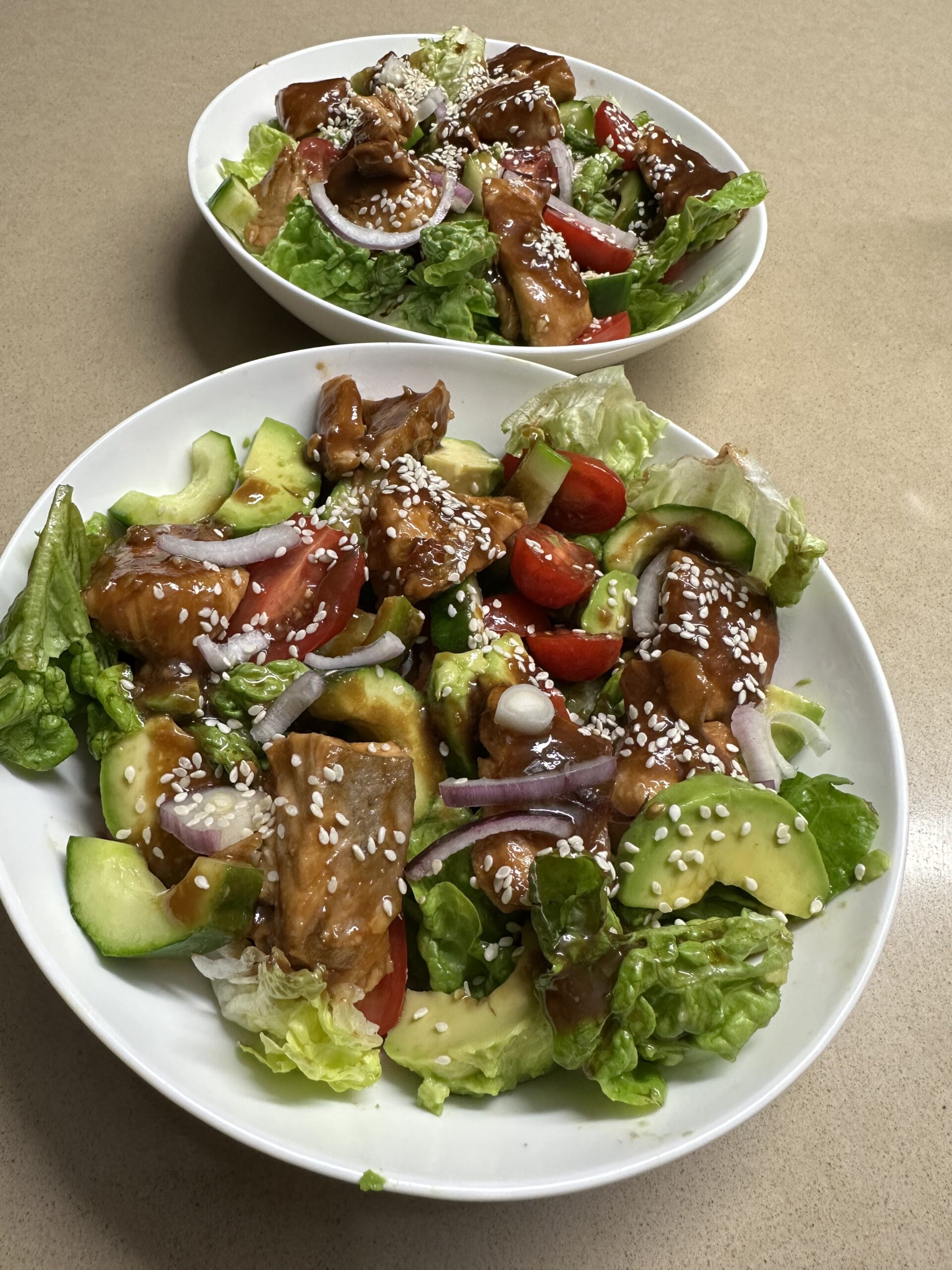 4 salmon portions, about 180g each
2 tsp vegetable oil
8 cups lettuce, or mixed salad greens, in bite-size pieces
20 cherry tomatoes, halved
1 cucumber, halved, de-seeded and sliced
1 avocado, sliced
Sauce:
1 Tbs soy sauce
1 Tbs hoisin or oyster sauce
1 Tbs rice wine vinegar
1 Tbs honey or brown sugar
2 Tbs water
1 clove garlic, crushed
Sesame Dressing:
1 Tbs soy sauce
2 tsp sesame oil
1½ Tbs white vinegar
2 Tbs olive oil
1 tsp honey or sugar
To garnish:
1-2 tsp sesame seeds, lightly toasted
1 spring onion, thinly sliced or red onion
Remove skin from salmon and discard, then cut salmon into bite-sized pieces. Mix the ingredients for the sauce in a bowl, add salmon and mix.
Shake sesame dressing ingredients in a jar then mix with the lettuce. Divide between 4 individual salad bowls and top with the tomatoes, cucumber and avocado.
Heat vegetable oil in a non-stick frying pan. Remove salmon from the sauce and add to the pan in one layer. Keep the sauce. Cook salmon for a minute on each side, then arrange on top of the salads. Add sauce to the pan and cook for 30 seconds, or until syrupy. Spoon over the salmon. Garnish with sesame seeds and onion and serve immediately.
Serves 4