A carton of buttermilk will keep in the fridge, unopened, for at least a month, so I always have one on hand to make Irish soda bread. This bread doesn't contain yeast, so it's quick to make. Delicious eaten fresh or toasted next day.
The owner of a bed and breakfast near Cork many moons ago taught me to make soda bread. She used sour milk – something people often ended up with in the days before refrigeration, when the recipe originated. As far as the method goes, our lovely Irish hostess said "just mix it up wit yer two hands". As it's a bit sticky, I usually use a spoon. I replace the sour milk with buttermilk, but a mixture of half plain yoghurt and half fresh milk also works well. You can use self-raising flour or plain flour with the addition of baking powder and bicarbonate of soda.
This is a very flexible recipe. Use white flour or wholemeal as I have with these rolls, or half and half. Leave out the oats and use more flour. If you like, add a little honey. Grated cheese, herbs, chopped sun-dried tomatoes, dried fruit or nuts also help to ring the changes. Top with oats, sesame seeds or poppy seeds. The options are endless.
The recipe makes one large loaf or about a dozen small rolls. I recently bought a baking mold for 8 tiny loaf shapes and was dying to use it, so I ended up with eight loaves and four round rolls. As you can see in the photo, I sliced some of the loaves and topped them with cream cheese, smoked salmon, capers and red onion. Delicious.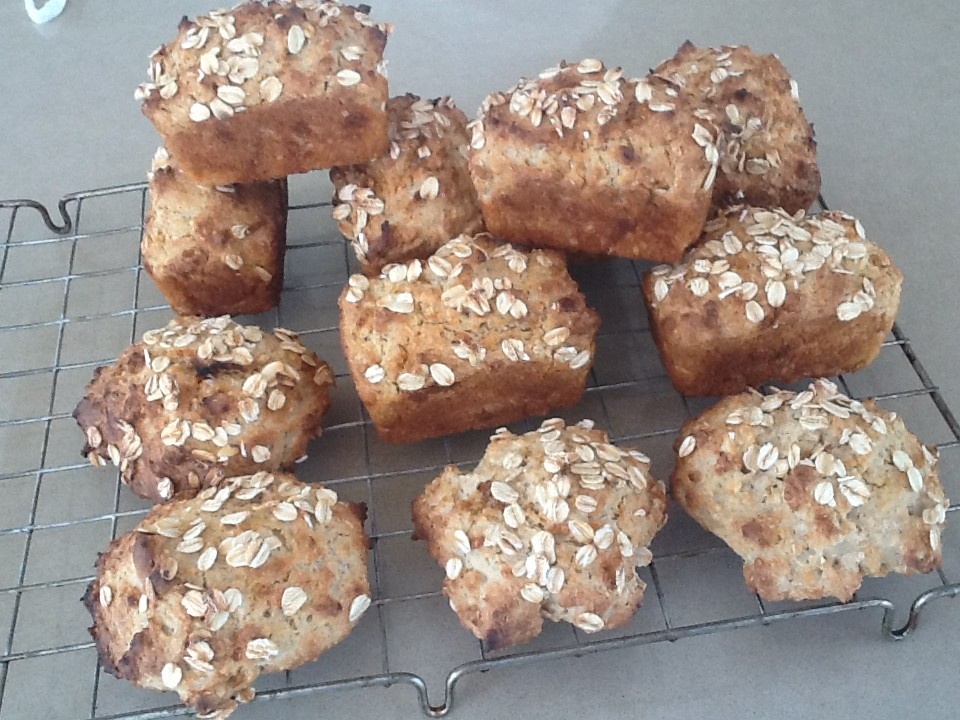 3 cups wholemeal self-raising flour, sifted
Or 3 cups plain four + 1 tsp each baking powder and baking soda
1 cup porridge oats (see note)
1 Tbs honey (optional)
1 Tbs vegetable oil
600ml buttermilk
Extra oats
Preheat oven to 200ºC. Mix all the ingredients in a bowl. I usually add a dash of water to the buttermilk container, swish it round and add that too. The mixture should be soft and slightly sticky – not as dry as a normal bread dough. Don't over mix or knead. Place heaped tablespoonfuls onto a tray lined with baking paper. Or spoon into greased muffin tins or mini-loaf tins. Sprinkle with extra oats.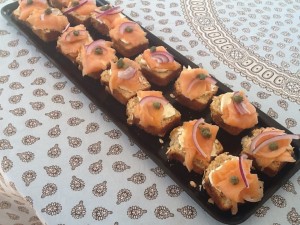 Alternatively, to make one large loaf, tip dough onto a floured surface and use floured hands to form it into a flattened round shape, place on a baking sheet lined with baking paper or in a large greased loaf tin and sprinkle with extra oats. Bake for 20-25 minutes, then remove from oven and cool on baking racks. A large loaf will take longer than rolls – around 45 mins.
Makes one large loaf or 12 rolls
Notes: You can use quick cooking oats or ordinary stone-ground ones. If using the latter give them a quick whiz in the food processor, to break them up a bit.