Romesco Sauce goes well with pan fried fish, chicken, roast lamb or beef, or in sandwiches, as a change from mustard or mayonnaise. It's quick and easy to make, keeps in the fridge for up to a week and can be frozen.
Here I served it with pan-fried barramundi fillets, cooked until the skin was nice and crispy and mashed sweet potatoes. A delicious flavour combination.
Romesco Sauce:
1 large roasted red pepper from a jar (about six large pieces)
1 garlic clove, crushed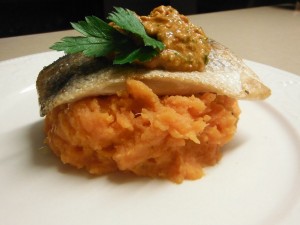 ½ cup slivered/flaked almonds or pine nuts
¼ cup tomato paste
2 Tbs chopped parsley
2 Tbs sherry or red wine vinegar
1 tsp smoked paprika
½ tsp cayenne pepper or chilli powder
½ cup extra virgin olive oil
Salt and freshly ground black pepper
Other ingredients:
1 large or two smaller sweet potatoes
25g butter
Salt and freshly ground black pepper
4 pieces Barramundi (about 180g each), skin on
2 Tbs olive oil
Parsley leaves to garnish
Sauce: Place all ingredients except oil, salt and pepper in food processor and process briefly until chopped. Scrape down the sides then with the motor running slowly add the oil and process till chunky-smooth. Season to taste.
Peel sweet potato, cut into chunks, place in a saucepan with some salt. Cover with boiling water then simmer for 15 mins or until tender. Drain and mash with butter and salt and pepper to taste.
Place olive oil in a non-stick medium sized frying pan. Pat fish fillets dry with paper towel and season with salt and pepper. Place fish in the cold frying pan, skin side down, then turn on the heat and cook for 4 mins or until skin is crispy. Turn fish over and cook for 2-3 mins on the other side or until cooked through. Serve fish on a bed of mashed sweet potatoes, topped with a dollop of Romesco sauce and garnished with parsley.
Keep any leftover sauce in a covered container in the fridge for up to a week.
Serves 4