This tasty Egyptian recipe for fish was sent to me by Jane, a friend who lives in Vancouver. We met Jane and her husband while we were visiting my brother last year.
In the original recipe it says you can use a whole cleaned and gutted fish or fish steaks. I opted for the latter to avoid the bones. As with many tomato-based dishes, the leftovers were even better than the first time round.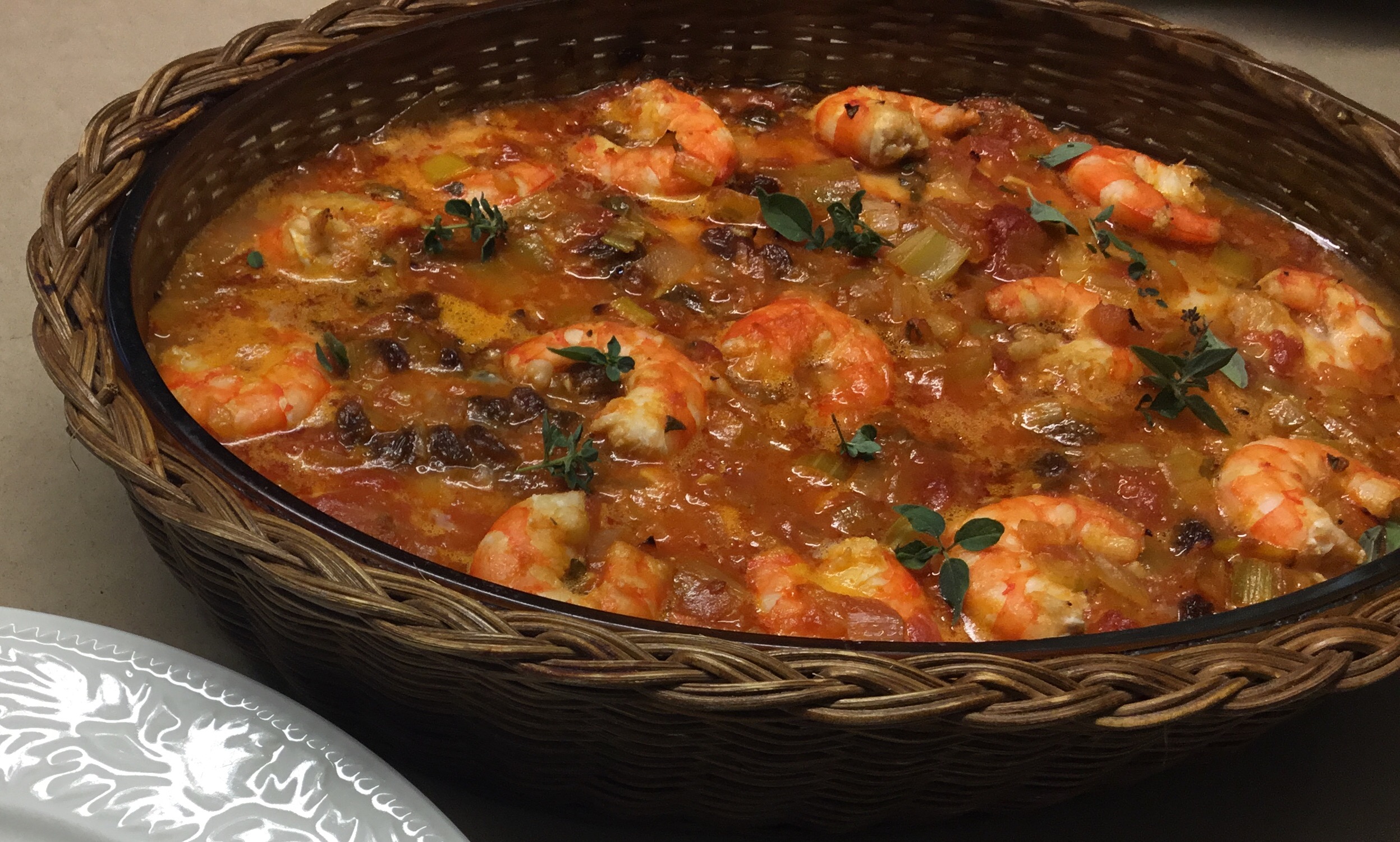 6-8 thick firm white fish steaks or fillets (eg cod, halibut)
Juice of 1 lemon
1 cup sultanas or raisins
1 cup white wine
2 Tbs olive oil
1 large onion, chopped
1 leek, chopped
1 stick celery, chopped
2 cloves garlic, crushed
½ cup chopped parsley
1 x 400g can tomatoes
1 cup water
Salt and freshly ground black pepper
1 tsp sugar
2 Tbs chopped fresh oregano or marjoram
12-16 whole cooked prawns (2 per person) shelled and deveined
Season fish with salt and pepper and drizzle with the lemon juice. Place sultanas and wine in a small bowl and leave to soak.
In a large frying pan heat the olive oil and cook the onion, leek, celery and garlic over moderate heat, stirring often, until soft but not brown. Add the parsley, tomatoes, seasoning, sugar and water. Drain the sultanas, keeping the fruit, and add the liquid to the tomato mixture. Simmer for 25 minutes or until the sauce has thickened, stirring often and crushing the tomatoes with the back of a spoon.
Meanwhile preheat oven to 200°C.  Oil a large shallow lasagne-type dish, tip in half the tomato sauce and spread out evenly. Arrange fish and lemon juice on top. Sprinkle the marjoram and the reserved sultanas evenly over the fish. Cover with remaining tomato sauce.
Bake for 30 minutes or until fish is cooked. Arrange prawns over the top for the last 5 to 10 minutes of cooking and spoon some of the sauce over each one.
Serve with steamed rice.
Serves 6-8