This recipe is adapted from one I found on the New Zealand website Mind Food, which is linked to the magazine of the same name.
Barley is an underrated ingredient, but we love its nutty texture which lends itself to all kinds of recipes where you might normally use rice.
The original recipe for these stuffed fish fillets (actually they're sandwiched together rather than stuffed) uses two large snapper fillets and serves 4-6. My version is about half the recipe, using two smaller fillets, which serves 2-4, depending on appetites. If you can't find snapper, any firm-fleshed fish fillets would work.
Having made this recipe I think you could get away without the string. Just sandwich the fillets together with the stuffing and pack the rest around.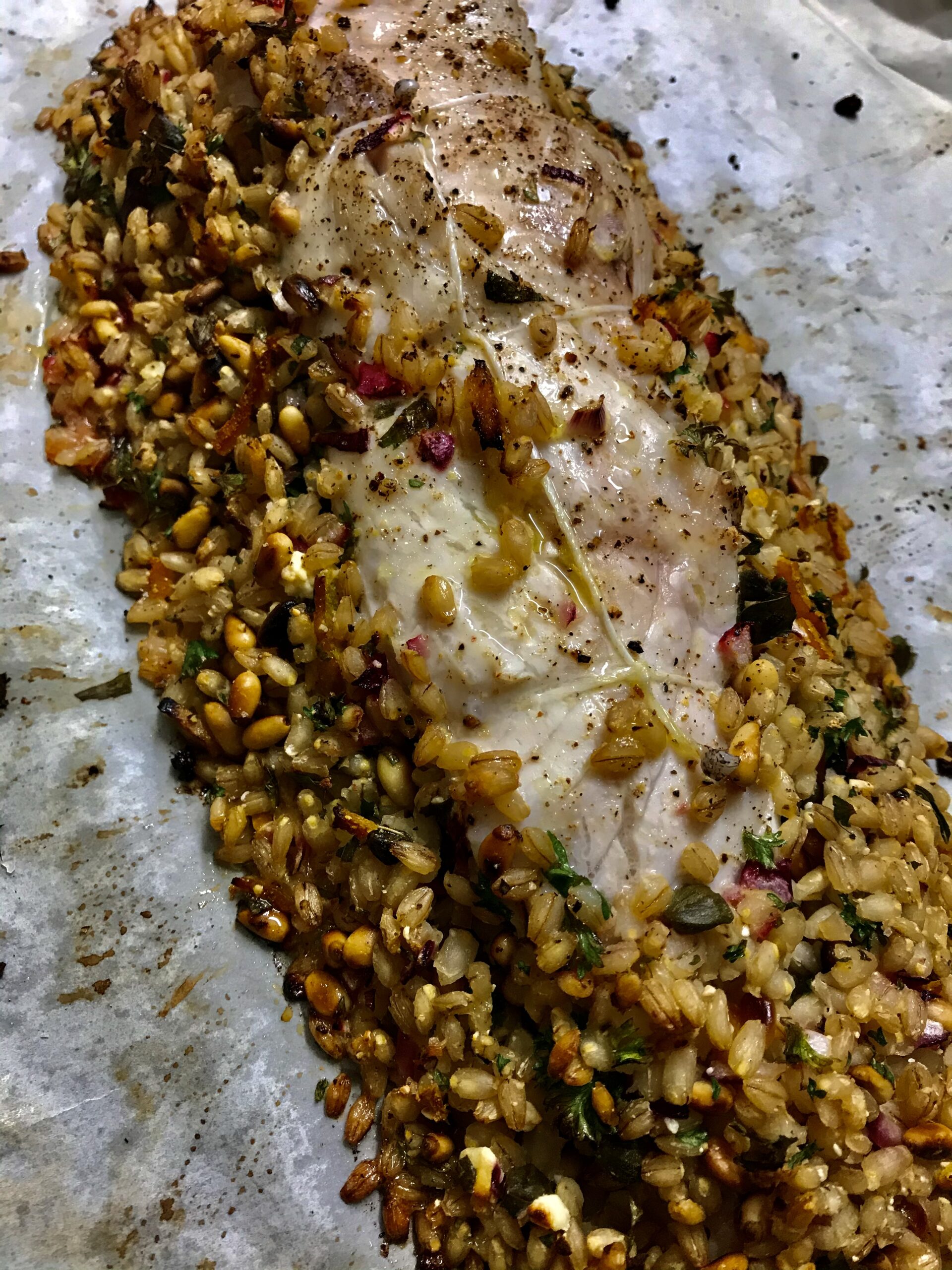 2 fish fillets weighing about 250g each
2 Tbs extra virgin olive oil
1 Tbs lemon juice
Salt and freshly ground black pepper
Barley Stuffing:
½ cup pearl barley
2 Tbs pine nuts, lightly toasted
½ small onion (red or brown), finely chopped
½ preserved lemon, flesh discarded, rind chopped
2 tsp salted baby capers
50g feta cheese, crumbled
¼ cup chopped mint
¼ cup chopped parsley
Salt and freshly ground black pepper, to taste
For the stuffing, cook barley in boiling salted water for 30-40 minutes, or until tender. Drain well then mix with remaining ingredients.
Preheat oven to 200°C. Place one fish fillet on a baking tray lined with baking paper. Season on both sides then cover with the barley stuffing. Season the second fish fillet and arrange on top. Use kitchen string to tie the "sandwich" at 3-4cm intervals. Place any leftover barley stuffing around the fish package. Drizzle with 1 Tbs olive oil and lemon juice. Bake for 20 minutes, or until cooked through when tested with a fork or skewer.
Remove string and cut the fish downwards into between 2 and 4 servings. Drizzle the remaining tablespoon of olive oil around the fish. Serve with a green vegetable such as peas or beans.
Serves 3-4