I was in my local shopping centre, heading for the supermarket, when I saw a sign outside a small bistro which said "Today's Special: Prawn Burger". I thought to myself "That sounds nice", so I bought a packet of peeled green prawns and some brioche buns and made them for dinner. They were delicious.  If you can't find raw prawns you could use cooked ones and just cook the burgers for less time.
On its own, or perhaps with some oven chips cooked in the oven or an air fryer, dinner's ready.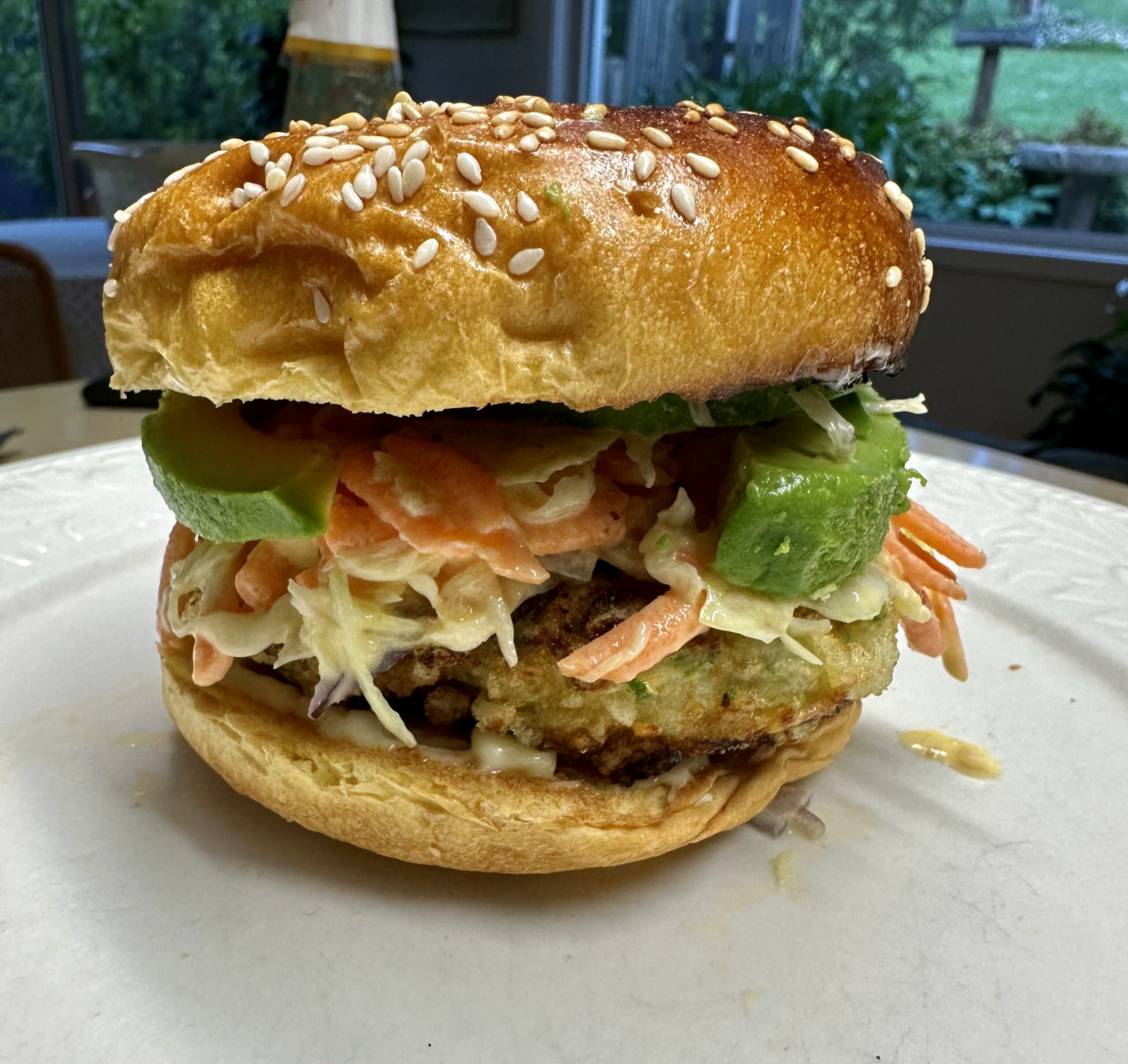 200g peeled green (raw) prawns
1 spring onion, roughly cut up
½ an egg white
1 Tbs cornflour
Salt and pepper to taste
1 cup breadcrumbs (preferably Panko)
1-2 Tbs oil
To serve:
2 or 3 brioche burger buns, split and toasted
Mayonnaise (preferably home made)
Salad: Avocado, tomato, lettuce, cucumber, red onion
Or coleslaw: shredded cabbage, carrot + a mayonnaise based dressing, plus some avocado (shown in the photo)
Place half the prawns, the spring onion, egg white, cornflour and seasoning in food processor and process until fairly smooth. Fold in remaining prawns, roughly chopped.
With damp hands, form mixture into 2 burgers the diameter of the brioche buns and coat them evenly with breadcrumbs, patting them on. Refrigerate until ready to cook.
Heat oil in a frying pan over moderate heat and fry the burgers for 4-5 minutes each side, or until golden and cooked through.
Spread some mayonnaise on the toasted buns, then fill each one with a burger and some salad or coleslaw.
Makes 2 burgers