This dessert can be made with fresh or frozen fruit, or a mixture of the two and is popular with all ages. Quantities will depend on the size of your mold. Mine holds 1½ litres and I used frozen raspberries, mangoes, blueberries and fresh kiwi fruit.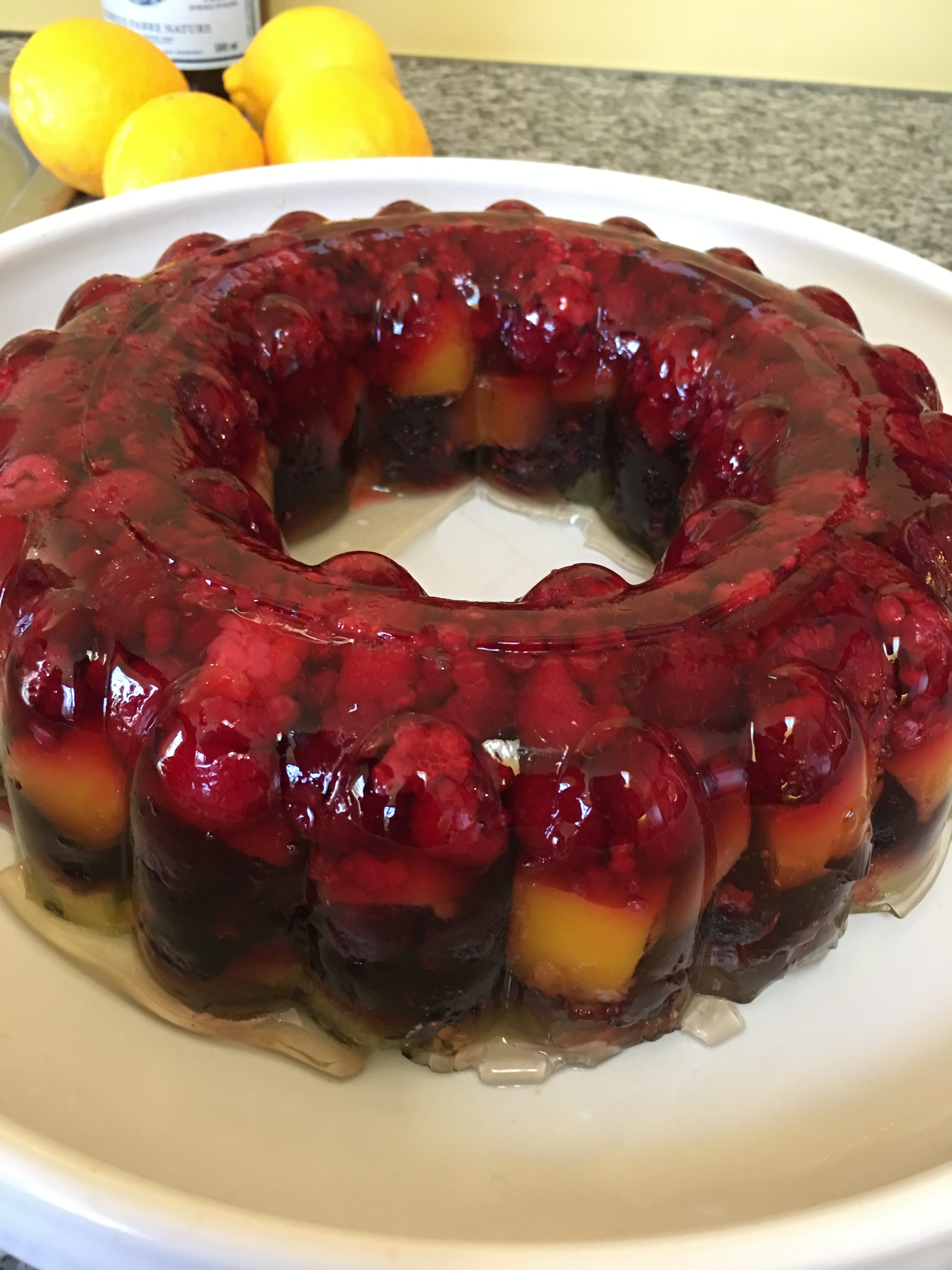 Red fruit such as raspberries or strawberries
Yellow fruit such as mangoes, peaches or nectarines
Purple fruit such as seedless black grapes or blueberries
Green fruit such as seedless green grapes or kiwi fruit
2 packets yellow or green jelly e.g. pineapple, mango, lemon or lime
1 rounded tsp gelatine powder
Cut strawberries into halves or quarters. Cut up mango, peaches or nectarines and kiwi. Leave blueberries and grapes whole.
Layer the fruit in the mold starting with the red fruit and keeping each colour separate. You will need a cup or so of each fruit. I used frozen raspberries, then frozen mango cubes, frozen blueberries and lastly fresh kiwi cubes.
Most jellies say to use half boiling water and half cold, but for this recipe use all boiling water. The jellies I bought said to use 250mls boiling water and 200mls cold water per packet. So for two that's a total of 900mls of water. I reduced this to 750mls boiling water and mixed the gelatine powder into the jelly powder before adding the water. Mix well until dissolved, then pour carefully into the mold until it comes to the top of the fruit. Refrigerate several hours or overnight.
To serve, dip the mold into very hot water for about 30 seconds, then tip out onto a serving platter. Put back in the fridge if you're not going to serve it immediately.
Serves 8-10
Variations: use just two fruits and alternate them, so you get two layers of each. Use white wine or fruit juice (heated) in place of some of the water in the jellies.