Gravlax is a Nordic dish consisting of raw salmon which has been cured in salt, sugar and flavoured with dill. It's popular all over Scandinavia and is traditionally served with dark bread and a sweet mustard sauce as a starter or as part of a buffet, which they call a smorgasbord.
When we were posted to Copenhagen we ate a lot of gravlax and I acquired the recipe. It's very easy to make, much cheaper than the bought version and can be made ahead and kept in the freezer. Perfect to whip it out as needed and serve to guests over the holiday season. Serve as an alternative to smoked salmon, with bagels and cream cheese or in canapes.
My original recipe said to use salmon fillets with the skin on, which is what I have always done. However, I found some very nice fillets in Costco, with the skin and pin bones all removed. I decided to see how they would work and they were perfect, with no waste. If you buy fillets with the skin on that's fine, but of course you end up throwing away all that skin. People love the sauce so I usually double the recipe. Any left over can always be served with smoked salmon or cold chicken. Removing pin bones is a pain in the neck so all I can say is good old Costco!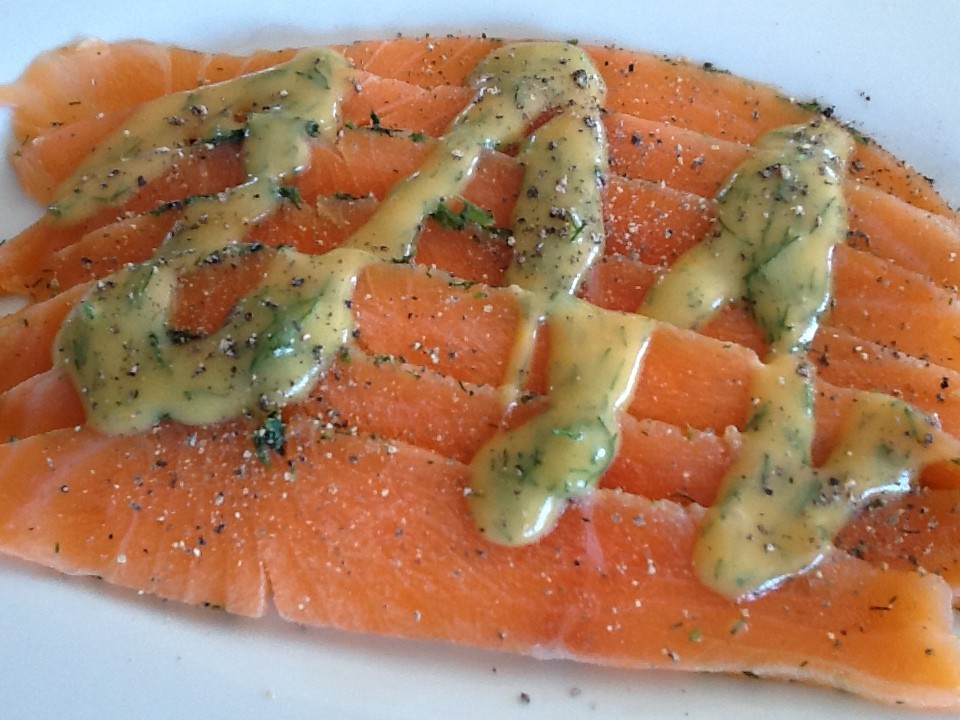 ¼ cup salt
¼ cup sugar
2 whole salmon fillets, skin and pin bones removed, each weighing 800-1200g
1 large bunch dill, finely chopped in food processor, including stalks
freshly ground black pepper
Mix salt, sugar and and dill. Place some in a large ceramic or glass dish. Then place one fillet on top. Sprinkle generously with salt/sugar mixture, then place the second fillet on top. Sprinkle with remaining mixture. As you go season each layer with freshly ground black pepper. Cover and refrigerate for 3-4 days with a board and a weight on top to "cure" the fish. Anything heavy will do e.g. a few cans of food. Turn salmon over a couple of times during the curing period.
Remove fillets and rinse off salt/sugar/dill mixture under the tap. Pat dry with paper towels. Wrap each fillet in plastic wrap and freeze until needed. I usually cut each fillet into 3 and wrap each individually. Remove gravlax from the freezer and thaw a bit. Slice thinly on the diagonal while still slightly frozen, which makes it easier. Garnish with fresh dill and lemon wedges. Some people like a few capers and slices of red onion. Serve with dark pumpernickel or rye bread and Sweet Mustard Sauce.
Sweet Mustard Sauce
¼ cup Dijon mustard
1 tsp hot English mustard (powder or ready made)
2 Tbs sugar
2 Tbs white wine vinegar
⅓ cup vegetable oil
3 Tbs chopped fresh dill
Place all ingredients in a jar with a lid and shake vigorously to emulsify. If making ahead add the chopped dill just before serving.
Makes about ¾ cup