This is an easy and delicious recipe from Donna Hay's book No Time to Cook.  Ready to serve in no time at all, it's perfect for a mid-week dinner.  The recipe calls for chervil but I substituted dill which is more readily available.
Salmon and Asparagus with Preserved Lemon Mayonnaise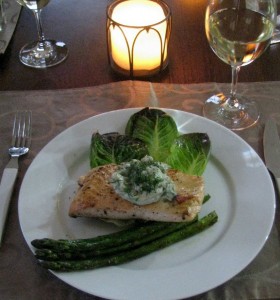 2 x 180-200g salmon fillets, skin removed
1 bunch asparagus – 8-10 spears
1 Tbs olive oil
Salt and freshly ground black pepper to taste
Baby cos lettuce leaves, washed and dried
Mayonnaise:
½ cup mayonnaise (home-made or bought)
2 Tbs finely chopped preserved lemon (see note below)
1 Tbs finely chopped dill
Mix mayonnaise with remaining ingredients.  Place salmon and trimmed asparagus in a dish and add oil, salt and pepper and turn several times to coat thoroughly.  Preheat a char-grill pan or a non-stick frying pan to medium-high heat and cook salmon and asparagus for 2-3 minutes each side, or until cooked to liking.  Asparagus should be al dente.  The salmon will still be rare inside so if you like it well-done cook for longer.  Arrange some lettuce leaves on two serving plates, then the asparagus and salmon.  Serve with the mayonnaise.
Serves 2
Note: lemons preserved in salt are a Middle Eastern ingredient available from specialist shops.  Remove and discard the pulpy part and just use the lemon rind.