We met Sharon and François while we were all living in Kuala Lumpur in the mid-1980s. They have retired to Menton, in the south-east of France and in September we spent a couple of days with them. It's a beautiful spot on the French Riviera, just a 20-minute drive from Monaco.
They often stroll across the border from Menton to Ventimiglia, the first town on the Italian side of the border, to have coffee, it's that close. Every Friday there's an open-air market in Ventimiglia and, as our last day happened to be a Friday, guess where we went. After strolling around the market and buying a few bargains we were ready for lunch. Francois and Sharon had booked a table at their favourite bistro, Geppy's.
I ordered the Salmon Carpaccio, served with a fennel salad and sweet onions. This is my interpretation. The photo shows a fairly large serving as I made it for lunch rather than as a starter.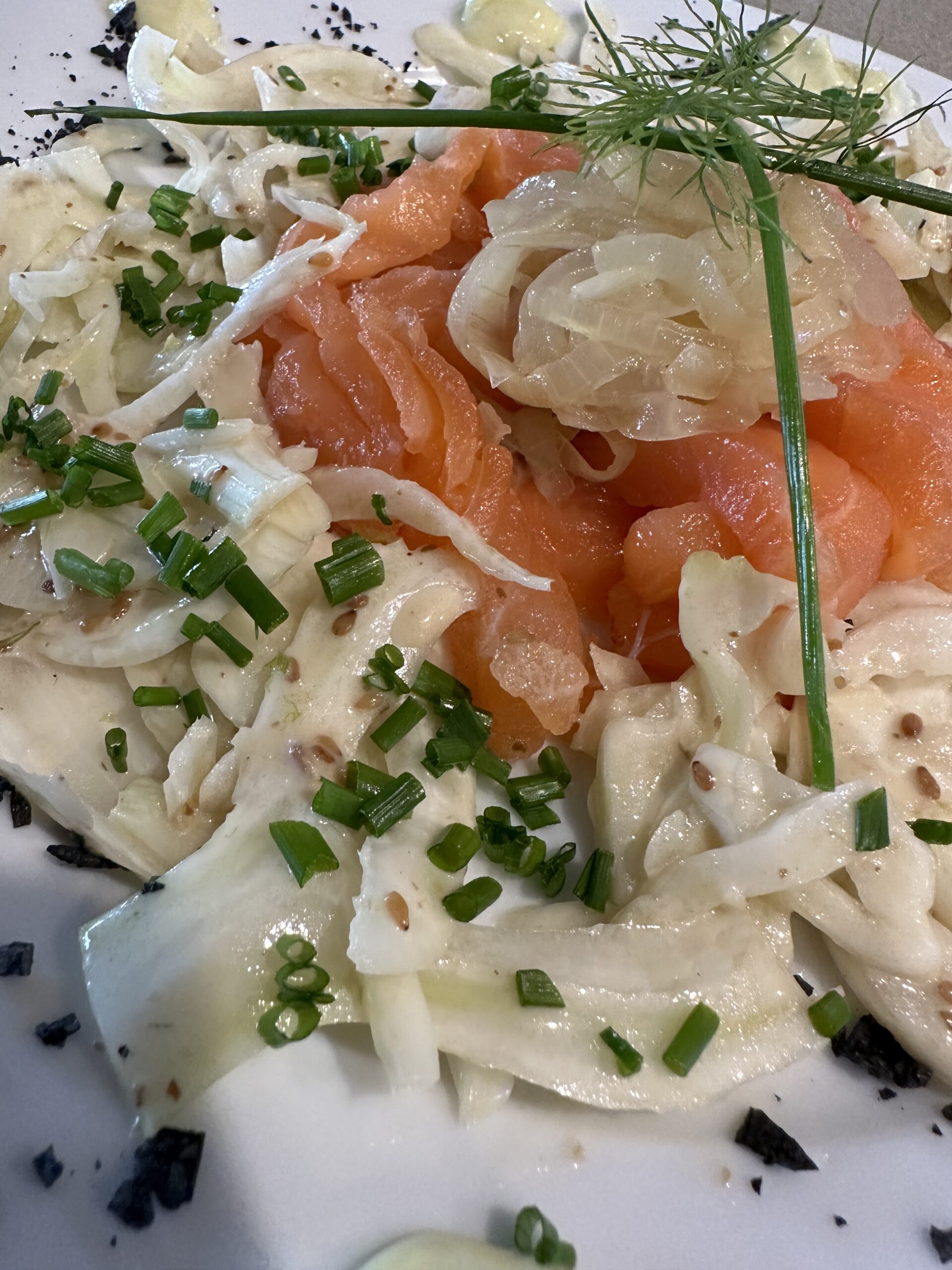 About 250-300g gravlax, thinly sliced (bought or home-made)
1 bulb fennel, thinly shaved
2 Tbs extra virgin olive oil
1 Tbs lemon juice
1 tsp honey
Salt and freshly ground black pepper, to taste
Sweet onions:
2 large onions, halved then thinly sliced
2 Tbs olive oil
2 Tbs white balsamic or white wine vinegar
A pinch of salt
2 tsp sugar
To garnish:
Snipped chives and some fennel fronds
Black salt or black sesame seeds
2-3 Tbs mayonnaise mixed with a little wasabi paste, to taste
Make the sweet onions. Heat olive oil in a frying pan, add the onions and cook slowly for 20-30 minutes or until soft but pale in colour, stirring often. Add the vinegar, salt and sugar and continue to cook for a further 15 minutes, or until the onions are very tender. Cool.
Arrange salmon decoratively in the centre of two serving plates (four if you are doing starters). Mix the fennel with the oil, lemon juice, honey and seasoning. If preferred, use your favourite salad dressing instead. Arrange the fennel around the salmon and arrange some of the onions in the middle of the salmon. Garnish with black salt or black sesame seeds, a few blobs of mayonnaise mixed with wasabi and some snipped chives and fennel fronds.
Serves 2 for lunch or 4 as a starter
Substitutes: use smoked salmon instead of gravlax