This starter, adapted from a recipe I found for smoked salmon, is delicious and light. If you're a fan of sushi you won't be put off by the idea of eating uncooked salmon. It really doesn't taste raw, but you could always use smoked salmon or Gravlax instead of the raw fish.
The flavour combination of salmon, orange and passionfruit is a winner.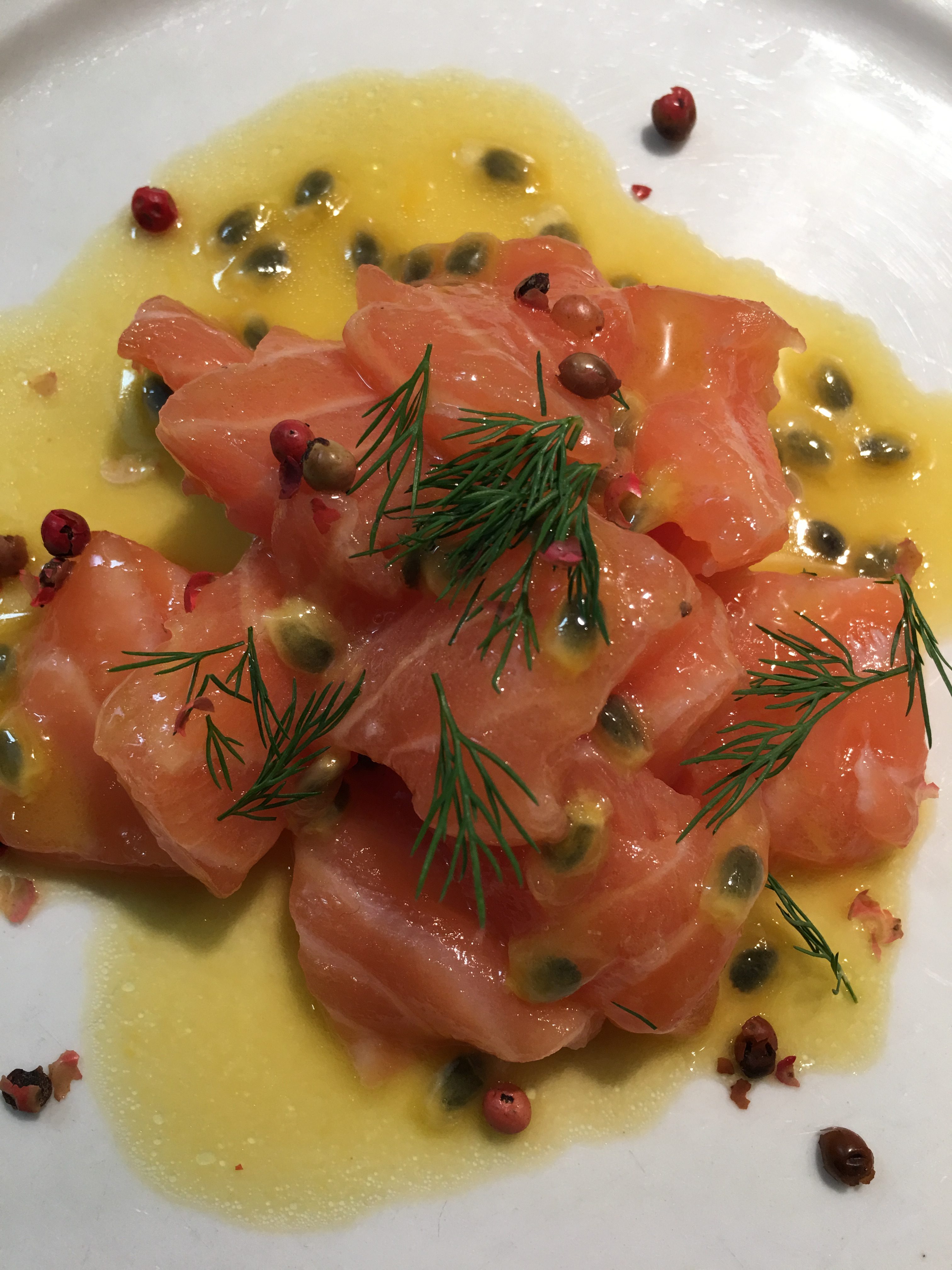 About 750g fresh salmon or salmon trout
2 cups fresh or bottled orange juice
1 tsp honey
Pulp from 4-5 passionfruit
2-3 Tbs Extra Virgin Olive oil
Salt and pepper to taste
Fresh dill
Pink Peppercorns
Remove skin then cut salmon into small bite-sized pieces. Refrigerate while you make the sauce. Sieve the orange juice to remove any pulp. You will need 2 cups after sieving. Place in a saucepan and boil to reduce to about two thirds of a cup. Place in a jam jar with the honey, passionfruit pulp, oil and seasonings and shake well. Adjust the amount of passionfruit pulp and oil to taste.
Mix half the dressing with the salmon then divide among the plates in a pile in the middle. Spoon additional dressing over and around the salmon then garnish with the dill and pink peppercorns. You may not need all the dressing.
Serves 6
Variation: to make a more substantial dish add some diced avocado and serve on a bed of lettuce or rocket leaves.
Note: so-called pink peppercorns are not peppercorns at all. They have a very special, slightly perfumed flavour and can be found in specialty cook shops such as The Essential Ingredient. They go well with any salmon dish.