One whole smoked trout is enough to make a light meal for two people. Whole hot-smoked trout are sold in supermarkets in Australia in vacuum packs. The use by date usually allows you to keep them for a week or two in the fridge before they need to be eaten. Handy for those occasions when you peer into the fridge thinking "What can I make for dinner with what I've got?"
Carefully remove the flesh in large chunks, discarding the skin and bones. I definitely have to wear my reading glasses to do this! Mix with freshly cooked pasta, adding a splash of cream and a few capers or chopped dill. Some halved baby tomatoes or rocket leaves are an optional addition.
Or make this Asian salad which is perfect for a hot summer's day.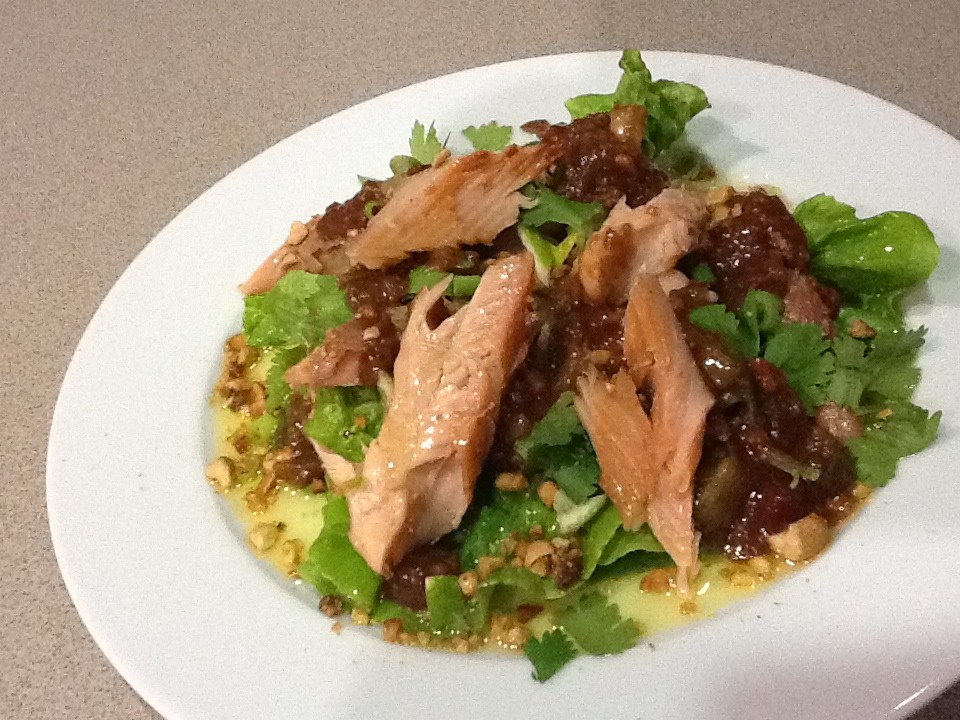 Dressing:
3 spring onions or small shallots
1 clove garlic
½ small red chilli, seeded and chopped
2 Tbs roasted peanuts
1 Tbs fish sauce
1 Tbs tamarind paste (sold in jars)
3 Tbs water
3 Tbs palm sugar, chopped, or substitute brown sugar
Salad:
1 smoked trout, flesh removed, bones and skin discarded
2-3 cups small salad leaves
1 Tbs finely chopped lime (skin and flesh)
2 Tbs roasted peanuts, chopped
½ cup coriander leaves
Extra virgin olive oil
Dressing: Place onions, garlic, chilli and peanuts in food processor and process until you have a paste, stopping to scrape down the sides halfway. Place paste in a saucepan with remaining dressing ingredients. Simmer for 3-4 minutes then leave to cool. It should be thick and a bit sticky.
Meanwhile arrange salad leaves on two plates. Top with the trout pieces, the lime, peanuts and coriander leaves. Drizzle with some of the sauce, then drizzle a little olive oil around the edge of the plate. Any leftover dressing is delicious served with cold roast meats.
Serves 2 as a main or 4 as a starter
Note: some supermarkets sell smoked trout fillets without skin or bones.
Variation: to serve as finger food, separate the leaves of 2 heads of chicory (witloof or witlof) and top each with a piece of smoked trout, the remaining toppings and some of the dressing.