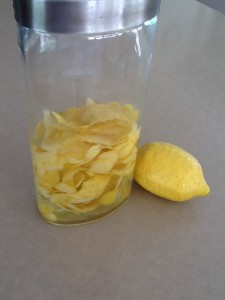 Limoncello, a traditional Italian liqueur, is easy to make from alcohol, lemon rind, water and sugar. I couldn't find any neat alcohol and decided to make it with vodka. Experts say it doesn't have quite the same kick, but tastes good anyway. We don't like things too sweet so I have cut right back on the sugar in this version.
Serve limoncello chilled in chilled glasses as an after dinner liqueur. It's also nice as a pre-dinner drink served in tall glasses with lots of ice, soda and a slice of lemon. Use about the same amount of limoncello as you would gin for a G and T.
1 x 750ml bottle vodka
About 7 large lemons (use more if small, less if very large)
1 cup sugar
1 cup water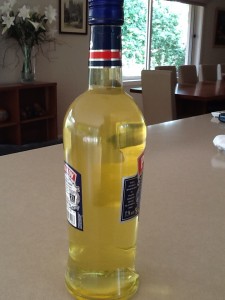 Pour vodka into a large jar with a wide mouth. Wash and dry lemons then remove peel with a vegetable peeler. You don't want any white pith which is bitter. Add peel to the vodka, cover and leave for a couple of weeks or until the peel has lost its colour and the vodka is bright yellow. Strain, discarding the peel.
Heat sugar and water in a saucepan, stirring. When sugar has completely dissolved cool the mixture then add it to the vodka. Using a funnel pour the limoncello into bottles – empty vodka or gin bottles for example – and store in the fridge if you have room (so it's always ready to serve) or in a dark cupboard.
Makes about 1 litre