This year we successfully grew our own pumpkins for the first time, on our property Woodlands. We only harvested six and the one in the photo is the biggest. Next season we will try to plant them earlier and see if we can do better. The good thing about pumpkins is that they keep for several months without refrigeration, until you cut into them.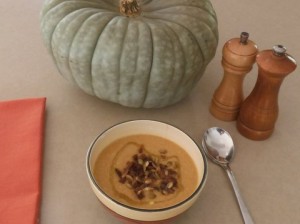 2 Tbs olive oil or butter
1 large onion, chopped
2 cloves garlic, chopped
1 kg pumpkin, peeled, seeded and cubed
2 carrots, peeled and cut into chunks
5 cups chicken or vegetable stock (or use a cube and water)
1 tsp ground cumin
1 tsp smoked paprika
Salt and freshly ground black pepper, to taste
½ cup cream or sour cream
2 Tbs pumpkin seeds, lightly toasted in a dry frying pan
1 chorizo, casing removed, finely diced (see variations below)
Extra virgin olive oil (optional)
Heat oil or butter in a large, heavy-based pan and cook onion and garlic, stirring often, until softened. Add pumpkin, carrots, stock, cumin and paprika and simmer for 20 minutes or until vegetables are tender. Allow to cool a bit then blend soup in a blender until smooth. Soup can be stored in the fridge at this stage for up to 3 days, covered.
Fry chorizo in a frying pan without oil for 3-4 mins, stirring, until browned. Reheat soup with cream and season to taste. If it's a bit too thick add some milk. Serve soup garnished with pumpkin seeds, chorizo and a drizzle of olive oil. Serve with fresh bread or toast.
Variations: instead of chorizo use pepperoni or bacon. If you don't have smoked paprika use ordinary.
Serves 4