Our friend Juliette recently posted a recipe for Slow Cooked Sticky Asian Lamb on Facebook. It looked delicious so I saved it.
The recipe uses a whole leg of lamb, but the other day I was in the supermarket when they decided to mark down all their one kilo packs of forequarter lamb chops to $2 a packet. I couldn't resist buying a few for the freezer as they were almost giving them away. I decided to make the Sticky Lamb using 2 kilos of chops instead of a leg. It was delicious and would makes a great dish for a large family or casual entertaining.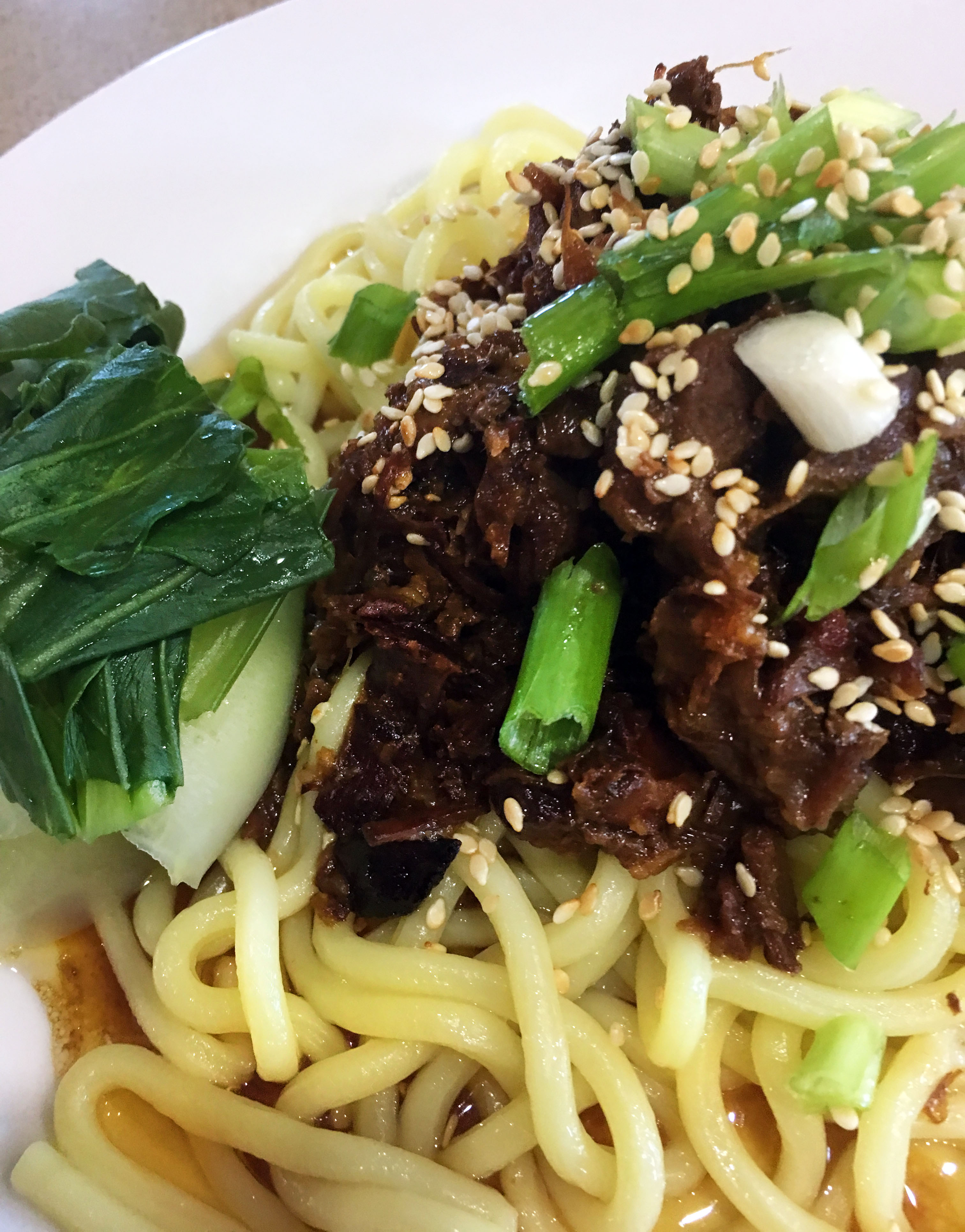 1 whole leg of lamb, bone in, or 2kg lamb chops
1-2 Tbs oil
Sauce:
½ cup Kecap Manis (sweet soy sauce)
¼ cup brown sugar
¼ cup rice wine vinegar
1 tsp sesame oil
3 star anise
8 cm piece of ginger, peeled and very finely chopped
2 sticks lemongrass, cut into two and bruised with a meat hammer
4 cloves garlic, chopped or crushed
1 red chilli, finely chopped
To serve:
1 packet rice noodles
1 tsp sesame oil
1 Tbs toasted sesame seeds
6 spring onions, thinly sliced on the diagonal
Asian greens such as Bok Choy, steamed
Trim meat, discarding any fat which is easy to remove. Heat oil in a large frying pan and fry meat all over until nicely browned and caramelised. If using chops you will need to do them in 2-3 batches. Place in slow cooker.
Mix all ingredients for the sauce and pour over the meat. If you're using chops rather than a leg of lamb you will need to add a bit more liquid, so add a cup of water. Cover and cook for 5 to 6 hours on High. Every couple of hours turn meat over to make sure it's well-covered with the sauce.
Remove meat from slow cooker when it's very tender and falling off the bones. Using two forks shred the meat, discarding bones and lemongrass. If there's a lot of fat in the sauce, put it in the freezer until the fat sets on top and can be easily removed and discarded.
Place sauce in a small saucepan and boil to reduce a bit. You want a thickish sticky sauce, but don't over-do it or you will end up with too little. I didn't need to reduce my sauce, but this will depend on your slow cooker because they vary a lot in temperature. I shredded the meat and put it back into the sauce in the slow cooker and left it there on Low for an hour, until I was ready to serve.
Cook noodles according to packet instructions, drain, season and add the sesame oil. Pile noodles onto a large serving platter or divide among individual plates. Top with the meat and sauce then garnish with sesame seeds and spring onions. Serve steamed greens in another dish and let people help themselves.
Serves 6-8