Last week we flew to Queenstown with Air New Zealand for a wedding. We flew Economy class, but fortunately Gold points status with Star Alliance gave me access to the business class lounge. I was also able to take a guest, which was just as well as Matthew only has Silver status.
The lunch buffet at Queenstown airport when we were flying home included a selection of salads which we enjoyed with a glass of Esk Valley Estate chardonnay. Afterwards we had  cheese and biscuits, accompanied by a delicious Pear and Fig Chutney, made by a New Zealand company called Barkers. On return I decided to have a go at making this chutney, while the memory was still fresh in my mind. Today's recipe is an adaptation of one I found online. It has the addition of walnuts, which aren't in the Barker's version. They give it a nice crunch, but leave them out if you prefer.
Removing the seeds from the cardamom pods was a fiddly job, so if preferred add a different spice such as a teaspoon of chilli powder, cayenne pepper or ground cumin. Most chutney recipes call for fruit, onions, brown sugar and vinegar, but they all vary and are very adaptable when it comes to the spices. Add whatever takes your fancy.
I've been on flights where you have to pay for any drinks or food. And I've been on flights where they give everyone a meal. This was somewhere in between. When it came to lunch time we were all prepared to say "No thank you" as the flight attendant handed us a tray. Much to our surprise she looked at our seat number, glanced at her clipboard, gave a tray to the guy sitting next to us on the aisle and headed off. Clearly we'd bought the Absolutely No Frills tickets and he hadn't.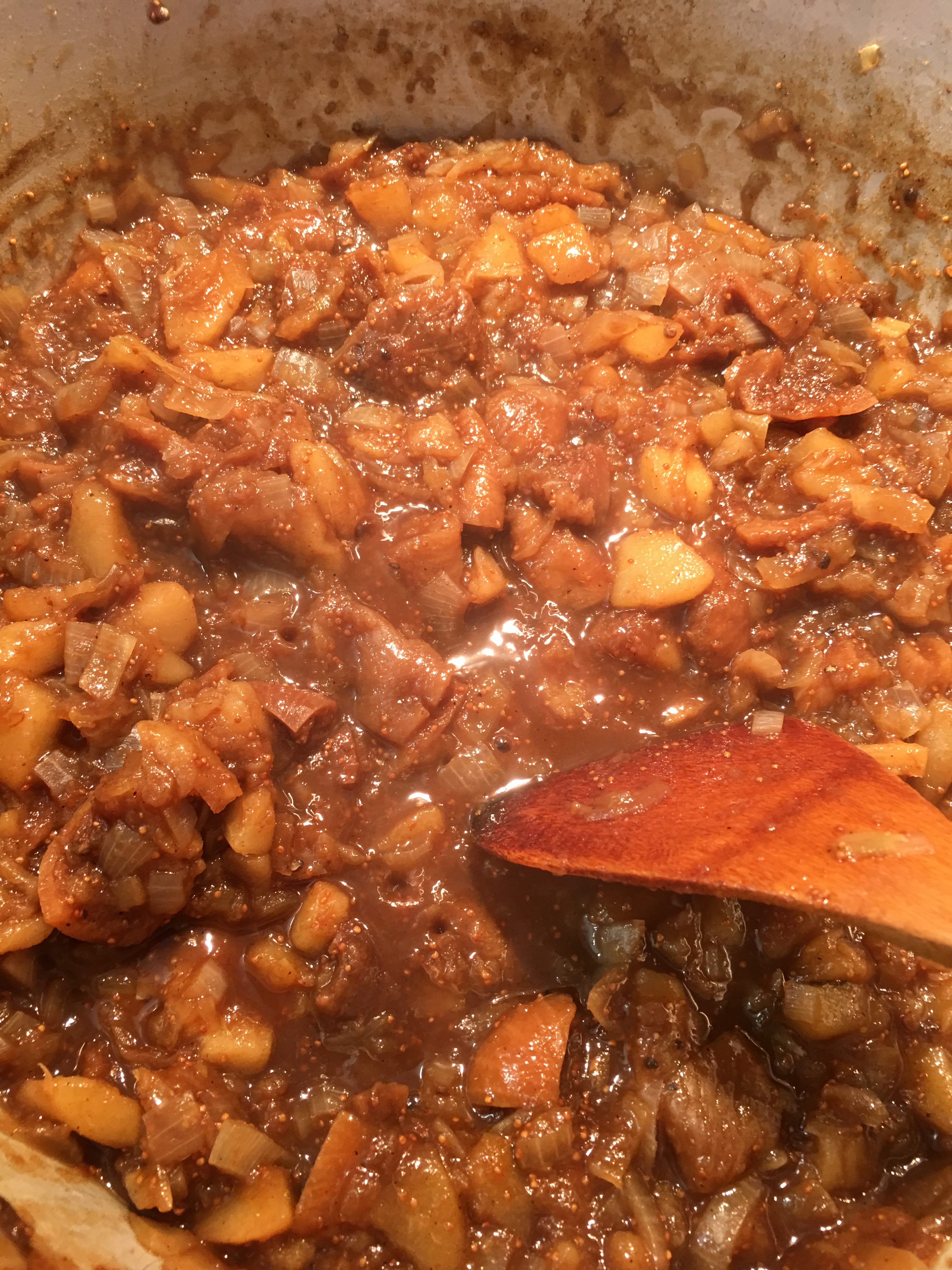 1 kg ripe pears, peeled and chopped
375-400g dried figs, de-stemmed and chopped
375g sharp apples such as Granny Smiths, peeled and diced
375g onions, peeled and diced
Grated rind and juice of 2 lemons
350g brown sugar
500ml cider vinegar
1 Tbs ground cinnamon
2 tsp ground nutmeg
1 Tbs toasted cardamom seeds, crushed
125g walnuts, chopped
Place all ingredients except the walnuts in a preserving pan or very large heavy-bottomed pan. Bring to the boil then simmer for about an hour or until thick. If it gets too thick before the apples and onions are cooked, add a little water.
Place 8 clean normal sized jam jars or more smaller ones in the microwave, without their lids and zap on High for 2 minutes.
Lightly toast the walnuts by stirring them for a few minutes in a non-stick frying pan over moderate heat. When the chutney is ready stir in the walnuts and tip into the hot jars. Use a wide funnel or a small jug. Go all round the edge of each jar with the blade of a knife, hitting the bottom, to remove any air bubbles. Seal, label and store in a dark cupboard. Refrigerate after opening.
Makes about 8 jars
Note: if available use Bramley apples which are common in the UK but hard to find in Australia unless you grow your own.