This recipe is from a book called Savour: Salads for All Seasons by Peter Gordon. The recipe was shared by an online cooking friend in Germany called Michael.
Having made it I think the quinoa is optional – you could easily leave it out – and I have increased the amount of mushroom purée because I don't think there was enough for four. With the quinoa this makes a light but satisfying main course for 4 or it would serve 6 as an unusual starter. If you don't have fresh sage or tarragon feel free to substitute other fresh herbs.
If you like chicken livers you will love this. If not please delete!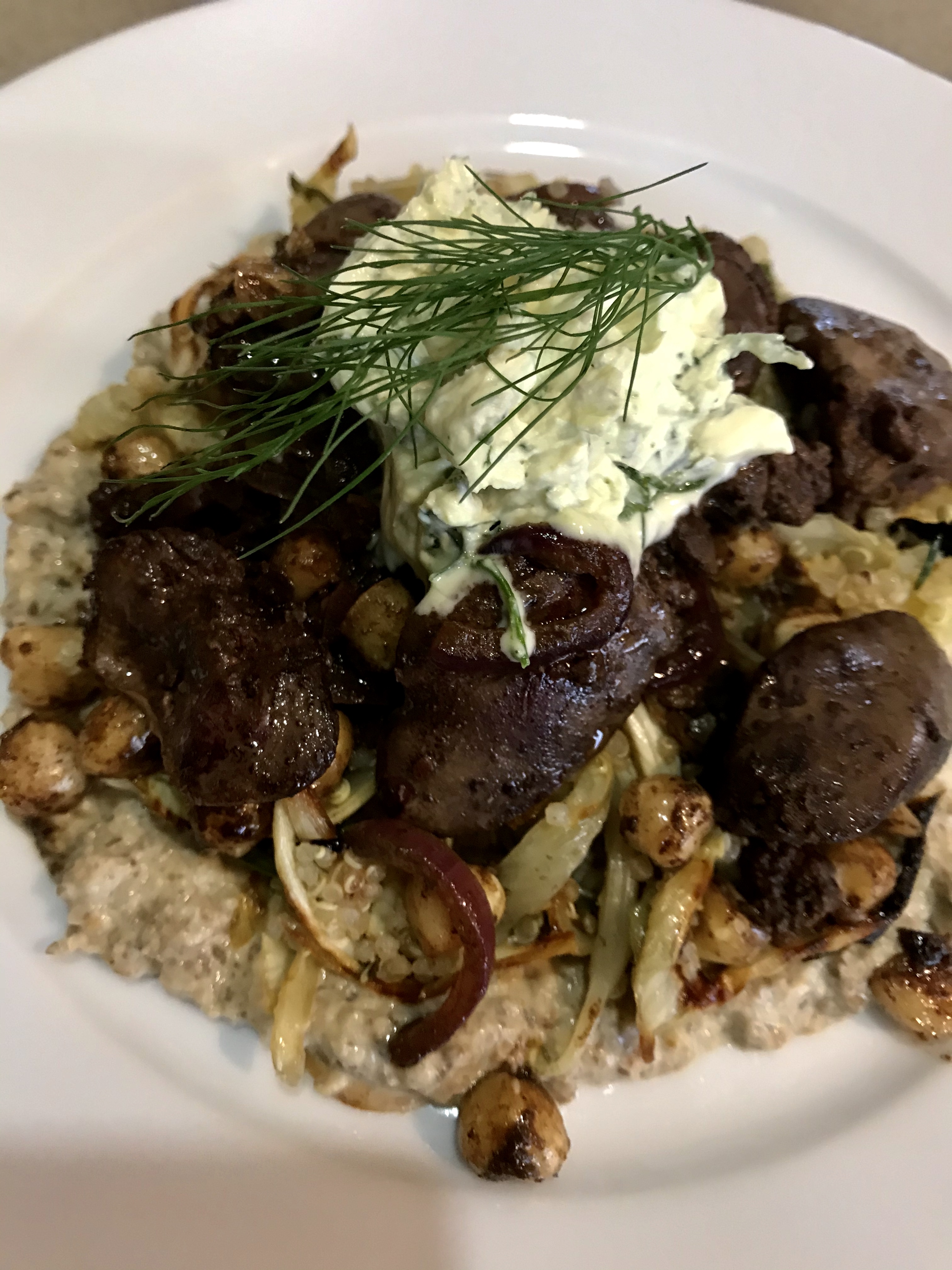 2 heads fennel, trimmed and thinly  sliced downwards
2 cloves garlic, crushed
8 fresh sage leaves, shredded
1 Tbs olive oil
Salt and freshly ground black pepper
Generous ½ cup quinoa, cooked and drained (optional)
Mushroom Purée:
20g butter
1 tsp grated ginger (I used a bit more)
250g mushrooms, sliced
1/3 cup creme fraîche or thick sour cream
Sour Cream Sauce:
1 Tbs fresh tarragon leaves, chopped
1/3 cup creme fraîche or thick sour cream
Chicken Livers:
40g butter
1 small red onion, thinly sliced
500g chicken livers, trimmed and halved
1 Tbs balsamic vinegar
1/3 cup skinned and toasted hazelnuts, roughly chopped
Preheat oven to 190°C. Keep some of the fennel fronds to garnish. Mix fennel slices with garlic, sage, oil and season to taste. Tip onto a shallow oven tray lined with baking paper and spread out. Bake for 30 mins or until golden, stirring halfway through. Mix in the cooked quinoa (if using) and keep warm.
Meanwhile for the mushroom purée, heat butter in a frying pan and add the ginger and mushrooms. Cook, stirring from time to time, until soft and mushrooms are starting to brown. Tip into food processor (don't wash the frying pan), add the sour cream and blitz. Season to taste and keep warm.
For the sauce, in a mortar and pestle, pound the tarragon leaves with a pinch of salt, then mix in the sour cream.
For the chicken livers, place half the butter in the pan where you cooked the mushrooms and add the onion. Cook, stirring until soft and starting to caramelise, then tip them out. Add remaining butter to pan and cook the livers, stirring, for about 3 minutes or until all the pink bits have gone brown. Return onions to pan and cook for a further minute, stirring. Add vinegar, nuts and season to taste.
To serve, divide mushroom purée between 4 warm serving plates, spreading it out into a neat circle. Top with the fennel mixture, then the chicken livers and any pan juices and finally top with the sour cream and tarragon sauce. Garnish with fennel fronds.
Serves 4