Everyone has a favourite recipe for beef stroganoff, but if yours doesn't use brandy to flambé the meat, give this recipe a try. It makes all the difference.
It comes from a restaurant just outside Geneva which we frequented in the 1970s. I had a look on Google but it's no longer there. Beef Stroganoff was one of the dishes you could order and watch them make on a trolley they brought to the table. Another one was Crêpes Suzette. As I watched the performance I wrote down the recipe, to which I have added the mushrooms. I've also halved the amount of cream they used.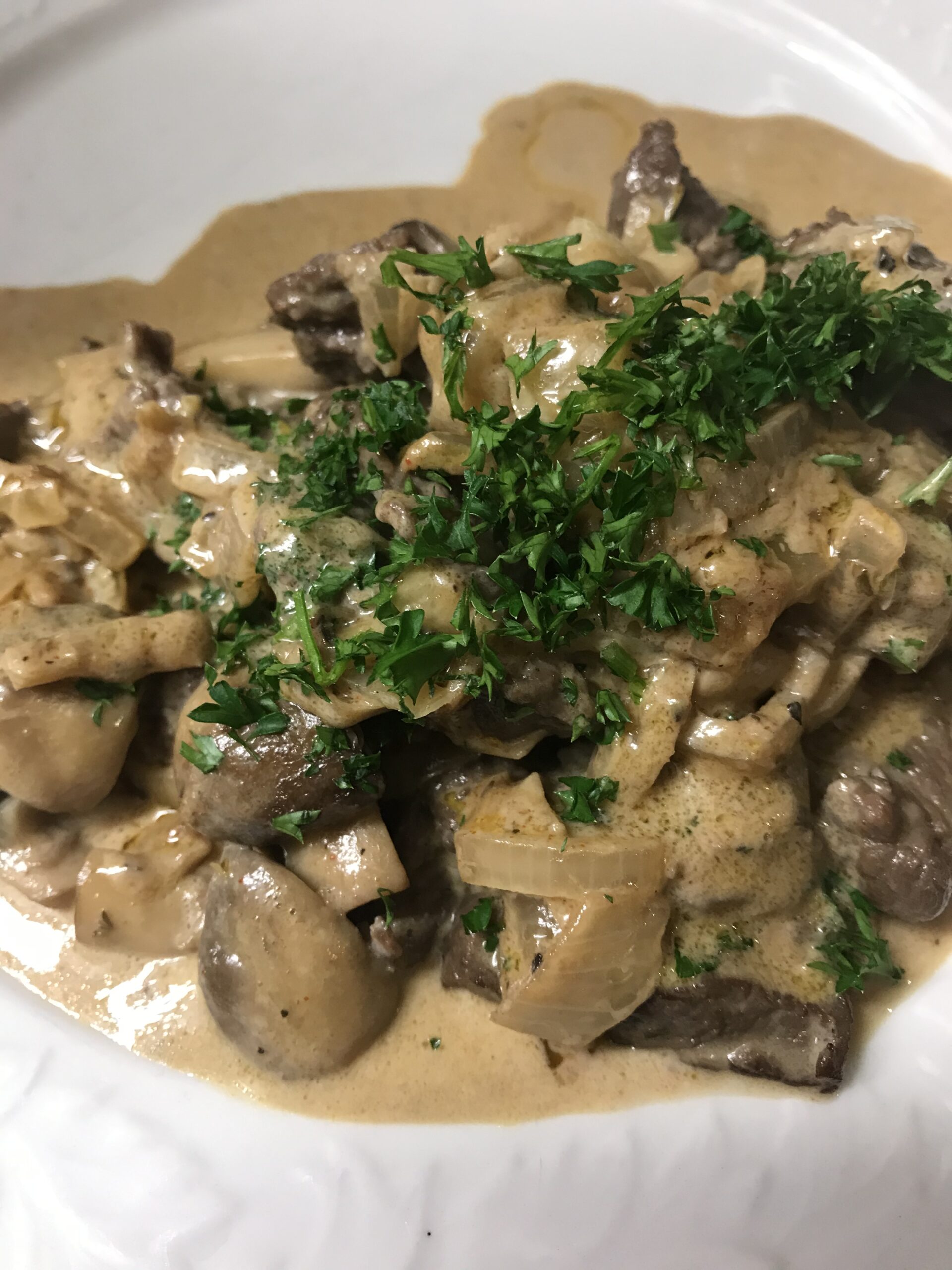 1 kg fillet of beef, cut into strips
Or 750g beef and 250g button mushrooms
Dry English mustard and oregano
Salt and Pepper
60g butter
250g chopped shallots or spring onions
1/3 cup brandy
Few drops Tabasco sauce
4 tsp paprika
1 cup sour cream
4 Tbs chopped parsley
Prepare meat then season with some dry mustard powder, oregano, salt and pepper and put aside. Quantities to suit your taste. Leave mushrooms whole if small, or cut into halves or quarters, according to their size.
In a large frying pan heat half the butter and fry onions gently until soft. Add mushrooms and continue to cook, stirring, for 5 minutes or until softened. Remove from the pan. Turn up the heat and add remaining butter, then the meat, stirring and cooking for 2-3 minutes or until browned all over. Return the onions and mushrooms to the pan and cook, stirring for another couple of minutes. Add brandy and set alight, stirring until flames subside. Turn off extractor fan while you do this. Add Tabasco, paprika and sour cream and cook, stirring, for a minute or two until thickened.
Garnish with parsley and serve with pasta or rice and a green vegetable.
Serves 4
Substitutions: use fresh cream instead of sour cream.