In the early 1970s I was posted by the Foreign Office to work at the British Mission to the UN in Geneva for 3 years.
A large number of ski resorts are located less than an hour and a half's drive from Geneva, in the French Alps. Every Sunday morning in winter a gang of us from work would clamber aboard one of the buses which left from the main railway station. At six thirty sharp the bus would head off to a different ski station each week. It was still dark and most of us caught up on sleep on the way.
By nine o'clock, when the ski lifts opened, we were all geared up with our rented skis and boots and ready to hit the slopes. The ski club which organised these expeditions had a number of excellent instructors. On arrival at our destination we separated into 3 groups: beginners, intermediates and advanced. Some lied about their ability in order to get the better-looking instructors. It was great value with the bus and the full day lesson all included in the price.
At lunch time we met at a nominated bistro and queued up for one of the hot self-service meals. An early start and all that physical exercise meant we were ravenous. Hearty soups, pizzas, toasted cheese sandwiches and French fries, with or without steak, were all popular ways of replenishing the energy we'd expended in the morning. My favourite was the French Onion Soup. Hot spiced wine and hot chocolate were amongst the preferred beverages.
It took me a few goes to get this soup right. Making it a day or two in advance really improves the flavour.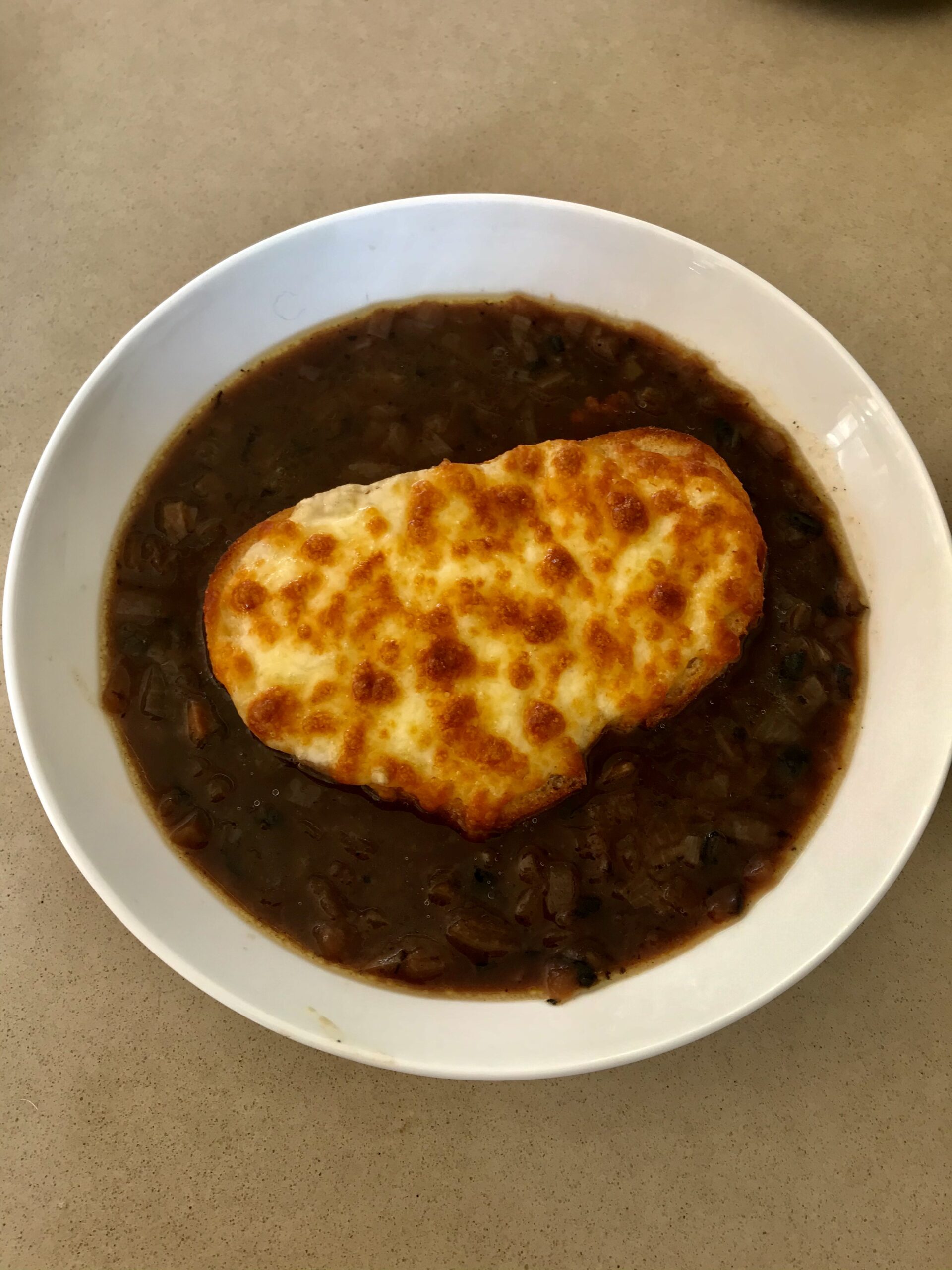 1½ kilos onions, peeled and thinly sliced
60g butter and 1 Tbs oil
½ tsp sugar
1 tsp salt
3 Tbs flour
2 litres beef or chicken stock
½ cup dry white wine
Salt and pepper to taste
3 Tbs dry sherry or brandy
12-16 slices French bread sliced 2 cm thick (or 6-8 larger slices of bread)
300g coarsely grated Gruyere or other Swiss cheese
In a large heavy-bottomed saucepan, cook onions in butter and oil over low heat, stirring often and with a lid for about 15 mins, or until soft. Add sugar and salt and raise the heat to moderate. Cook for 30-40 mins, stirring often, or until deep golden brown. Add flour and cook, stirring, for 2-3 minutes. Add stock and wine slowly, stirring. Simmer, covered, for 30-40 minutes, stirring from time to time. Cool then refrigerate until ready to serve. Can be kept in the fridge for up to 3 days.
Reheat soup, adding sherry or brandy and salt and pepper to taste. Cover bread slices with grated cheese and grill until golden and cheese is bubbling. Ladle soup into 6-8 bowls and place one or two slices of the cheesy toast on each serving. This soup is best made a day or two before serving.
Serves 6-8