Adapted from one by Yotam Ottolenghi for Brussels Sprouts with Pomelo, this recipe may sound like a weird combination, but it works. He uses 100g of sugar, which I've swapped for a tablespoonful of honey because we found it too sweet.
Pomelo is a citrus fruit which looks like a large grapefruit with one pointy end. Like grapefruit, pomelos come in yellow or pink varieties and are interchangeable in recipes.
Asians love them and when we lived in Malaysia the locals looked forward to each new season and cleared the shelves. Asians who have moved to live in Australia also look forward to the arrival of the new crop of pomelos. I've tried them a couple of times and decided that they are overrated. I'd sooner have a grapefruit as they are available all year round and considerably cheaper.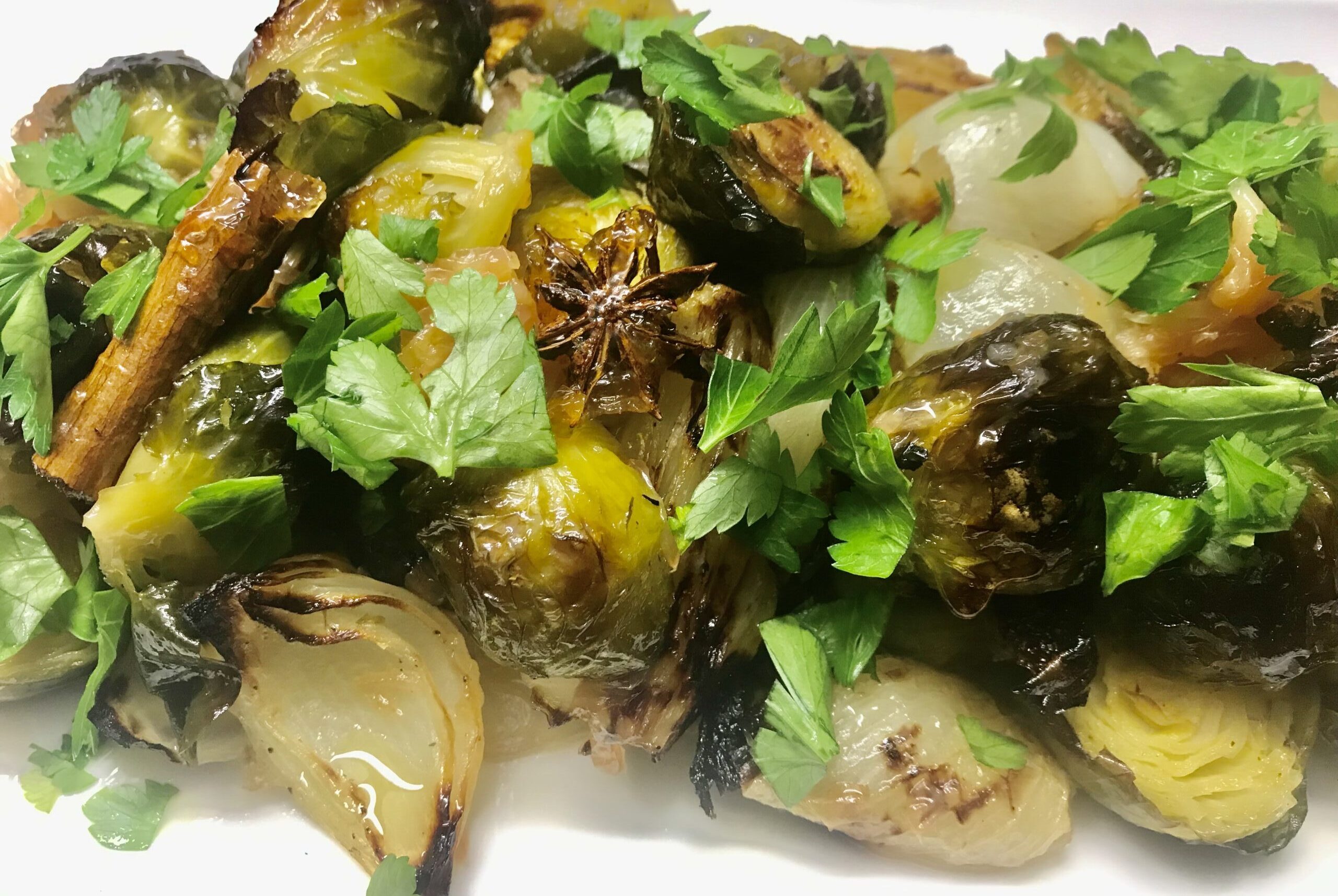 500-600g Brussels sprouts, trimmed
250g shallots, or small onions, peeled
3 Tbs olive oil
Salt and freshly ground black pepper
1 large grapefruit
1 Tbs lemon juice
1 Tbs water
1 Tbs honey
2 star anise
1 cinnamon stick, broken
3-4 Tbs chopped coriander or parsley to garnish
Preheat the oven to 200°C. Place the sprouts and shallots in a saucepan. Cover with water, bring to the boil, then drain thoroughly. Cut the sprouts in half vertically and the shallots in halve horizontally. If using onions cut them into quarters. Mix the sprouts and shallots or onions with 2 Tbs of the oil, salt and pepper, then spread out on a baking sheet lined with baking paper and bake for 25-30 minutes, or until everything is golden brown.
Meanwhile peel the grapefruit and remove the segments. Remove the membrane and any seeds and cut each segment into 3 pieces. As you cut up the grapefruit keep any juice. Heat the lemon juice, water, honey, spices and any juice from the grapefruit in a small frying pan for 2-3 minutes, until you have a sticky syrup. Turn off the heat, add the grapefruit, stir gently to coat each piece, then leave to cool.
When the sprouts and shallots are cooked, gently mix in the grapefruit and syrup, discarding the spices. Tip into a serving dish, drizzle with the remaining tablespoon of oil and top with coriander or parsley.
Serves 4-6