These make a tasty mid-week dinner or something to serve as finger food with drinks. Instead of cooking a pork fillet you could use shredded leftover roast pork, beef, chicken or lamb.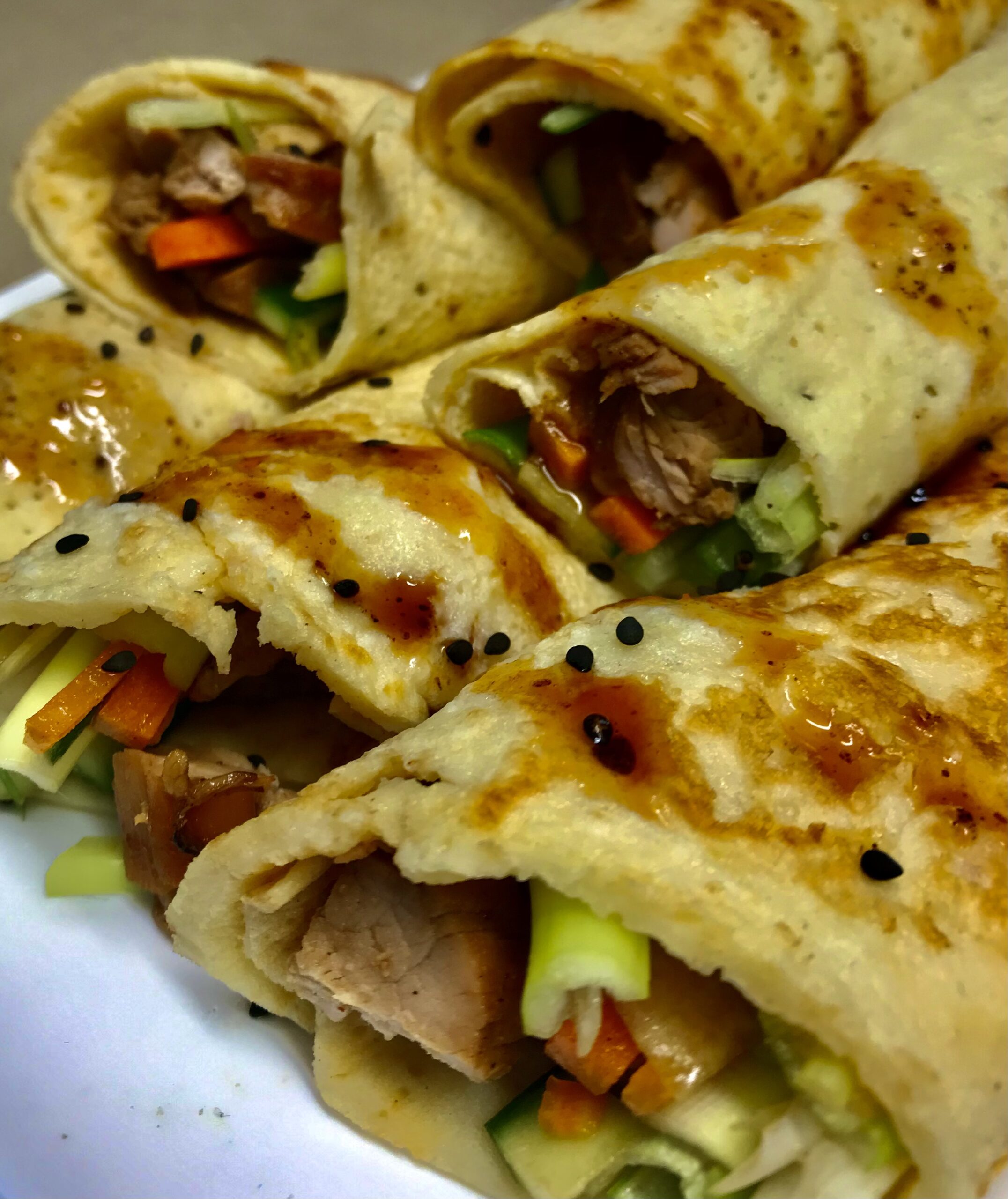 Pancakes:
1½ cups cold water
2 eggs
1 cup sifted self-raising flour
2 Tbs vegetable oil
¼ tsp salt
Filling:
500-600g pork fillet
Salt and freshly ground black pepper, to taste
Julienne sticks of cucumber, carrots and spring onions about 3″ long
Black sesame seeds (optional)
Sauce:
3 Tbs Hoisin sauce
2 Tbs honey
2 Tbs soy sauce
2 tsp sesame oil
½ tsp Chinese five spice powder
Mix all ingredients for pancakes in a food processor or blender, then tip into a jug. Make about 12 thin pancakes using just under a quarter of a cup for each. Use a non-stick pan and tip the pan to spread the mixture evenly. Lightly oil the pan before you start but you won't need to use oil or butter for each pancake, because there's oil in the pancake mixture. As you make them, stack the pancakes one on top of the other – they won't stick to each other.
Meanwhile preheat the oven to 200°C. Mix the sauce. Season the pork and place in a roasting pan. Spoon 2 tablespoons of sauce onto the pork, then brush over to coat thoroughly. Roast for 20-30 minutes or until cooked to your liking. Turn the pork and baste halfway through cooking time. Slice pork thinly, then cut into strips. Place in a bowl and mix in most of the remaining sauce. Keep some for garnishing.
Lay pancakes out on a work surface.  Divide the shredded vegetables and pork between the pancakes, in a line along the middle, then roll up tightly. Cut each pancake in two, on the diagonal and arrange on a serving plate. Drizzle with remaining sauce then sprinkle with a few black sesame seeds. If serving as finger food, instead of drizzling with the remaining sauce, serve it in a bowl for dipping.
Serves 6
Variations: use shredded zucchini or red pepper (capsicum) instead of cucumber or carrot.