When we were travelling in Italy before Covid we had a similar dish to this at Francescetta 58 in Modena. Chef Massimo Bottura served the pork with pumpkin puree and wilted spinach.
Today's version is served with sweet potato mash and broccolini. As we have lots of cumquats on our huge tree in the garden, I made a tangy relish and served it with the pork, to cut through the fattiness. This combination of flavours really works and, if you have an Air Fryer, getting the crackling to be crisp and crunchy is a breeze.
The relish also goes well with ham, turkey and chicken.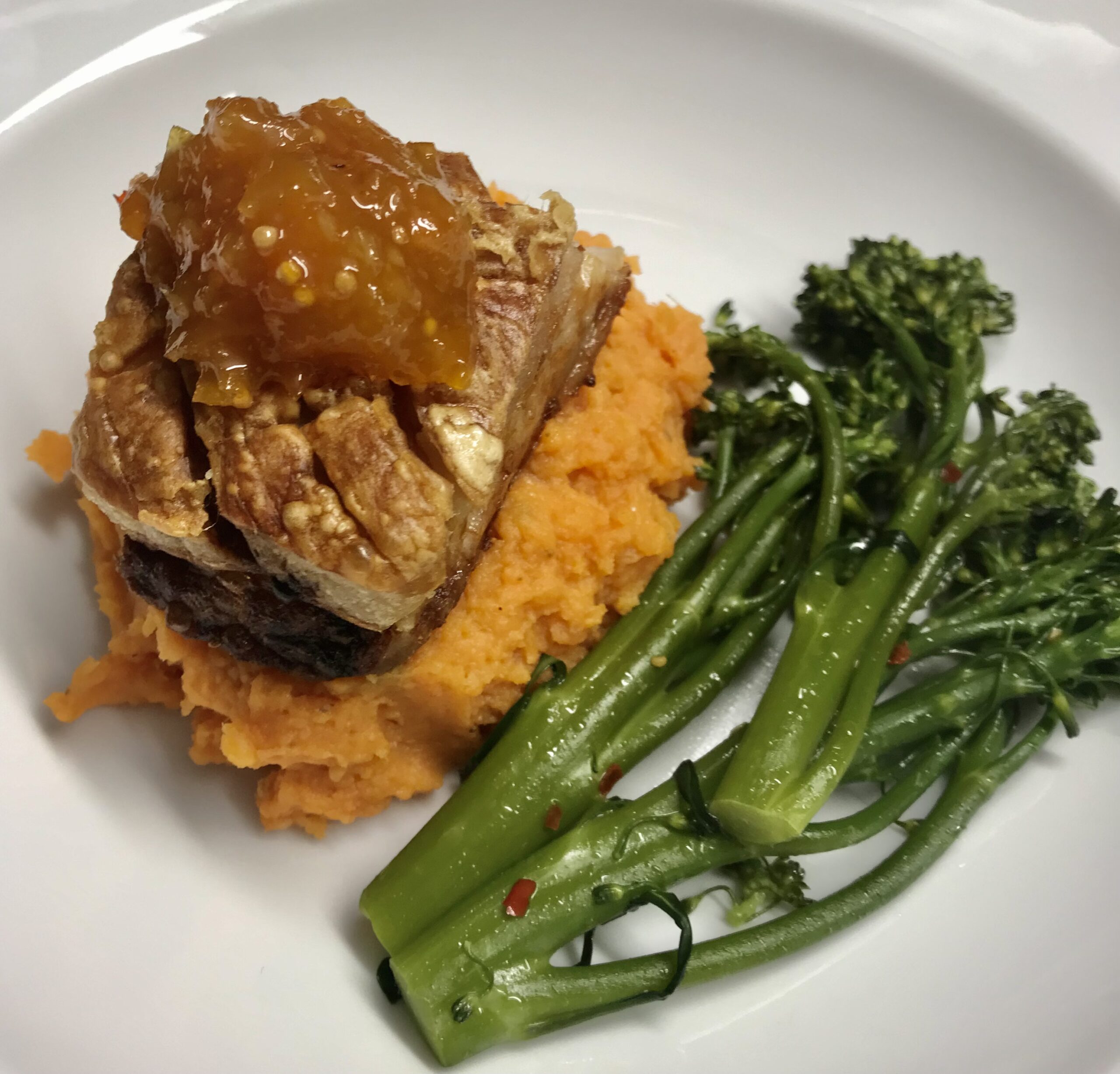 1 kg pork belly
Oil and salt
750g-1kg sweet potatoes
50g butter
Salt and Pepper to taste
3-4 bunches of broccolini
Chilli flakes
Olive oil
2-3 cloves garlic, peeled & thinly sliced
Cumquat Relish:
1 kg cumquats
500g sugar
1½ cups cider vinegar
1 rounded Tbs grated ginger
1 small red chilli, deseeded and finely chopped
1 tsp yellow mustard seeds
8 cloves
2 cinnamon sticks
Make the relish: Halve cumquats, remove seeds, then place in a large heavy-bottomed pan. Add water to just cover, then simmer 3-5 minutes or until softened. Drain, discarding the water, then put back in the pan with remaining ingredients. Simmer for 50-60 minutes or until liquid has reduced and cumquats are very tender. Cool then blitz using the pulse button in a food processor until you have a chunky relish. Heat a few small jars in the microwave (without lids) for 2 minutes then bottle the relish and seal while hot. It will keep for several months. Refrigerate after opening.
Score the skin on the pork in two directions with a very sharp knife, to make a diamond pattern. Cut through the skin but not the fat. Rub pork all over with a little oil and salt. Cook in an Air Fryer for 25 minutes at 200°C then a further 30 minutes at 160°C. Alternatively cook in the oven using this method.
Peel and cut sweet potatoes into large chunks. Cook in boiling, salted water until tender then drain and mash with the butter until very smooth. If preferred do it in the food processor. If liked add a bit of cream. Season to taste.
Cut broccolini into 8-10cm lengths, keeping the ends for making soup. Steam broccolini until al dente. Heat a little olive oil in a large frying pan with the garlic slices. Add the broccolini, season and turn to coat with the garlicky oil. Sprinkle with a few chilli flakes to serve.
Cut pork into 6-8 squares or rectangles and serve on the sweet potato mash, topped with some cumquat relish and garnished with the broccolini on the side.
Serves 6-8