Osteria Francescana, a restaurant in Modena with three Michelin stars, was named best restaurant in the world in 2016 and again in 2018. We were in the neighbourhood in late summer 2018, but you need to book months ahead and we hadn't.
Chef-owner Massimo Bottura also runs a bistro in Modena called Franceschetta 58, so we decided to try and get a reservation for their three course 25 Euro lunch. We arrived in Modena late Sunday morning and while Matthew double parked I dashed in to book a table for one o'clock. There were only two spaces left, at a long thin table for eight where patrons sit on bar stools with other guests. Perfecto, I said, in my best Italian.
A couple of hours wandering around the Sunday markets allowed us to work up an appetite. As we were finishing our meal, which was excellent, a lady sitting next to Matthew, whose son was next to me, asked where we were from and how we had ended up at the restaurant. By her accent she was obviously American. I told her I had watched a Netflix documentary called Chef's Table and one of the episodes was on Massimo Bottura. Actually, I said, his wife is American. Yes I know, she said, that's me.
Lara told us a bit about her life in Modena and maintaining the high standards of a world-renowned restaurant. Then she recommended some places to eat well in the region. Today's blog is my take on the main course we had that day. Simple, but a great combination of flavours.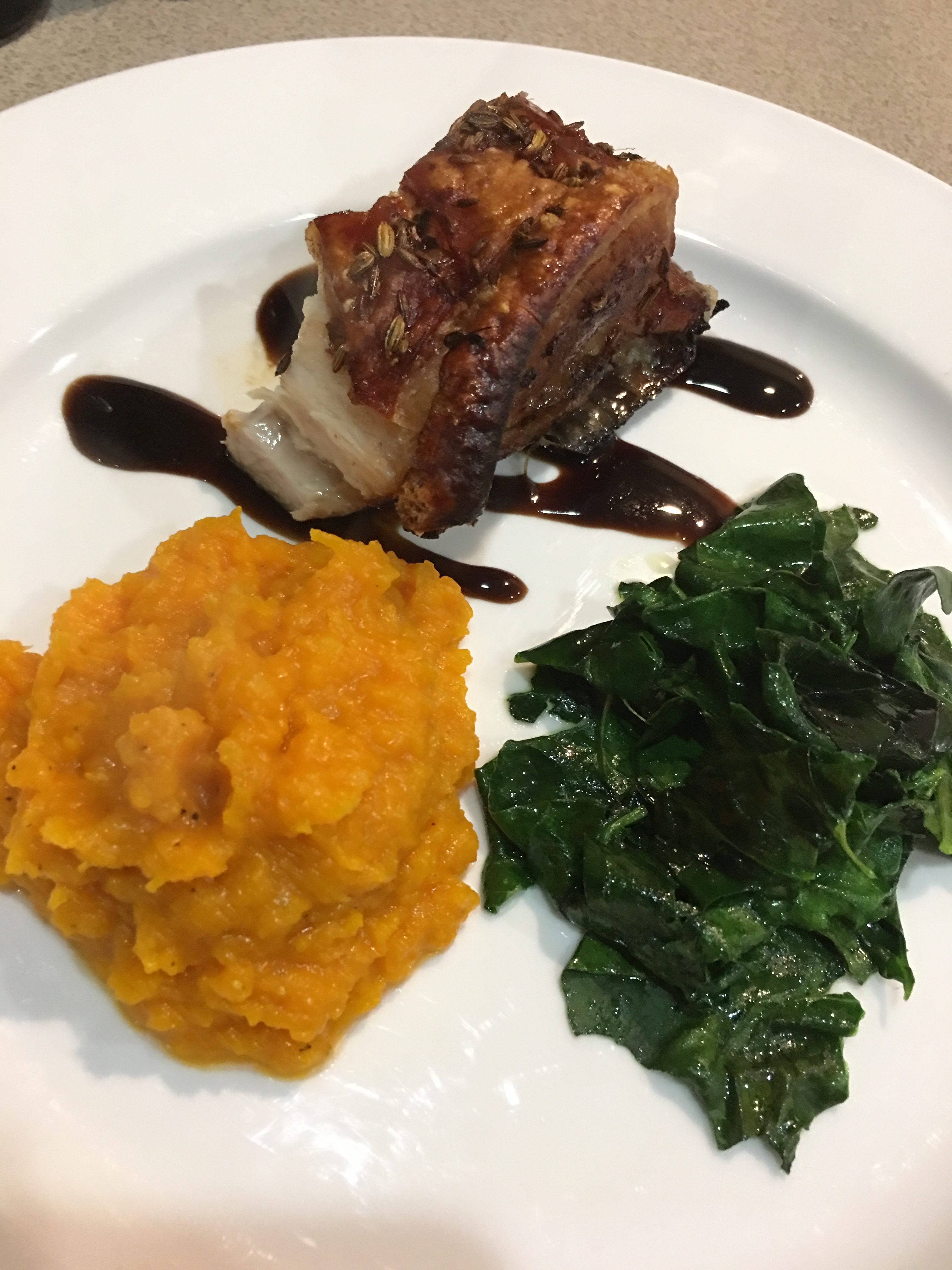 800g-1kg boneless pork belly with skin
2 tsp olive oil
1 tsp salt
½ tsp each cumin and fennel seeds
½ cup water
500g pumpkin, peeled and cubed
1 packet baby spinach leaves
Butter, salt and freshly ground black pepper
Balsamic glaze
Pour boiling water over the pork, then pat dry with paper towels and leave in the fridge overnight, uncovered, to dry out.
Preheat oven to 150°C. Pat pork dry again with paper towels. Using a very sharp knife, score skin all over. Place pork in a roasting pan, rub oil over the skin, then sprinkle with salt and seeds. Pour water around the pork, cover with foil, then roast for two hours. Check from time to time and add a dash more water if it dries up.
Turn oven up to 220°C, remove foil and continue to cook for about half an hour, or until pork skin is crispy. If liked, add some parboiled potatoes drizzled with a little oil, to the pan for this last half hour. Cut pork into portions and serve with the pumpkin, the spinach and a drizzle of balsamic glaze. Pass the potatoes separately.
Pumpkin: cook in boiling, salted water for 15-20 mins or until tender. Drain then mash thoroughly, adding butter and seasoning to taste. A shake of ground nutmeg goes well. For a more intense flavour roast the pumpkin rather than boiling it.
Spinach: place in a small frying pan with a knob of butter. Stir fry until wilted, then season to taste.
Serves 6