A few days at a health retreat in the Southern Highlands, near Moss Vale, was a lovely birthday present to me from our three kids and their partners. My daughter came with me and the four days went quickly, with daily massage and other treatments, cooking demonstrations and long walks. It was great to have some quality mother-daughter time, while my son-in-law looked after their two girls.
Cedarvale Health and Lifestyle Retreat is set in 150 acres of beautiful temperate rainforest. We formed part of a lively group of ten – the maximum capacity of the retreat – and there was a lot of laughter and fun. The food is vegan and there's no alcohol or caffeine. Don't worry, the meals are delicious and plentiful so you certainly don't go hungry.
I wasn't expecting to get withdrawal symptoms from caffeine. One cup of coffee a day is the norm for me, but I do drink quite a few cups of black tea, which also contains caffeine. Fortunately the headaches subsided after a couple of days.
If you live in the fast lane, Cedarvale is a great way to destress, detox and maybe shed a couple of kilos. A not-for-profit organisation, prices are reasonable.
Here is one of the dishes we enjoyed there.
Greg's Lentil Soup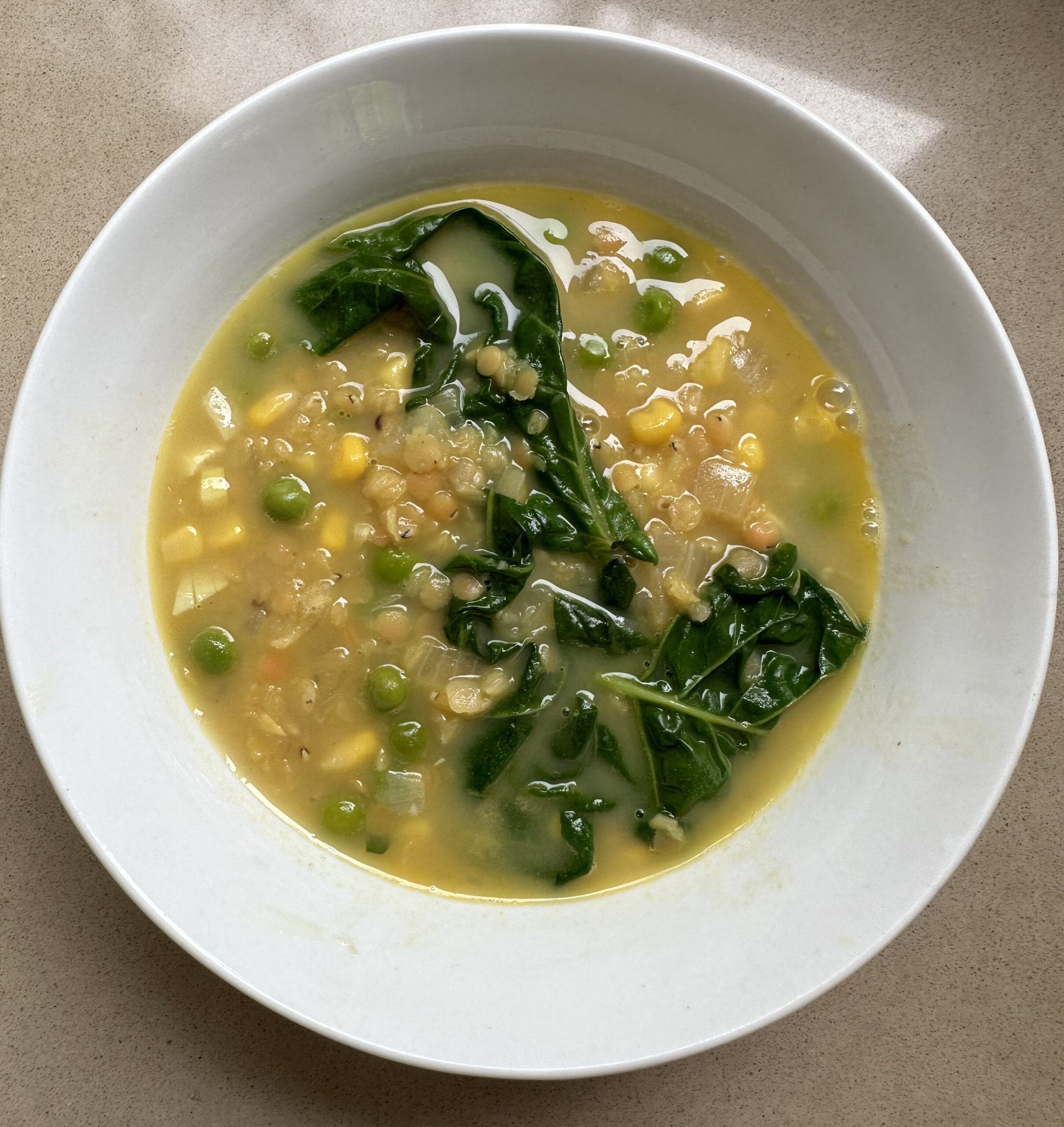 1 Tbs oil
2-3 large onions, finely chopped
4-6 cloves garlic, chopped
1 Tbs grated fresh ginger
3 cups red lentils
1 heaped tsp each turmeric, coriander and cumin
½ tsp cayenne pepper
½ can coconut cream
Water
Salt to taste
Vegetable stock cube (optional)
2-3 cups frozen peas
2-3 cups frozen, canned or fresh sweetcorn kernels
To serve:
Chopped fresh coriander or fresh spinach leaves
In a large pan cook the onions and garlic in the oil until soft and translucent. Add the ginger, lentils, spices and cook, stirring, for a couple of minutes.
Add the coconut cream and enough water to cover. Add the stock cube if using. Simmer for 10-15 minutes or until the lentils are soft, then add the peas and sweetcorn and cook for 3-4 minutes. Add more water if necessary and check to see if you need more salt.
Serve garnished with fresh coriander or mix in a couple of handfuls of fresh baby spinach or torn up larger leaves just before serving, as I did in the photo.
Serves 8-10