Looking for a quick and easy lunch or light supper?
This is my variation on a dish I have ordered several times at my favourite lunch-time café, Deakin and Me. It's basically scrambled eggs with prawns and salad served on toasted sourdough. Sometimes I ask them to skip the toast and serve mine on a large piece of roasted pumpkin with the skin on. Either way it's delicious.
I got distracted and overcooked the crispy shallots but they still tasted good. If preferred, buy some crispy shallots sold in Asian stores and some supermarkets, in a packet.
I think they use raw prawns, but I used cooked ones. The photo is of my serving, which I had without the toast.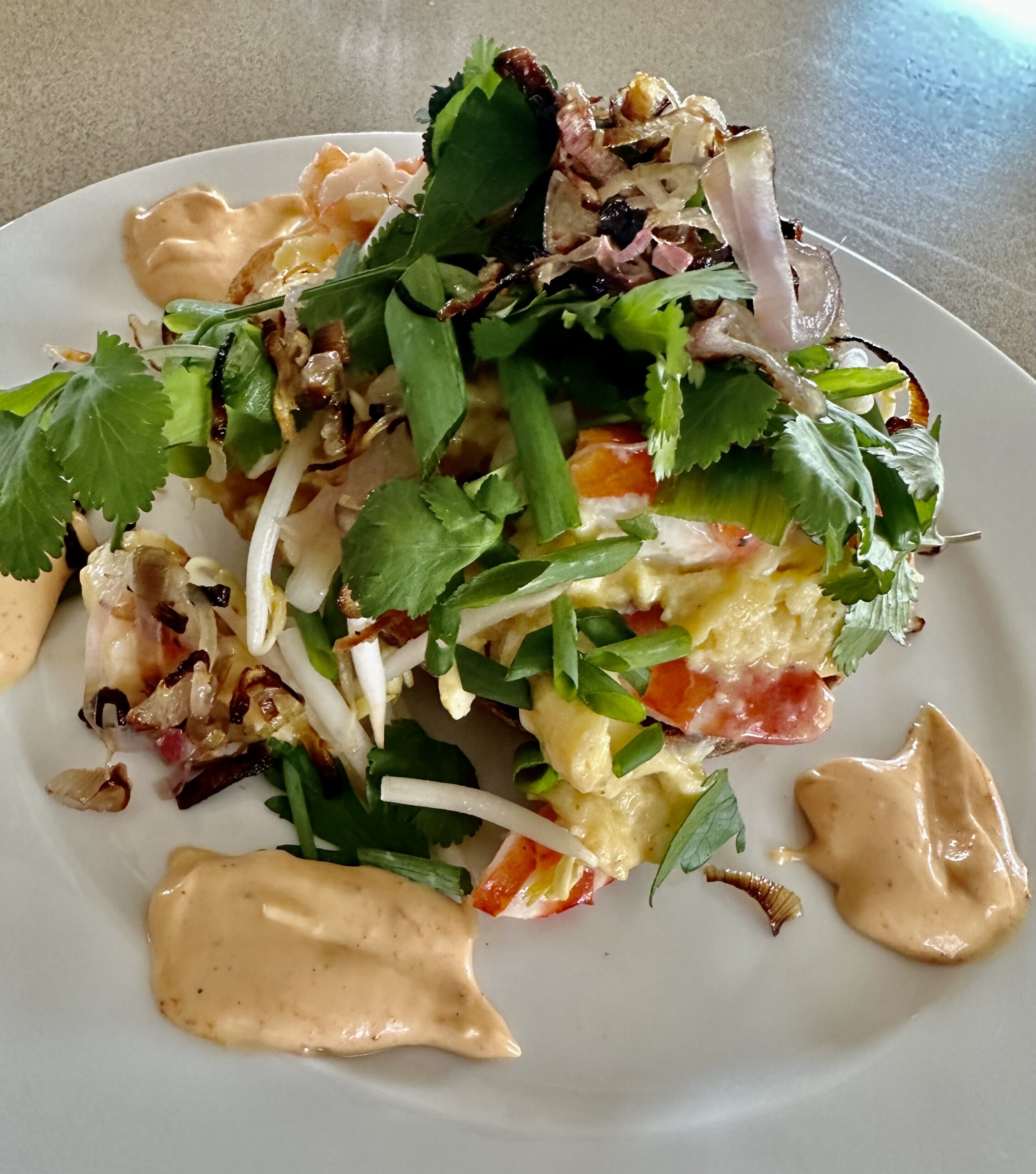 4 eggs
2 Tbs milk
2 Tbs butter or oil
Salt and freshly ground black pepper
250g cooked prawns (about 125g shelled weight)
¾ cup beansprouts, trimmed if necessary
½ cup each coriander leaves and flat parsley leaves
Green part of a spring onion, thinly sliced on the diagonal
3 Tbs mayonnaise
1 Tbs Sriracha sauce (or another chilli sauce, such as harissa)
2 slices sourdough bread, toasted (& buttered if you like)
1 Tbs lime juice
2 wedges lime (optional)
Crispy shallots:
3-4 shallots
Vegetable oil
Peel prawns, cut into chunks and season. Mix mayonnaise with sriracha sauce and lime juice.
Beat eggs and milk with a fork and season. Heat butter or oil, add prawns and stir fry until hot (if using raw prawns this will take a little longer). Remove prawns and keep warm. Add the eggs and gently scramble them, stopping when they are still quite soft. Gently fold in the prawns.
Place toasted sourdough on two warmed plates. Arrange scrambled eggs and prawns on the toast, buttered if you like. Top each serving with some beansprouts, spring onions and herbs. Drizzle some spicy mayo around the edge and sprinkle with crispy shallots. Garnish with lime wedges, if using, and serve immediately.
For the crispy shallots, place the peeled and chopped shallots in a small frying pan. Cover with cold vegetable oil. Cook over medium heat until they are golden and crunchy. Drain and leave on paper towels to cool.
Serves 2