This is a hearty dish to tuck into before the warm weather arrives. It's one of those dishes that improves with keeping for a day or two in the fridge. So, if there are any leftovers, serve them later in the week, on one of those nights when you're too busy to cook. To make the leftovers go further, serve them in warm wraps. You can also freeze it.
I made this in my slow cooker, so I was able to leave it to cook while I was out for a couple of hours. If you prefer to cook it in the oven, use a heavy casserole with a lid and you may need to add a bit more water. Keep an eye on it and add as necessary.
The Clonakilty Black Pudding I used, which I bought in Woolies, completely dissolved into the sauce, making it thick and full-flavoured.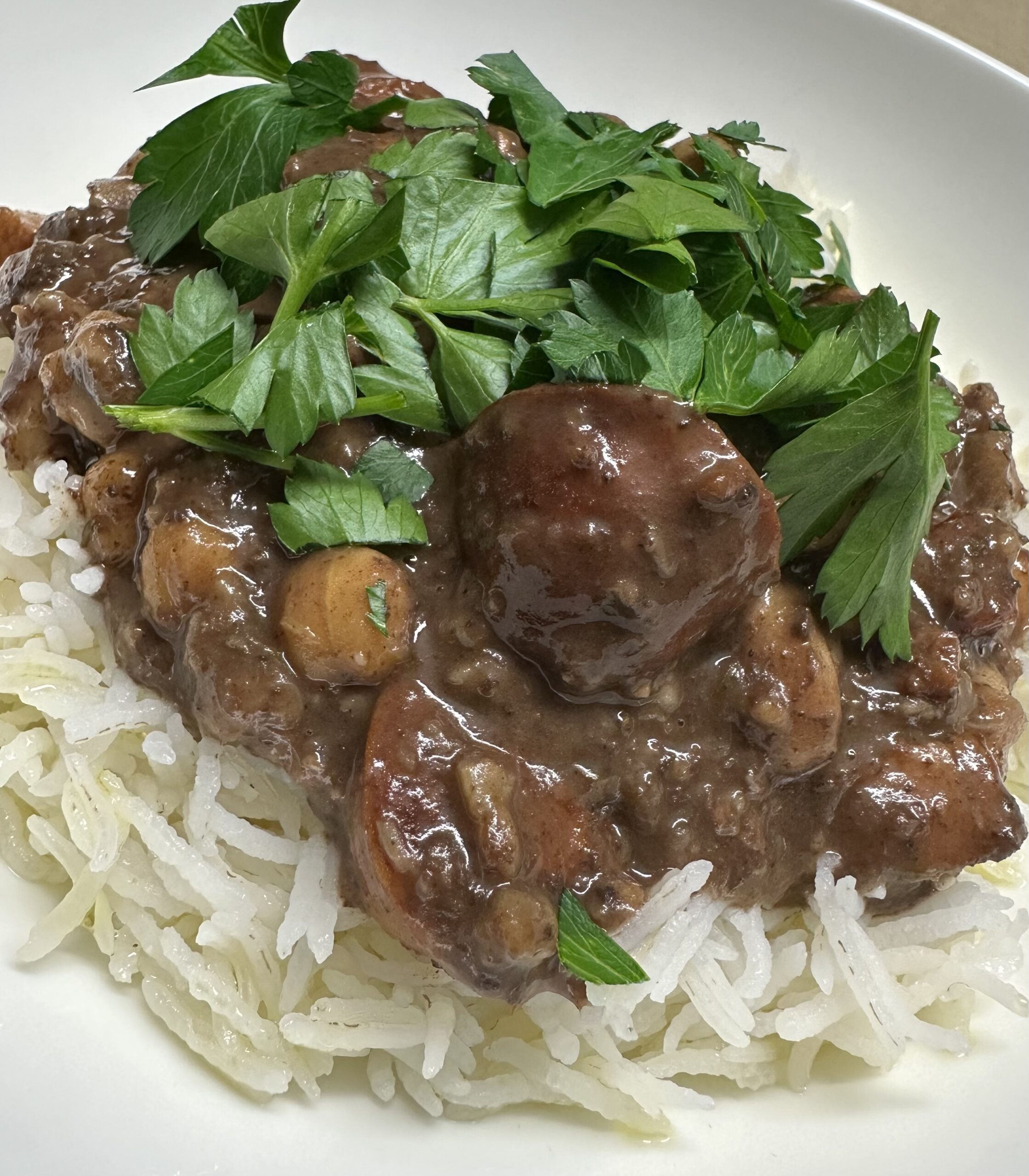 3 or 4 chorizo sausages, thickly sliced
5 cloves garlic, sliced
2 Tbs olive oil
5 large shallots or 2-3 medium onions
100g speck or pancetta, cut into chunky dice
100g black pudding (optional), sliced (you can substitute salami)
2 cans chickpeas (or 1 can chickpeas and 1 can cannellini beans), drained
2 cups beef stock
2 Tbs fresh thyme leaves
Salt and freshly ground black pepper, to taste
To serve:
Steamed rice
Chopped parsley
Peel and quarter the shallots or if using onions cut them into 8ths. Heat olive oil in a frying pan and cook the onions, garlic, chorizo and speck for a few minutes, stirring often, until onions and garlic are softening and speck is starting to brown and release its fat.
Place all ingredients in the bowl of a slow cooker. Cover and cook for 3-4 hours on high or longer on low. Stir from time to time. Serve with steamed rice and garnish with parsley.
Serves 4
Variations: use any other sausages instead of the chorizo. Use ordinary bacon instead of speck. Use drained lentils or black beans instead of cannellini and chickpeas.