I've always been passionate about food and have a huge collection of recipes, so I thought it was time to share my culinary thoughts with anyone who might be interested.  Given the number of great food blogs I've seen online, starting my own is somewhat daunting, but here goes. The name Cafe Cat comes from my nickname within the family of Cat or Mrs Cat. I can't remember how I ended up with with this name, but somehow it stuck.
I thought I would launch this blog with a favourite summer recipe, Tomato and Mozzarella Tian with Pesto. Impressive but simple, it makes a great starter or light lunch. A friend recently made a video of me making this recipe.  It was the first time I had been filmed cooking and the first time she had filmed anyone cooking. All of this shows in the slightly wobbly results, but hopefully we'll get better! Once you have some stacking rings you can invent all sorts of stacked combinations using seafood, smoked salmon and even desserts.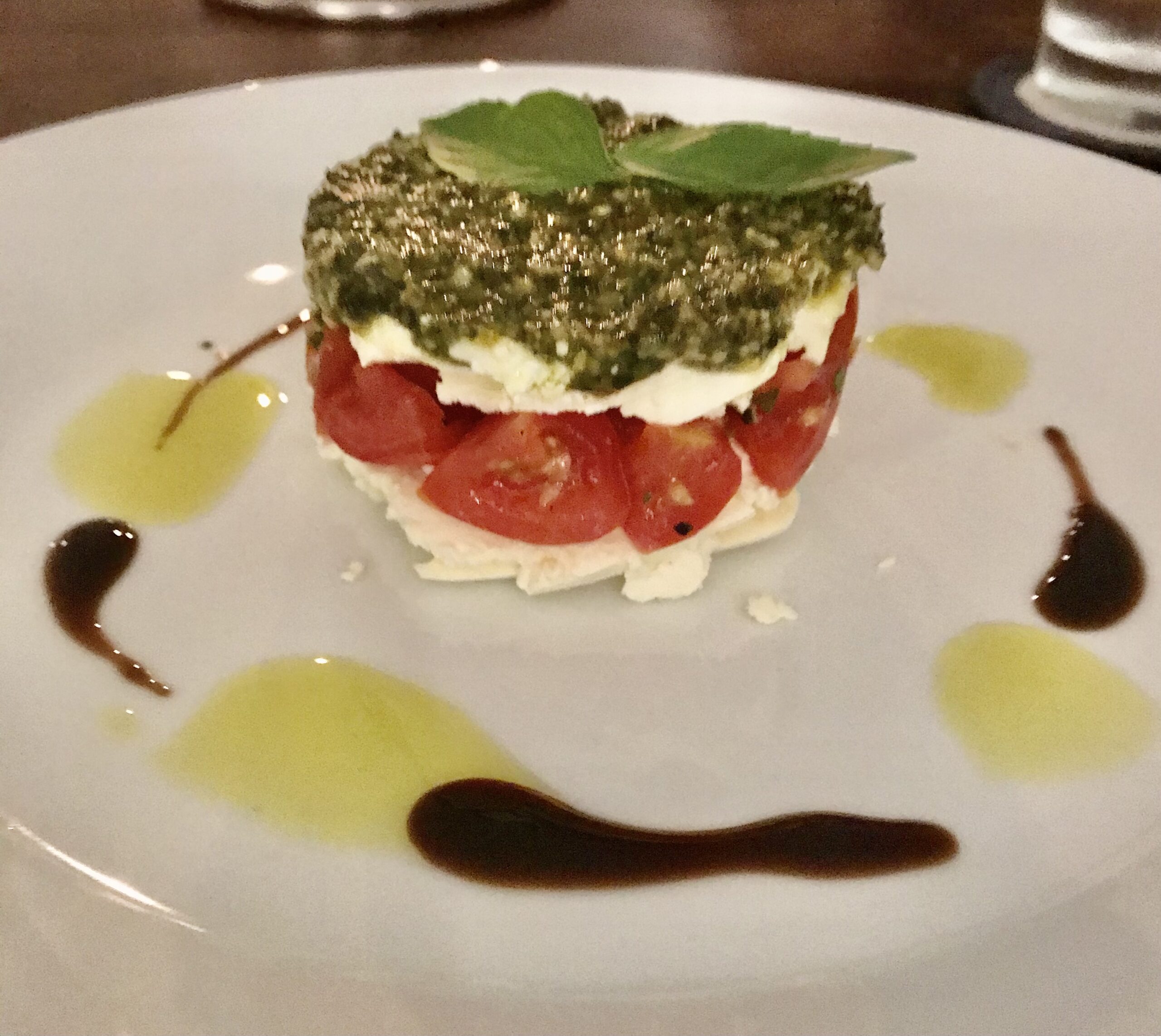 Tomato & Mozzarella Tian with Pesto
Pesto
2 cups basil leaves
2-3 cloves garlic, depending on size
¾ cup pine nuts
70g Parmesan cheese, grated
pinch of salt
½ cup extra virgin olive oil, more or less
Tomato Salad
4-6 large tomatoes, peeled, seeded and chopped
4-6 semi dried tomato halves chopped (optional)
1-2 Tbs fresh basil, chopped
1 Tbs olive oil
2 tsp white balsamic vinegar or lemon juice
Salt and freshly ground black pepper, to taste
pinch sugar
To finish
4-6 mozzarella balls, thinly sliced (or boconcini balls)
Extra virgin olive oil
Balsamic glaze
Pesto: toast pine nuts by stirring in a dry frying pan over moderate heat till lightly golden. Place all ingredients except the oil in a food processor. Process until finely chopped, then gradually add the oil through the feed chute with the motor running, until you have a thick but chunky paste.
Tomato Salad: Mix tomatoes, basil, seasonings and oil. Leave to macerate for a few minutes, then drain in a sieve to remove excess liquid. This recipe is best in summer when tomatoes are at their best. When they're not, add some semi-dried tomatoes, to add more tomato flavour.
To finish: Place a 7-8cm diameter, 4cm deep stacking ring on serving plate. Place a layer of mozzarella slices to cover the bottom of the ring, then a layer of tomato salad, another layer of mozzarella slices and finally cover the top with a layer of pesto, pressing down lightly with the back of the spoon.
Drizzle a little extra virgin olive oil and a few drops of balsamic glaze around the edge of the plate, remove the stacking ring and serve immediately. It's easier if you have enough rings for everyone, then you can whip them off just before taking the dishes to the table. Don't leave them too long, or the juice from the tomatoes will start to ooze out, requiring a quick clean up with a paper towel!
Note: if you can't find mozzarella balls (those big fat white ones sold in liquid) you can use the smaller balls called bocconcini or substitute ricotta or feta cheese.
Quantities of mozzarella and tomatoes are slightly vague as it depends on the size of your stacking rings and the size of the tomatoes.
Serves 4
Tian of Smoked Salmon & Crab with Celeriac Remoulade & Green Shallot Dressing
1 large celeriac, peeled and coarsely grated or shredded on a fine julienne cutter
juice 1 lemon
¾ cup mayonnaise, preferably home made
1 Tbs Dijon mustard
200g chunky crab meat, lightly seasoned
300g smoked salmon (approximately)
Green Shallot Dressing:
½ cup vegetable oil
2-3 green shallots (spring onions), green part only
Salt and freshly ground black pepper to taste
pinch sugar
lemon juice or white vinegar to taste
Garnish:
Salmon roe (optional)
Make dressing by whizzing oil and spring onion tops in food processor, adding S and P, pinch sugar and lemon juice or vinegar to taste. Tip into a jar. Mix celeriac with lemon juice, mayonnaise and mustard, adjust seasoning if necessary,then refrigerate. Prepare crab leaving it in large chunky pieces. Can be prepared ahead to this point.
To serve place a stacking ring on six entree plates. Place a tablespoon of celeriac remoulade in each ring, spreading evenly, then divide the crab between the rings, then another layer of remoulade and finally a layer of smoked salmon. You may have some remoulade left over. Drizzle a little dressing around each salad, place a little salmon roe on top of each then remove rings and serve.