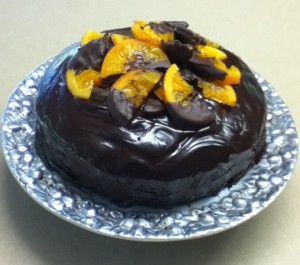 Friends hosted a New Year's Eve party where everyone brought a plate.  I've heard lots of funny stories about new Australians not understanding this concept and turning up with just a plate.  Indeed my Greek teacher Michael Kazan told me that when he first arrived in Canberra from Athens and someone asked him to bring a plate, he thought to himself that if his hosts didn't have enough plates, they probably didn't have enough cutlery or glasses either.  So he took those as well.
As my contribution to the New Year's party I took an Orange, Almond and Chocolate Dessert Cake – another recipe from the December edition of Delicious magazine.  I've renamed it Chocolate and Orange Gateau and made my own chocolate-covered orange slices rather than buying them.  My fan-forced oven is too hot at 180C for some cakes, especially ones which require longer cooking, so I set it at just under 170C which worked perfectly.
Chocolate and Orange Gateau
Chocolate-covered orange slices:
2 oranges
2 cups water
3/4 cup sugar
150g dark chocolate
Cake:
2 oranges
150g dark chocolate
5 eggs
400g caster sugar
350ml sunflower or canola oil (just under 1 1/2 cups)
1 cup almond meal
1/4 cup cocoa powder
2 1/2 cups plain flour
1 1/2 tsp baking powder
1/4 cup orange liqueur
Ganache:
1 cup thickened cream
350g dark chocolate broken into squares
To serve:
Whipped cream (optional)
For the chocolate-covered orange slices, cut oranges into 1/4 inch slices, discarding the ends which have no flesh in them.  Heat sugar and water in a large frying pan, stirring until sugar dissolves.  Add orange slices, then simmer for 30-40 minutes, turning them from time to time, until the syrup thickens and disappears.  You will need to pay attention towards the end so they don't stick or burn.  Remove orange slices with tongs to a cake cooling rack.  You can either leave them as whole slices or cut them in half.  They are best made the day before or several hours before serving so they have time to dry out a bit.  When they are dry enough, melt chocolate and dip half the orange slices into the chocolate, then leave to set on baking paper.
For the cake, place oranges in a large saucepan, cover with water, bring to the boil then simmer for about 30 minutes or until tender when pierced with a knife.  Drain and process to a smooth puree in a food processor, then cool.  Preheat oven to 170C.  Grease and line a 24cm spring form cake pan with baking paper.  Place chocolate in a bowl over simmering water (don't let bowl touch water) to melt, then cool a bit.
In a large mixing bowl whisk eggs, sugar and oil then gradually mix in the orange puree, almond meal and melted chocolate.  Add flour, baking powder and cocoa through a sieve and fold in thoroughly by hand. Pour into cake pan and bake for an hour and 15 minutes or until a skewer inserted in the centre comes out clean.  Cover top loosely with foil if it's browning too quickly.  Cool for 10 minutes in pan, then invert onto a wire rack.  Drizzle with liqueur then cool completely.
For ganache heat cream to boiling point in a saucepan, then add chocolate, turn off the heat and stir until smooth.  Allow to stand at room temperature until thick enough to spread over the cake, stirring from time to time.  Spread ganache over top and sides of cooled cake with a palette knife and decorate with chocolate-covered orange slices.  If liked serve with whipped cream.
Serves 16
Note: if you don't have any almond meal you can make your own by blitzing some blanched almonds in the food processor.  If you don't have any almonds you can substitute walnuts or even pine nuts.  You could substitute self-raising flour for the plain flour and baking powder.