Someone gave my daughter Catherine a Panettone for Christmas.  As they don't like Panettone very much, she gave it to me.  I have to admit I'm not mad about the Italian answer to Christmas cake either, but my "war mentality" doesn't allow me to throw good food away.  So I stuck it in the freezer.  Catherine laughed when she saw me do this and admitted she had inherited my "waste not want not" approach to food and if she hadn't been travelling she would have frozen it too.
This weekend I used just over half the Panettone to make a delicious chocolate bread and butter pudding, adapted from a recipe by Delia Smith.  She uses ordinary white bread with the crusts cut off.  You could use bread, panettone, croissants, brioche – anything which needs using up – which is how this traditional British dessert was first invented – to use up stale bread.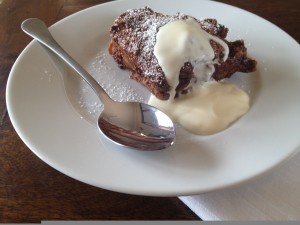 9 slices of day old white bread – or the equivalent in panettone, brioche or croissants
150g dark chocolate (I used more like 175g to make it really chocolatey)
75g butter
425ml cream
4 Tbs dark rum
pinch ground cinnamon
4 Tbs caster sugar
3 large eggs, lightly beaten
To serve:
Icing sugar
Thick pouring cream
Butter a rectangular lasagne-type dish.  In a large bowl place chocolate, broken into squares, butter, cream, sugar, cinnamon and rum.  Microwave until melted which will take 2-3 minutes.  Stop every 30 seconds or so to stir the mixture and stop as soon as it's melted.  Delia does hers the traditional way over simmering water which is safer.  Using the microwave is quicker, but you need to keep an eye on it.  Whisk in the eggs with a hand whisk, until well-combined.
Pour about 2cm of the chocolate cream over the base of the dish, then arrange about half the panettone slices or bread slices, overlapping if necessary to cover the base of the dish.  Panettone slices are large so you need to cut them into about three and use them like a jigsaw puzzle.  Pour in half the remaining chocolate cream and push all over with the back of a fork so the panettone soaks it up.  Arrange the rest of the panettone or bread over the top, pour in the remaining chocolate cream, push with a fork so there are no dry bits left.  Cover the dish with plastic wrap, leave for a couple of hours at room temperature then refrigerate for 24-48 hours.
Remove cling film and bake at 180°C for 35 minutes or until the top is brown and crunchy and the bottom is cooked but still soft.  Remove from the oven, allow to stand for a few minutes then serve dusted with icing sugar.  Pass a jug of thick pouring cream separately.
Serves 6-8